Call for Submissions: Papers, Film, and Multimedia Content for "ASEANnale 2018"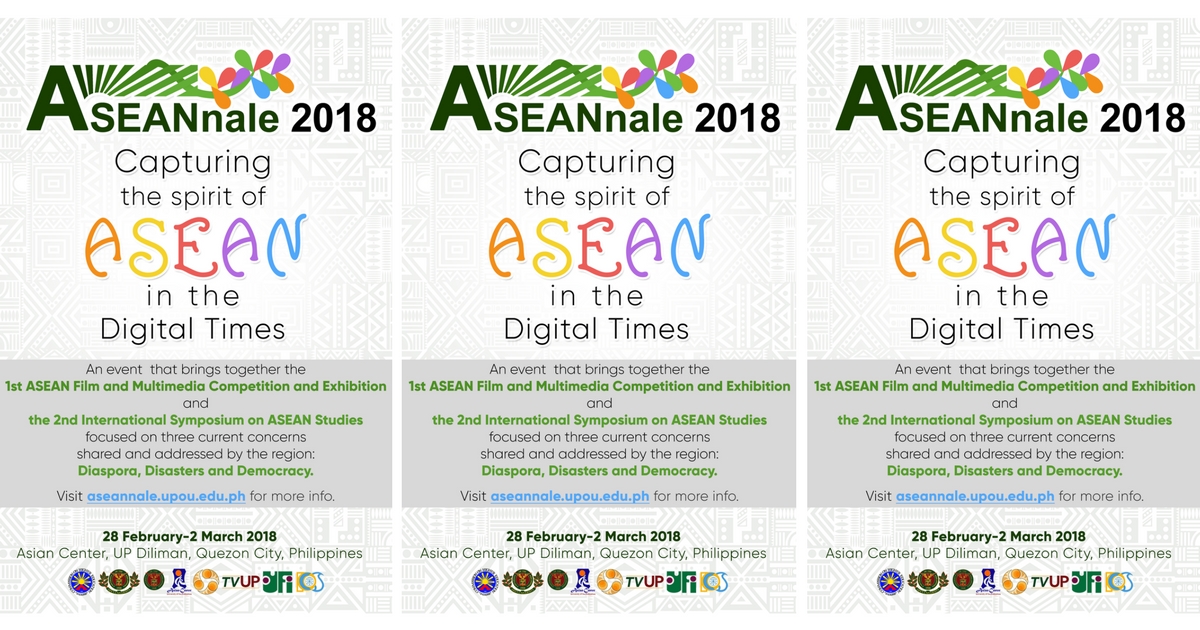 Submissions are welcome for the ASEANnale 2018, which will bring together two events, the 1st Film and Multimedia Competition and Exhibition and the 2nd International Symposium on ASEAN Studies (2nd ISAS), around the theme of "Capturing the ASEAN Spirit in Digital Times". ASEANnale 2018 will be held at the UP Asian Center, QC from 28 February 2018 to 2 March 2018. 
ABOUT THE ASEANnale Film and Multimedia Competition
The ASEANale Film and Multimedia Competition encourages ASEAN higher education students to produce creative works in film and Multimedia that are the narratives of their culture and their personal experiences. The competition also gives honors to these filmmakers and multimedia producers whose creative storytelling explores a range of human experiences that echoes the festival's theme of "Capturing the spirit of ASEAN in the Digital Times".  Because of this, the ASEANale Film and Multimedia Competition encourages originality, creativity and research-based works. There are three (3) sub-themes for the film and multimedia competition – Diaspora, Democracy, and Disaster.
ABOUT THE ABSTRACT SUBMISSIONS
Along with the film and multimedia submissions, the abstracts for the ASEAN symposium must hew to the theme,  
"Capturing the ASEAN Spirit in Digital Times" and dovetail with three current concerns shared and addressed by numerous parties in the region—Diaspora, Disasters and Democracy.  In media and various other modes of communication and information sharing via the World Wide Web through electronic digital devices, broadening and deepening inclusion and social involvement are opening venues for discourses and courses of action that impact of people's lives.
LIST OF IMPORTANT DATES (ADJUSTED DEADLINE)
Extended to 9 February 2018, 5 pm (Earlier deadline was 19 January 2018—Submission of Entries for Film and Multimedia)

Extended to 9 February 2018, 5 pm (Earlier deadline was 19 January 2018—Submission of Abstract for Panel, Paper and Poster)

15 February 2018—Notification of Short-Listed Entries

15 February 2018—Submission of Full Paper
For updates and more details on submission guidelines and entry requirements, please visit the official ASEANnale website:
ORGANIZERS
This project is co-organized by the Commission on Higher Education, the University of the Philippines, the UP Open University, UP College of Mass Communication, TVUP, OUS, and the UP Asian Center. Dr. Joefe Santarita, Dean of the UP Asian Center and Associate Professor Rolando Talampas are members of the ASEANnale's Steering Committee. 
---
The UP Asian Center offers M.A. degrees in Asian Studies with four fields of specialization: Northeast Asia, Southeast Asia, South Asia, and West Asia. The Center also has an M.A. program in Philippine Studies that allows students to major in Philippine society and culture, Philippine foreign relations, or Philippine development studies. The Center offers a Ph.D. program in Philippine Studies in conjunction with the College of Arts and Letters and the College of Social Sciences and Philosophy. Get an overview of these programs. The Asian Center also houses a peer-reviewed, open-access journal, Asian Studies: Journal of Critical Perspectives on Asia. It has published several books and monographs, and hosts or organizes various lectures and conferences.