Dr. Medina Moderates Panels, Presents a Paper in National Sociology Conference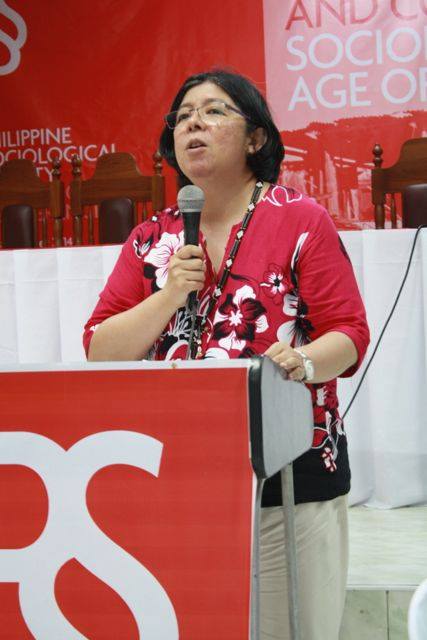 Dr. Maria Cecilia Medina, Assistant Professor at the Asian Center, presented a paper at the Philippine Sociological Society (PSS) National Conference, whose theme was "Crisis, Community and Resiliency: Sociology in the Age of Disasters" It was from 17–18 October 2014 at the Mindanao State University, General Santos City.

Dr. Medina moderated several panels and presented her paper, "Civil Society and Peacebuilding Initiatives of ZABIDA in Zamboanga and Basilan, Philippines and Metta Development Foundation in Myanmar." She is a board member of the PSS and was part of the organising committee of the said national conference

Her study theoretically examined the concept of civil society and peace building and utilized actor-oriented and functionalist perspectives in analyzing the role of Zamboanga Basilan Integrated Development Alliance's (ZABIDA) in promoting peace and development in communities in Zamboanga and Basilan, two areas marked by underdevelopment and violence. She also cited the case of Metta Foundation, a national NGO in Myanmar and compared the initiatives of the two civil society organizations during times of crisis.
Dr. Medina teaches several graduate level courses at the Asian Center, including Modern Asia, East-West Encounters, Special Topics on Philippine Sociocultural Studies (Religion and Development), and Readings in Southeast Asia. She finished her Ph.D. in Sociology at the Xavier University-Ateneo de Cagayan, and her MA in Asian Studies at the University of the Philippines Diliman. Her research interests include religion and development, Mindanao studies, indigenous people, culture and development, and Southeast Asian studies. 

The Asian Center offers MA degrees in Asian and in Philippine Studies. The Asian Studies program offers specializations in Northeast Asian Studies, Southeast Asian Studies, South Asian Studies, or West Asian Studies. The Center also has an M.A. program in Philippine Studies that allow students to specialize on Philippine society and culture, Philippine foreign relations, or Philippine development studies. The Center also offers a Ph.D. program in Philippine Studies in conjunction with the College of Arts and Letters and the College of Social Sciences and Philosophy. Like the Asian Center on Facebook and follow us on Twitter @upasiancenter.
Photo: Dr. Medina at the PSS Conference in Cagayan de Oro City. By Gelo Asuncion and grabbed from the Facebook page of the Philippine Sociological Society.