This Week @ UP Asian Center: Federalism Forum and 'ASEAN Drama" Forum and Book Launch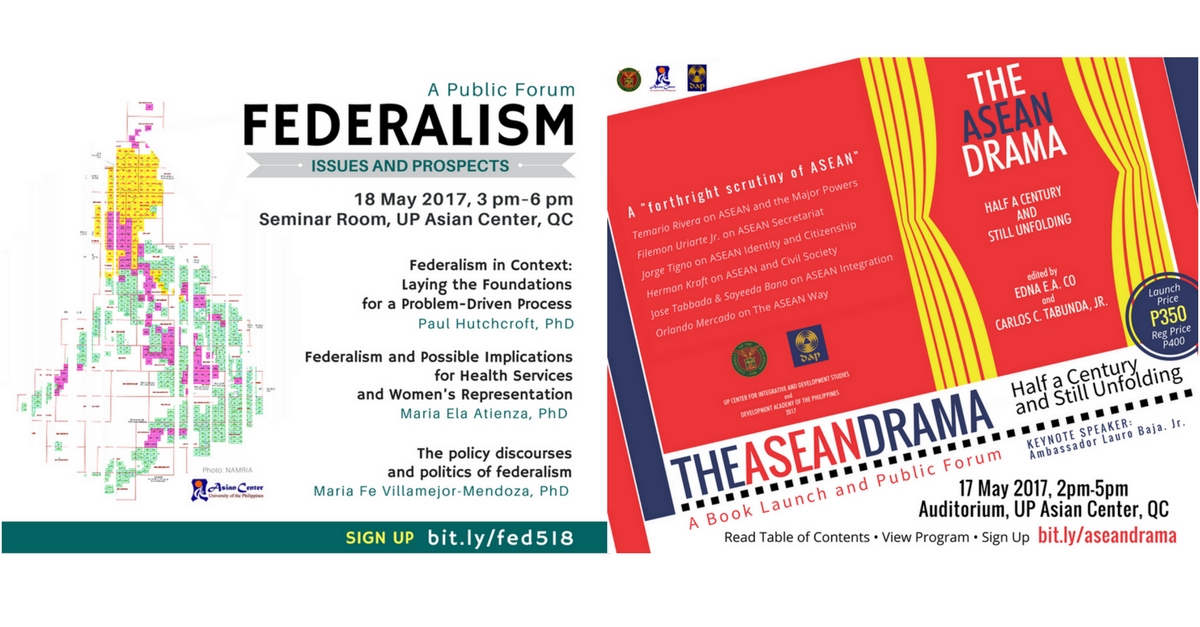 The UP Asian Center will be hosting two events this week, 15 to 18 May 2017. First is the public forum on and launch of the book, The ASEAN Drama: Half a Century and Still Unfolding on 17 May; second is a forum, Federalism: Issues and Prospects on 18 May featuring a formidable line-up of academics. Both events are free and open to the public, but seating is first-come, first-served, and participants are encouraged to sign up. VIEW VICINITY MAP
The ASEAN Drama: Half a Century and Still Unfolding: Book Launch and Forum
The book launch and forum will be held on 17 May, 2pm–5 pm at the Auditorium, UP Asian Center, Quezon City.
Ambassador Lauro Baja, Jr., former Philippine representative to the United Nations, will deliver the keynote speech, "ASEAN: The other side of midnight." He will discuss the organization's 50-year history, and will share his thoughts on the Philippine's Chairmanship on ASEAN's golden anniversary and what the future looks like for both the Philippines and the region. Serving as reactor is Wilfredo Villacorta. 
A "forthright scrutiny of ASEAN" by academics and diplomatic practitioners, The ASEAN Drama: Half a Century and Still Unfolding contains chapters on: 
The impact of ASEAN and the major powers on the regional order by Temario Rivera

The ASEAN secretariat and bureaucracy by Filemon Uriarte, Jr.

The challenges of building ASEAN identity and citizenship by Jorge Tigno

ASEAN and the role of civil society by Herman Kraft

The economic benefits of ASEAN Integration on member countries by Jose Tabbada and Sayeeda Bano

The ASEAN Way by Orlando Mercado.

 
You may view the Table of Contents, Abstracts, and Tentative Program. 
---
Federalism: Issues and Prospects
This forum will be held on 18 May, 3 pm – 6 pm, Seminar Room, UP Asian Center, QC.
Aiming to raise public awareness and generate policy debates on federalism that would have profound implications on the country's political and policy institutions, the forum features three presentations: 
"Federalism in Context: Laying the Foundations for a Problem-Driven Process of Political Reform" by Dr. Paul Hutchcroft

"Federalism and Possible Implications for Health Services and Women's Representation" by Dr. Maria Ela Atienza

The politics and policy discourses of federalism by Dr. Maria Fe Villamejor-Mendoza
Here are the profiles of the three speakers:
Dr. Paul Hutchcroft is Lead Governance Specialist of the Australian Embassy in Manila and Professor (on leave) at the Australian National University.  

Dr. Maria Ela Atienza is Chair of and Professor in the Department of Political Science, University of the Philippines Diliman

Dr. Maria Fe Villamejor-Mendoza is Dean of the National College of Public Administration and Governance, University of the Philippines Diliman. 
---
The UP Asian Center offers M.A. programs in Asian Studies with four fields of specialization: Northeast Asia, Southeast Asia, South Asia, and West Asia. The Center also has an M.A. program in Philippine Studies that allows students to major in Philippine society and culture, Philippine foreign relations, or Philippine development studies. The Center offers a Ph.D. program in Philippine Studies in conjunction with the College of Arts and Letters and the College of Social Sciences and Philosophy. Get an overview of these programs. The Asian Center also houses a peer-reviewed, open-access journal, Asian Studies: Journal of Critical Perspectives on Asia. It has published several books and monographs, and hosts or organizes various lectures and conferences.