Slots Still Open: Graduate Courses @ UP Asian Center (1st Sem, AY 2017–2018)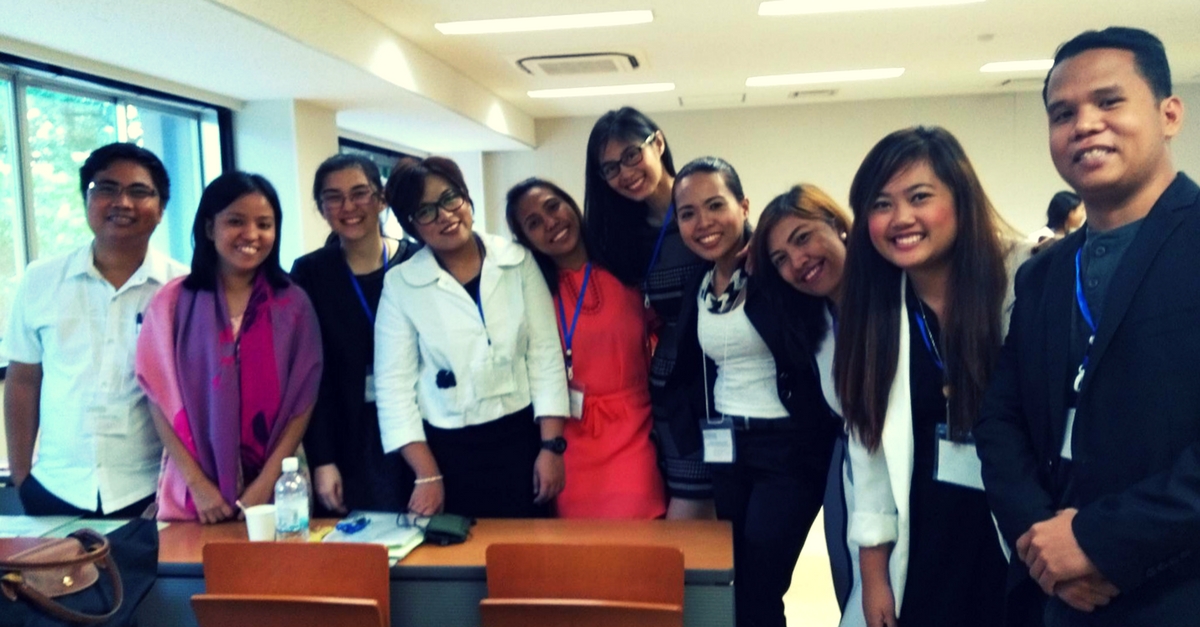 Photo: Asian Center students and participants at an international conference.
---
Below is a list of courses on Asian Studies (AS) and Philippine Studies (PS) that will offered at the UP Asian Center for the First Semester of Academic Year 2017–2018, as well as the tentative schedule. The courses are open to MA and PhD students of the University of the Philippines Diliman.
Schedules may change and classes may get dissolved, so sign up to get email notifications to receive news about changes to the list. Before enrolling, please note that some courses may be dissolved if there aren't enough enrollees. Please inquire at the UP Asian Center if enrollment beyond the allotted number of slots will be accepted. Lastly,  interested students should ask their respective departments, colleges, and program advisers if the courses they plan to take at the UP Asian Center are allowed and credited under their program.
All are three (3) units unless otherwise stated. Schedules are indicated after the course title.
ASIAN STUDIES (AS) COURSES
Courses on Various Issues
AS 203: Nationalism and National Development

(Wed:5–8 pm)

[Tackles] the connection of the rise of nationalism with the broader social, political, and economic process of modernization in Asia, using case studies, quantitative data

AS 211: Security Issues in the Asia-Pacific

(Thu: 1–4 pm) 

Seminar on contemporary problems in the security of the countries and peoples of the Asia Pacific since the end of the Cold War.

AS 298*: Performance and the State in Asia

[Sat: 1230–330 pm; Santamaria]

AS 298*: Emerging Issues in Asian International Relations

[Thu:5-8 pm; Baviera]
*AS 298 is "Special Topics in Asian Studies," which can feature theme-topic related content. 
Korea and China Studies
AS 234: (Special Problems in Northeast Asia) The Korean Crisis: What Crisis?

(Sat: 9–12nn)

AS 235.1: Social and Economic Development in China

(Sat: 1–4 pm)

AS 237.1: Social and Economic Development in Kore

a (Sat: 330–630 pm)

AS 237.2: Politics and Governance in Korea

(Wed: 5–8 pm)
Courses on Southeast Asia
AS 254: Special Problems in Southeast Asia

(Indigenous People in Southeast Asia)[Mon:5–8 pm]

AS 255.2: Politics and Governance in Southeast Asia

(Sat: 3:30–6:30 pm)

AS 256: International Relations of Southeast Asia and ASEAN

(Manalo and Casanova; Sat: 1–4 pm)
Course on West Asia
AS 282: Readings on West Asia I

 (Thu: 5–8 pm)

For this semester, this course will explore "the study of Arab countries: economic, political, sociocultural, international relations, etc.)
PHILIPPINE STUDIES (PS) COURSES
Courses on Philippine Culture
PS 212: Filipino Identities

(Wed: 5-8 pm)

Concepts, contexts and discourses that frame, define, and direct the evolution of Filipino identities from colonial to contemporary period, as mediated by the state, the nation, and various socio-cultural factors)

PS 216: The Filipino Diaspora 

(Fri: 5

–

8 pm)

PS 219: Philippine Society and Culture

(Moratilla; Fri: 5–8 pm)

PS 219: Philippine Society and Cutlure

(Santamaria; Sat: 330–630 pm)

PS 220: Sulu Studies, Cultures of Sulu

 (Sat: 830–1130 am)

PS 231: Philippine Leadership Cultures

(Tue: 5

–

8 pm)
Courses on Development in the Philippines
PS 222: Theories of Development

(Sat: 4–7 pm)*

PS 224: Philippine Industrialization and Urbanization

(Thu: 5–8 pm)

PS 233: Issues in Philippine Development

(Fri:5–8 pm)

A critical review & assessment of specific social, political, economic, & cultural issues in Philippine development.

PS 288.2: Readings in Philippine Development Studies

(Wed: 5–8 pm)
Courses on Philippine Foreign Relations
PS 264: History and Development of Philippine Relations

(Tue 5–8 pm)

The interrelations of nations in their ideological environments as demanded by the concerns or directions of the Philippines; analysis of the structure, classification, history & evolution of bloc factions; their relationships & implications to the conduct of Philippines external relations. Regional & bloc choices may vary from time to time, depending on availability of instructors & interests or requirements of PSP students.

PS 268: Philippine Relations with East Asia

(Fri: 5–8 pm)
For inquiries, please email the Office of the College Secretary at This email address is being protected from spambots. You need JavaScript enabled to view it. or call 981.8500 local 3578 or 927.0909. Get an overview of the UP Asian Center's graduate programs, from overview and deadlines to requirements and application procedures. 
Page last updated: 17 July 2017, 331 pm; 30 July 2017; 236 am
---
The UP Asian Center offers M.A. degrees in Asian Studies with four fields of specialization: Northeast Asia, Southeast Asia, South Asia, and West Asia. The Center also has an M.A. program in Philippine Studies that allows students to major in Philippine society and culture, Philippine foreign relations, or Philippine development studies. The Center offers a Ph.D. program in Philippine Studies in conjunction with the College of Arts and Letters and the College of Social Sciences and Philosophy. Get an overview of these programs. The Asian Center also houses a peer-reviewed, open-access journal, Asian Studies: Journal of Critical Perspectives on Asia. It has published several books and monographs, and hosts or organizes various lectures and conferences.