UP Asian Center Student, Faculty Present Papers in South-South Forum on Sustainability in HK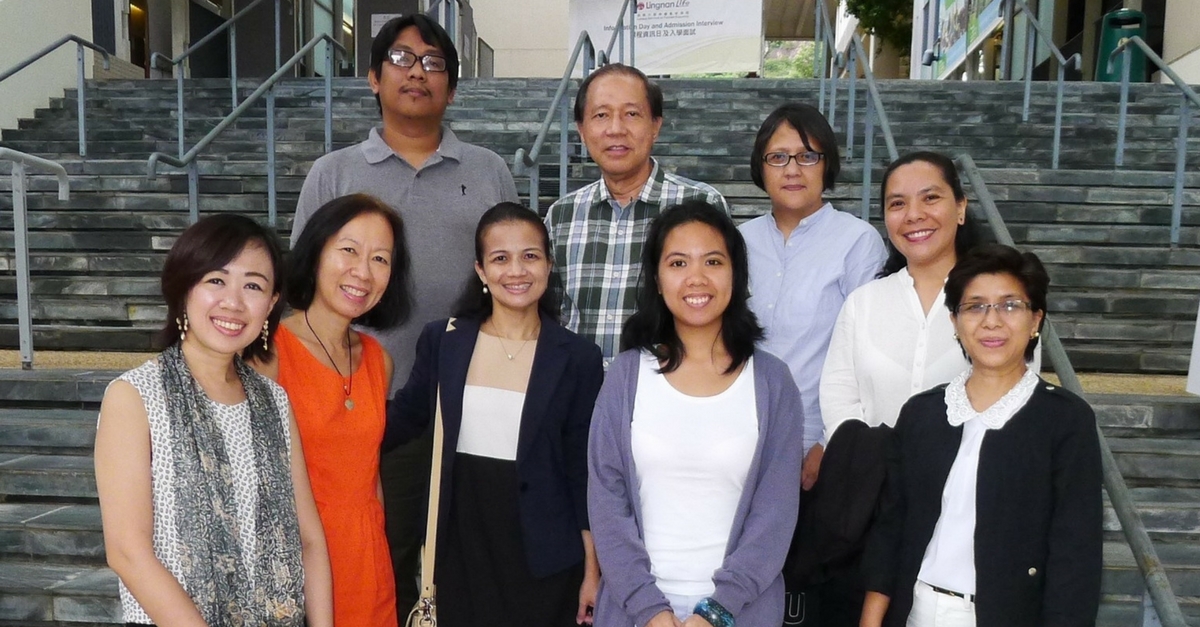 Filipino participants in the 4th South-South Forum on Sustainability. Photo courtesy of ARENA. Click photo to enlarge.
---
A student and several faculty of the UP Asian Center presented their research at the 4th "South-South Forum on Sustainability: Asia in the Twenty-First Century: Challenges for Peoples and Movements," which was held from 4 to 7 July 2017 at Lingnan University in Hong Kong. Below are their respective presentations:
Challenging the ADB's Immunity | Eduardo Tadem, PhD
Dr. Tadem, Professorial Lecturer at the UP Asian Center and President of the Freedom from Debt Coalition, argued for the illegitimacy of five debts of the Philippine government's to the Asian Development Bank, who was either a sole financier or cofinancier. The ADB loans covered "Power Sector Development Program, Sixth Road Project, Agrarian Reform Communities Project, Southern Philippines Irrigation Sector Project, and Irrigation Systems Improvement (PH-1049)," which, according to a government debt audit, were illegitimate because of various reasons. Part of Dr. Tadem's presentation was published as a commentary in the Philippine Daily Inquirer. VIEW DR. TADEM'S FULL PROFILE.
---
China Studies in the Philippines: Insights on the Community of Practice | Tina Clemente, PhD
Dr. Tina Clemente, Associate Professor, presented findings based on oral histories of senior experts in the fields of foreign relations, literature, media, and development" and on a critical engagement with the academic literature and discourses of the field. She focused on "narrative analytics, which underscore varied contexts...that shape life histories, which, in turn, shape the larger narrative. Her key reflections include the need for a more responsive China Studies in the Philippines, one that directs more attention to Philippine inclusive development in analyzing bilateral economic relations. VIEW DR. CLEMENTE'S FULL PROFILE.
---
Reproductive Politics, Religion, and Social Movements in the Philippines | Maria Dulce Natividad
In her paper, Dr. Natividad argues that "[a]t the heart of the complex politics involved in policymaking on reproductive health in the Philippines is the entanglement of national identity and religious identity. Reproductive policy operates as a frame through which the politics of the nation, religion and the state get filtered and played out. I also argue that because the nation is defined in terms of Catholic moral and political values - the conflation of Catholic identity and national identity, and the intertwining of Catholic morality and democratic ideals, especially emerging during the People Power events, has exerted a powerful influence on how Filipinos view themselves. This fusion of religion and nation – or religio-nationalism – is the lens through which we can understand the political dynamics of the reproductive health law."  VIEW DR. NATIVIDAD'S FULL PROFILE
---
Exploring Spaces of Resistance for Filipina Migrant Domestic Workers in Restrictive Receiving Countries: A Case Study of Kuwait | Clarissa Culla
A student of the UP Asian Center majoring in Philippine Studies, Clarissa Culla, argues that "without denying the cruel realities many female migrants face," they do have their own agency…."the power to exercise such power as an active player in global discourse...and create "spaces of resistance." Her study runs parallel to studies that challenge conventional perceptions of domestic workers as "passive objects of oppression or complicit in their exploitation."
Accompanying the UP Asian Center contingent were their colleagues from the University of the Philippines: Drs. Maria Ela Atienza and Teresa Tadem, Professors from the Department of Political Science; and Joel Ariate of the Third World Studies Center, managing editor of the journal, Kasarinlan. Also taking part were Angging Aban and Melissa Loja. 
The forum was organized by the Asian Regional Exchange for New Alternatives (ARENA), the Department of Cultural Studies of Lingnan University, and the Global University for Sustainability. Dr. Eduardo Tadem was co-convener of the forum.
---
The UP Asian Center offers M.A. degrees in Asian Studies with four fields of specialization: Northeast Asia, Southeast Asia, South Asia, and West Asia. The Center also has an M.A. program in Philippine Studies that allows students to major in Philippine society and culture, Philippine foreign relations, or Philippine development studies. The Center offers a Ph.D. program in Philippine Studies in conjunction with the College of Arts and Letters and the College of Social Sciences and Philosophy. Get an overview of these programs. The Asian Center also houses a peer-reviewed, open-access journal, Asian Studies: Journal of Critical Perspectives on Asia. It has published several books and monographs, and hosts or organizes various lectures and conferences.