Dr. Sevilla Examines PH-Iran Relations, West Asian Influences on Precolonial PHL in Tehran Conference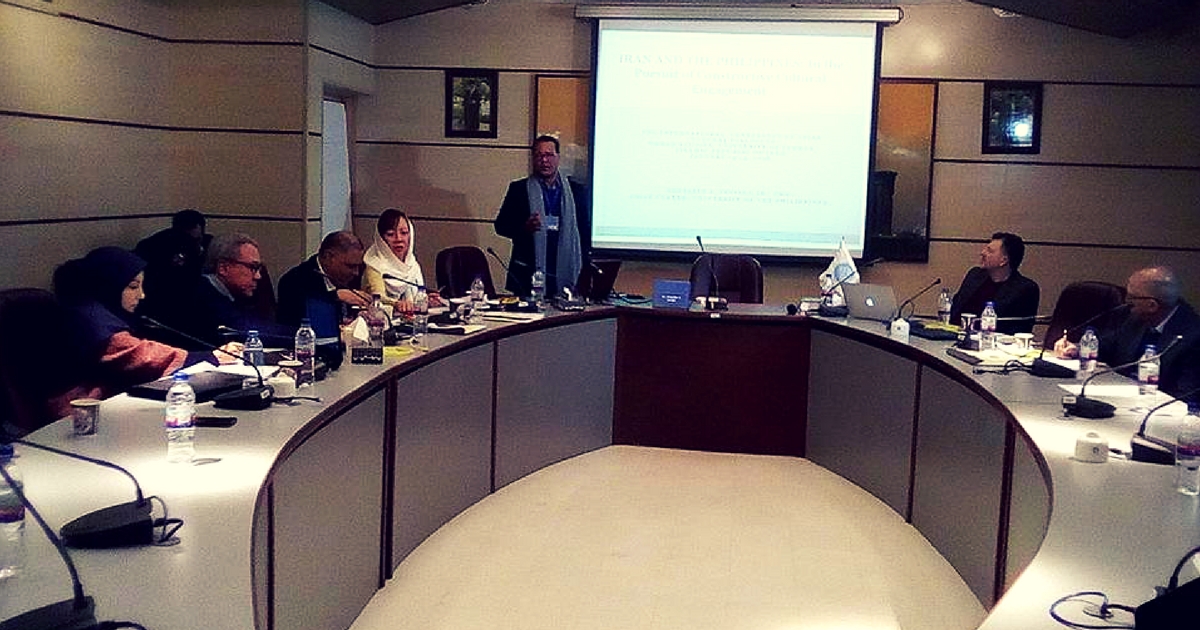 Photo: Dr. Sevilla during his presentation in Tehran, January 2018. Photo grabbed from his Facebook page. 
---
Dr. Henelito A. Sevilla, Jr., Assistant Professor at the UP Asian Center, presented his paper, Iran and the Philippines: In the Pursuit of a Constructive Cultural Engagement, at the Asian Cultural Dialogues, which was held from 13 to 15 January, 2018 at the University of Tehran, Islamic Republic of Iran.
ABSTRACT
The maritime silk route, which connected the older Persian Gulf to the Indian Ocean and towards the Pacific, was crucial in bringing this fluidity of trade and missionary movements to the southern Philippines. These earlier interactions resulted in the opportunity to synthesize and acculturate Persian ideas, cultural values and practices, and to the construct the precolonial Filipino identity, culture and traditions as expressed in religious, trade, linguistics and socio-cultural dynamics which until the present time has remained visible yet "underappreciated" in Philippine society.
This article will look at how colonization and decolonization theories shaped modern Filipino identity by marginalizing precolonial foreign influences of Persian, Arabs and Indians, including other early indigenous values in favor of "superior values" as introduced by colonizers, both the Spaniards and the Americans. In advancing its arguments, the article will look at how the "imagined community" as the alternative discourse aided in constructing modern Filipino culture and identity.
The paper will also look at the historical and contemporary variables that help shape cordial and friendly bilateral relations between the Philippines and Iran. It will also try to present issues, challenges and opportunities on how the two countries could advance their relations.
Finally, the article argues that constant but salient variables present in the two countries' relations such as the presence of a new generation of Iranian-Filipinos living both in the Philippines and Iran, Iranian businessmen and the larger pool of Iranian students in the Philippines could be utilized by both governments to help advance Philippine-Iran relations on various fronts such as, but not limited to, cultural and community engagements, but also in educational cooperation, trade transactions and political engagements.
OUTSTANDING CONTRIBUTION
In addition to his presentation, Dr. Sevilla was recognized for his "Outstanding Contribution to the Specialized Commission of Cultural Dialogues between Iran and East and Southeast Asia."
ABOUT THE CONFERENCE
The Conference of Asian Cultural Dialogues was across several universities: University of Tehran, Ferdowsi University of Mashhad, Mazandaran University in Babolsar, and Bu Ali Sina University in Hamadan.
It was organized by the Islamic Culture and Relations Organizatins as well as the intergovernmental organizations, including the Asia Cooperation Dialogue and Asian Parliamentary Assembly. The three-day event featured over 70 scholars and academics from across Asia.
ABOUT THE FACULTY
Dr. Henelito A. Sevilla, Jr. is Assistant Professor at the Asian Center, University of the Philippines Diliman and Assistant to the Dean for Administration and Public Affairs. He specializes in international relations, Mindanao studies, Philippine-Middle East Relations, political economy of the Middle East, energy security in Asia, Persian Gulf security and Middle Easterners in the Philippines. The coordinator of the West Asian Studies graduate program of the UP Asian Center, he handles several graduate courses such as Seminar on West Asia, Philippine Foreign Relations in Selected Countries in West Asia, and History and Development of Philippine Foreign Policy. Visit his faculty profile. 
---
The UP Asian Center offers M.A. degrees in Asian Studies with four fields of specialization: Northeast Asia, Southeast Asia, South Asia, and West Asia. The Center also has an M.A. program in Philippine Studies that allows students to major in Philippine society and culture, Philippine foreign relations, or Philippine development studies. The Center offers a Ph.D. program in Philippine Studies in conjunction with the College of Arts and Letters and the College of Social Sciences and Philosophy. Get an overview of these programs. The Asian Center also houses a peer-reviewed, open-access journal, Asian Studies: Journal of Critical Perspectives on Asia. It has published several books and monographs, and hosts or organizes various lectures and conferences.