The Aesthetics and Anthropology of the Filipino Body: Events from 13–28 February @ UP Asian Center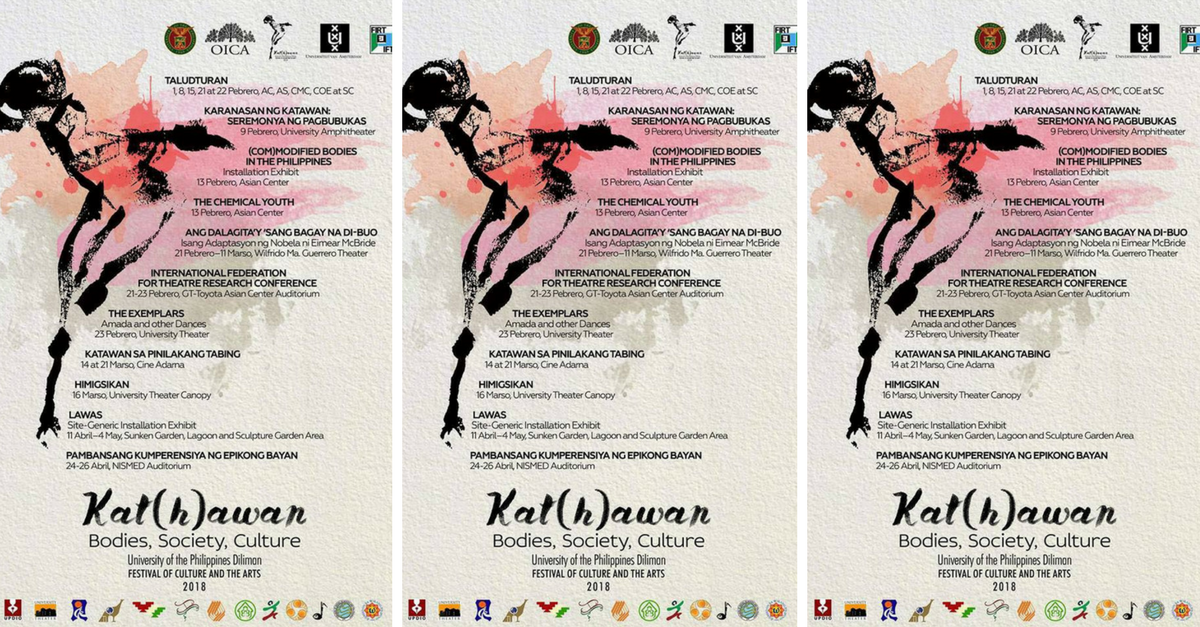 Examining the aesthetics, anthropology, and social construction of the Filipino body, four February events will be held at the UP Asian Center as part Kat(h)awan—UP Diliman Festival of Arts and Culture.   All UP Asian Center events are free except for the Bodies in/an Asian Theatres conference. 
(Com)modified Bodies in the Philippines: Body Technologies, Body Transformations (13–28 Feb) 
The exhibit opens at 2:30 pm and will run until 28 February. Open Mondays to Fridays, 8 am to 5 pm. This exhibit—which is divided into five galleries—interrogates how body modification may be problematized and even used as a starting point for creative work and discourse. Juxtaposed are different engagements with body technologies which modern societies use either consciously or unconsciously, paving for a renewed ontology of the body. 
---
Chemical Youth: Beauty, Height, Sexuality, And Anthropology Of The Filipino Body (13 Feb)
The symposium, which starts at 3:30 pm, features presentations based on the following research projects that explore the social and cultural relationship Filipinos have with their bodies. 
The Meanings and Materialities of Height in the Philippines
Beauty, Body Utility and Sexuality in the Philippines
Whitening as a Key Chemical Practice in the Philippines
---
Sweet Medicine: A Film on the Marketing and Consumption Of Herbal Medicine (13 Feb)
This film, which explores the marketing and consumption of a popular herbal medicine in Palawan, Philippines, will be shown at 6:00 pm. It follows the lives of those involved with First Vita Plus, a multi-level marketing company that sells a popular herbal medicine in the Philippines.While demonstrating its promised therapeutic values, this film also reveals the widely used herbal product to be problematic for those selling and using it in more ways than one.
---
Moving Care Between Japan and the Philippines: Policy, Theory, Experience (15 Feb)*
This public forum and roundtable will be held on 15 February 2018, 12:30 to 4:30 pm, Seminar Room, UP Asian Center, Quezon City. Much recent discussion on care has focused on the bilateral programs supporting the movement of Filipino caregivers, the forum includes the caring contributions of permanent resident Filipinas in Japan. The forum's panelists aim to discuss care more broadly by examining how it is conceptualized and constructed in relation to family, work and migration regimes. The forum-roundtable will gather and highlight various perspectives from academics, government officials, migration brokers and NGOs in order to examine care as a cultural ideology, a social and migration policy and a framework for evaluating shifts (and continuities) in Japan-Philippine relations. (*Not a part of Diliman Month celebrations). 
---
Bodies In/And Asian Theatres: A Conference (21–23 Feb)
This three-day conference will be held from 21 to 23 February 2018 at the Asian Center, University of the Philippines Diliman, Quezon City. The Joint 2018 Asian Theatre Working Group Colloquium and International Federation for Theatre Research Regional Conference (IFTR-Asia) attempts to answer these general questions: what do we mean when we talk about bodies in Asian theatres and performances? What do we mean when we talk about Asian bodies in different performances outside the region? How does theatre affect the way we think about the bodies of Asians? 
---
The UP Asian Center offers M.A. degrees in Asian Studies with four fields of specialization: Northeast Asia, Southeast Asia, South Asia, and West Asia. The Center also has an M.A. program in Philippine Studies that allows students to major in Philippine society and culture, Philippine foreign relations, or Philippine development studies. The Center offers a Ph.D. program in Philippine Studies in conjunction with the College of Arts and Letters and the College of Social Sciences and Philosophy. Get an overview of these programs. The Asian Center also houses a peer-reviewed, open-access journal, Asian Studies: Journal of Critical Perspectives on Asia. It has published several books and monographs, and hosts or organizes various lectures and conferences.