Dr. Henelito Sevilla Receives Award from the Philippine International Studies Organization (PHISO)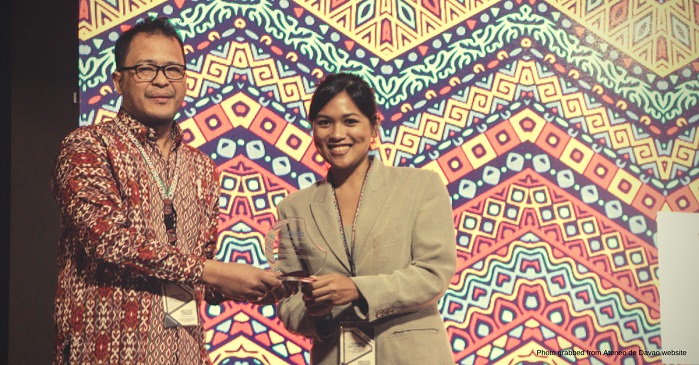 Photo: Dr. Sevilla receiving his award from PHISO President, Frances Antoinette Cruz. Grabbed from the website of the Ateneo de Davao University.
---
Dr. Henelito Sevilla, Jr., Assistant Professor at the UP Asian Center, was one of nine recipients of the "2018 PHISO Distinguished Scholars" Award during the 2nd International Conference of the Philippine International Studies Organization held from 23 to 24 March 2018, Ateneo de Davao University, Philippines.
The award recognizes Dr. Sevilla's contributions to international relations scholarship. His most recent publications include:
2017. "China's New Silk Route Initiative: Political and Economic Implications for the Middle East and Southeast Asia." Asian Journal of Middle Eastern and Islamic Studies 11 (1): 83–106

2017. "Which Way to Go? Analyzing the Political, Economic, and Cultural Directions of Philippine-Iran Relations." In Philippine-Iran Relations: 50 Years and Beyond, edited by Henelito A. Sevilla, Jr, 7–24. Quezon City: Asian Center, University of the Philippines Diliman. 

2016. "The Nationalization of Saudi Arabia's Labor Market and the Filipino Overseas Workers." Journal of South Asian Studies 4 (2) 33–44. 

2015. "From Silent Protest to Humanitarian Intervention: the Case of Libya." Journal of South Asian Studies 3 (3): 377–86. 
OTHER PHISO AWARDEES
Temario Rivera (University of the Philippines Diliman)

Baogang He (Deakin University)

Clarita Carlos (University of the Philippines Diliman)

Kelly Kadera (University of Iowa)

Julio Teehankee (De La Salle University)

Alan Chong (S. Rajaratnam School of International Studies, Singapore)

Kerstin Steiner (La Trobe University and University of Melbourne)

Herman Kraft (University of the Philippines Diliman)
During the conference, Dr. Sevilla also chaired a panel, The Philippines and the International," in which he also served as discussant. Moreover, he discussed the papers in another panel, "Mindanao and the International." A day before the conference, he also presented a paper, Marginalization of Interests: The Case of Philippines-Middle East Relations" in an exploratory workshop on "International Relations in Southeast Asia" as part of the PHISO-Routledge Book Series, whose advisory board members include Dr. Sevilla.
ABOUT DR. SEVILLA
Dr. Henelito A. Sevilla, Jr. obtained his PhD from Tehran University, Islamic Republic of Iran, and serves as Assistant to the Dean for Administration and Public Affairs @ UP Asian Center, QC. He specializes in international relations, Mindanao studies, Philippine-Middle East Relations, political economy of the Middle East, energy security in Asia, Persian Gulf security and Middle Easterners in the Philippines. The coordinator of the West Asian Studies graduate program of the UP Asian Center, he handles several graduate courses such as Seminar on West Asia, Philippine Foreign Relations in Selected Countries in West Asia, and History and Development of Philippine Foreign Policy. Visit his faculty profile. 
ABOUT PHISO
The Philippine International Studies Organization (PHISO) is the "pioneering professional organization dedicated to the promotion of International Relations (IR) as a field of study in the Philippines, as well as interdisciplinary exchange of research and knowledge through workshops, conferences and collaborative publication projects aimed at furthering understanding about the concept of the 'international.'" Visit the PHISO website  and learn more about the 2018 conference.

---
The Asian Center offers M.A. degrees in Asian Studies with four fields of specialization: Northeast Asia, Southeast Asia, South Asia, and West Asia. The Center also has an M.A. program in Philippine Studies that allows students to major in Philippine society and culture, Philippine foreign relations, or Philippine development studies. The Center offers a Ph.D. program in Philippine Studies in conjunction with the College of Arts and Letters and the College of Social Sciences and Philosophy. For an overview of these graduate programs, click here. The Asian Center also publishes Asian Studies: Journal of Critical Perspectives on Asia, the latest issue of which can be downloaded at the journal's website. For other news and upcoming events at the Asian Center, click here.