Dean Santarita Takes Part in Sustainable Development Study Visit in Korea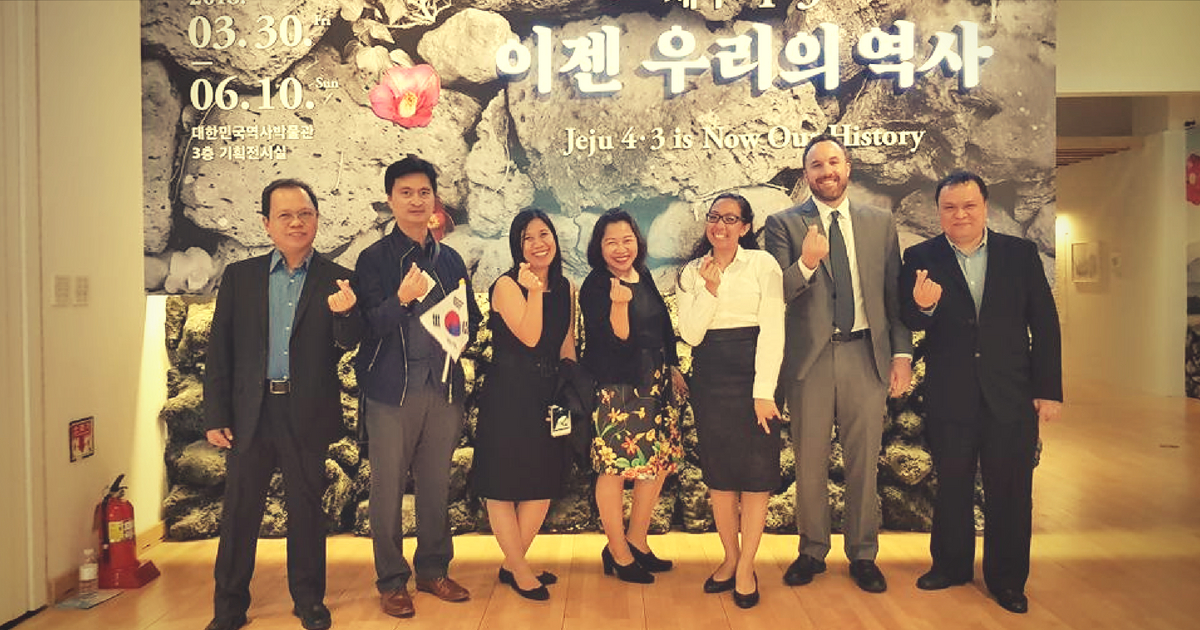 Photo: Dean Santarita (1st from right) with fellow participants in the study visit program. Grabbed from Dean Santarita's Facebook page
---
Dean Joefe B. Santarita of the UP Asian Center participated last 13 to 19 May 2018 in a Study Visit Program in South Korea sponsored by The Asia Foundation (TAF) Korea and the Korea Development Institute's School of Public Policy and Management (KDI School).
The theme of the Study Visit Program is Sustainable Development of Middle-Income Countries. The program aims to provide an opportunity to share Korea's experiences on continuous economic growth as well as efforts on sustainable national development, which can help other countries avoid falling into what is commonly referred to as the middle-income trap. Specifically, the program focuses on the background, strategies and best practices in governance, economics, and social policy.
The study visit program featured experts' lectures, discussions and visits to relevant government offices, non-governmental organizations, private companies, and think tanks in the cities of Pangyo, Sejong, Seoul, and Suwon.
Dean Santarita is one of 3 participants from Indonesia and the Philippines. The Philippine delegates, accompanied by TAF Philippines Deputy Director Ethan Geary, come from the University of the Philippines, House of Representatives, Housing and Land Use Regulatory Board, Land Management Bureau, Department of Transportation, and National Economic Development Authority. 
Dean Santarita specializes in Indian studies, migration studies, Philippine culture and society, maritime history and Southeast Asian political economy. Dr. Santarita, who obtained his Ph.D. in South Asian Studies from the National University of Singapore, handles several graduate courses at the UP Asian Center, including those on Regionalism and Community Building in Asia, Modern Asia, and Asia in Antiquity, among others. Visit his faculty profile.
---

The Asian Center offers M.A. degrees in Asian Studies with four fields of specialization: Northeast Asia, Southeast Asia, South Asia, and West Asia. The Center also has an M.A. program in Philippine Studies that allows students to major in Philippine society and culture, Philippine foreign relations, or Philippine development studies. The Center offers a Ph.D. program in Philippine Studies in conjunction with the College of Arts and Letters and the College of Social Sciences and Philosophy. For an overview of these graduate programs, click here. The Asian Center also publishes Asian Studies: Journal of Critical Perspectives on Asia, the latest issue of which can be downloaded at the journal's website. For other news and upcoming events at the Asian Center, click here.