AC Hosts, Takes Part in Bonifacio Conference and Exhibit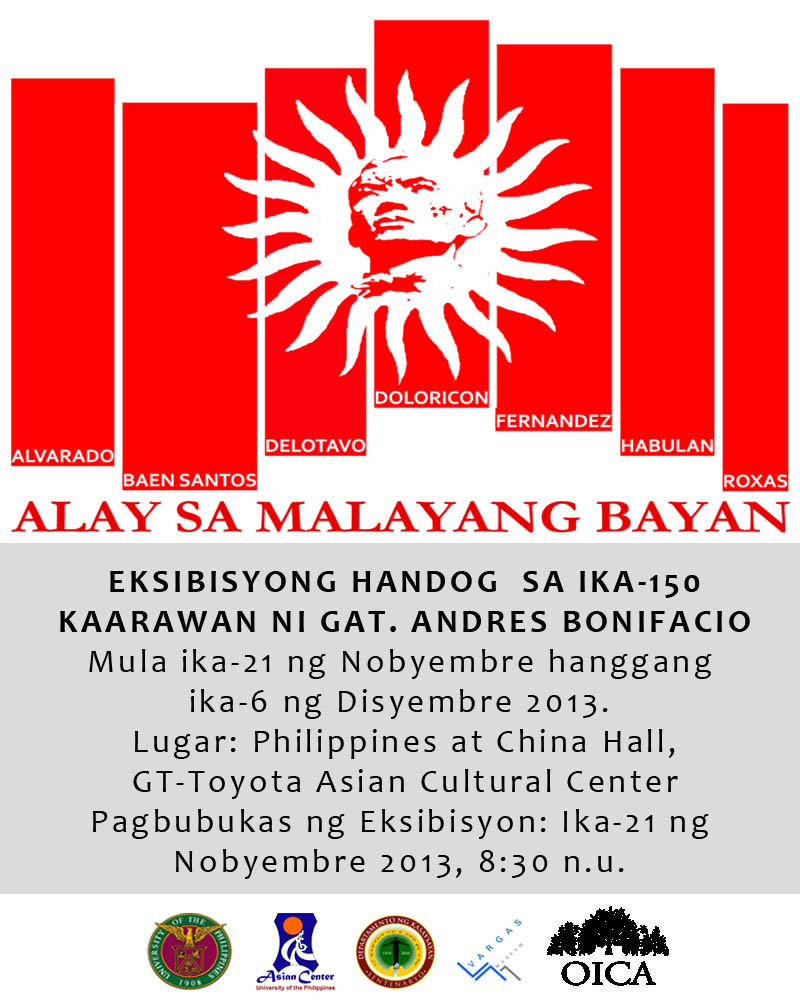 The Asian Center recently hosted and took part in a conference commemorating the 150th birth anniversary of Andres Bonifacio, founder of the Katipunan, a revolutionary movement against Spanish colonialism. 
Entitled Alay sa Bayan:Pambansang Kumperensya at Pagtatahanghal and co-organized by the Department of History, College of Arts and Letters, College of Social Sciences and Philosophy, University of the Philippines Diliman, the conference gathered leading Philippine historians and dealt with various aspects of Andres Bonifacio's life and the Katipunan. Presentations covered the historiography of the Philippine Revolution, Asian social movements, the role of women in the revolution, and the contemporary relevance of the Katipunan, among others. 
For details, download the full program here. 
Presenters include the faculty of the Asian Center, Dr. Henelito A. Sevilla, Prof. Rolando G. Talampas, and Dr. Joefe B. Santarita. Dr. Sevilla discussed Iranian social movements, Prof. Talampas presented the development of a social movement among Filipino seamen in the 20th century while Dr. Santarita focused on an Indian social movement in the late 19th century. They were part of a panel that sought to provide a contemporary or near-contemporary context to the Katipunan and the Philippine Revolution. Other faculty participated as moderators, Dr. Tina S. Clemente, Dr. Antoinette R. Raquiza, and Dr. Carolyn I. Sobritchea. 
The conference also featured Bonifacio-related performances, including a martial-arts demonstration and a rendition of Pag-Ibig sa Tinubuang Lupa. An exhibit, Alay sa Malayang Bayan, of various Bonifacio- or Katipunan-inspired artworks also opened during the conference. The featured artists are Nunelucio Alvarado, Antipas Delotavo, Leonilo Doloricon, Egai Fernandez, Renato Habulan, Edgar Roxas, Pablo Baen Santos. 
The exhibit was arranged by the Asian Center's Museum office under the supervision of Dr. Reuben Ramas Cañete and with the assistance of Mr. Dino Carlo Santos. It runs from 21 November 2013 to 6 December 2013.