'Containing Expanding Space': An Art Exhibit at the Asian Center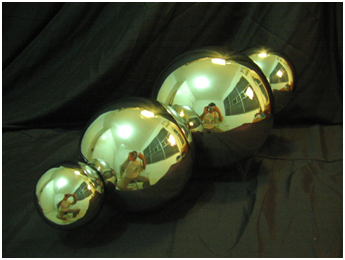 The Asian Center will be hosting another art exhibit, Containing Expanding Space, from 7 June to 4 July 2014 at the Hall of Wisdom, GT-Toyota Asian Cultural Center, Asian Center University of the Philippines Diliman. The exhibit will open on Saturday, 7 June, at 6:00 P.M.
Below is the artists Ulysses Veloso's statement:
"Man's perception is always dictated by his own limitations. In spite of the vastness of our universe, our natural view is simplistically narrow. Our ordinary notions of reality, space, and reflection are shaped by our human senses. It is the objective of this artist to represent reality more accurately, in a way that our own sight simply cannot. To create a reality that exists outside and within time and space to challenge the normal view of reality. To add value to reflections by turning it into an artwork that reflects the boundless space it, and we, belong to.
Stephen Hawking's Theory of Curved Space, adapted from Albert Einstein's Theory of Relativity, states that is difficult to ultimately imagine space. As it is boundless and expanding, it ultimately curves, a natural state that we cannot see but is proven as truth by mathematical fact and space exploration.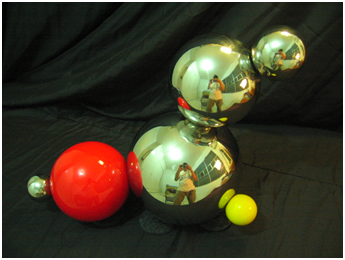 To contain space and present a more scientifically accurate view of the world, we use of reflection as heterotopia. Based on Michel Foucault, Heterotopia is a tangible manifestation of Utopia, which is the idea of non-existing space in time. Utopia is a vision with a no real place. It is a direct inverted analogy: fundamentally unreal places.
A reflection in a mirror is a placeless place. It is a virtual space that opened up behind the surface of a medium. It is an acted utopia. An example is the joint experience of a mirror. You can experience utopia and heterotopia in a mirror because the medium called the mirror does actually exist in real space. Thus a spherical mirror reflects seamless space or surround space.
Veloso's  artwork is about an isomorphic shape that reflects surround space, and in the process contains it. It is a reflection of the spherical Earth, curved space-time and the most naturally occurring shape in the universe. The work Onomatopoeia is the representation of infinite surround space beyond our normal vision, it is scientific truths represented and presented to the public by a tangible and interactive sculpture."
---
Ulysses Veloso is a sculptor who transposes surreal and abstract existentialism to produce artwork that is dynamic, transformative and experiential.  He explores the possibilities of sculptural materials from its visual quality to its meaning and weaves into it his ideas and experiences, forming a work of art that is truly reflective of his artistic sensibilities and philosophy. Every work of art is an articulation of Veloso's mastery of the art elements, technical brilliance, and zest for life. He locates his art in several dimensions as material, technique and thematic choices are transformed into varying contexts. This belies not only aesthetic experience but also a critical awareness of social themes, as well as contemporary art theories and practices.
Ulysses Veloso is a graduate of the University of the Philippines Diliman with a Bachelor of Fine Arts degree major in Sculpture and presently pursuing graduate studies under the UP Master of Fine Arts Program.  He has mounted 14 major solo shows and 20 group exhibitions in major museums, galleries, and alternative art spaces here and abroad.  He has a long list of commissioned works both in the local and international art market.