Stars, Beauties, and the Stage: Ukiyoe Portraits from Edo Period Japan | An Exhibit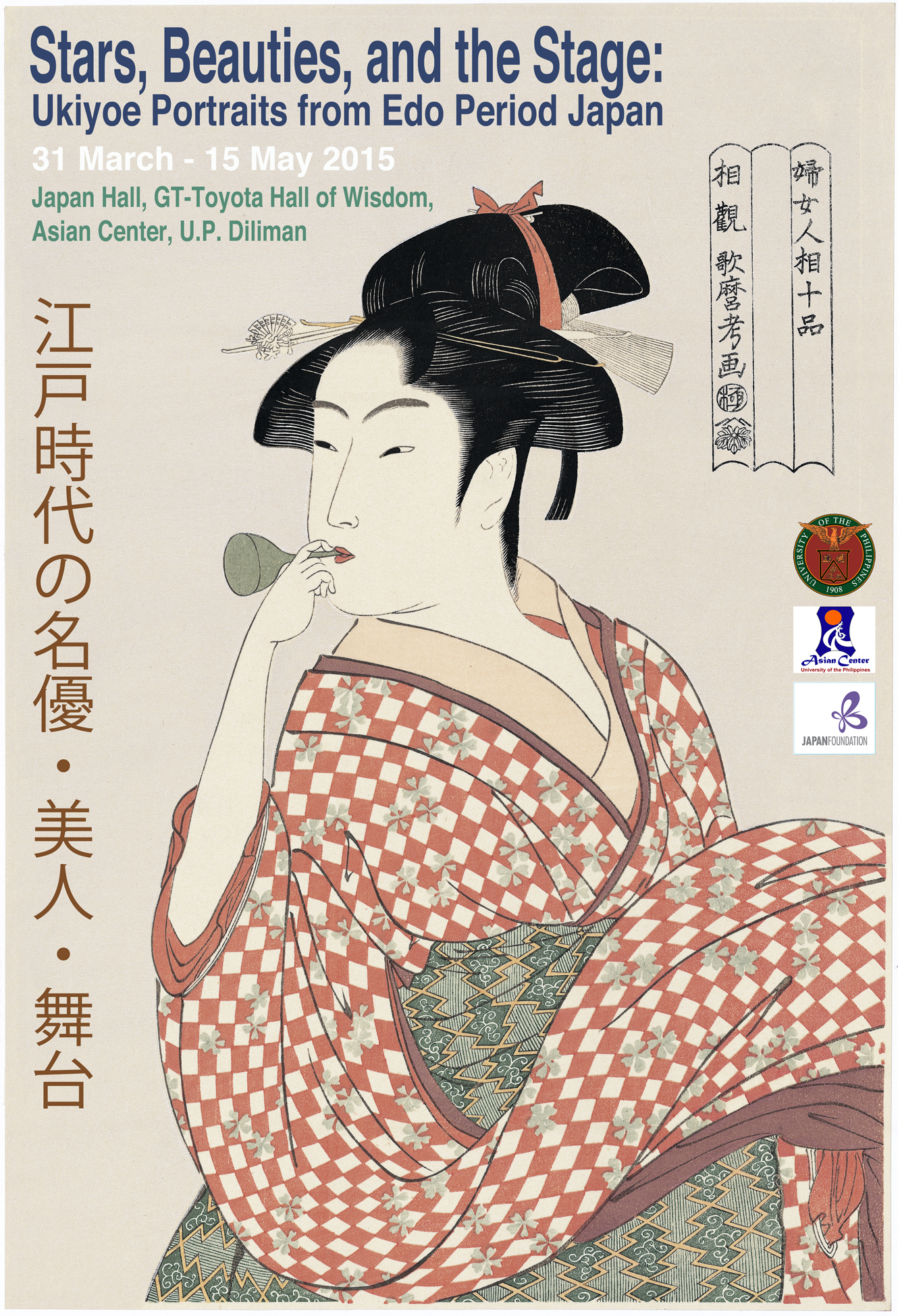 The Asian Center and the Japan Foundation Manila will be hosting an art exhibit, Stars, Beauties, and the Stage: Ukiyoe Portraits from Edo Period Japan from 31 March 2015 to 15 May 2015 at the Japan Hall, Hall of Wisdom, GT-Toyota Asian Cultural Center, Asian Center, University of the Philippines Diliman. The exhibit opens at 4:00 PM on Tuesday, 31 March. Museum hours run from Monday to Friday, 8:00 a.m. to 5:00 p.m. Admission is free.
Ukiyo-e literally means "pictures of the floating world" in Japanese. They refer to colored woodblock prints that flourished during the Edo Period between the seventeenth and nineteenth centuries. The ukiyo-e were initially patronized as "pillow book" manuals to teach lovemaking, but eventually included portraits, the plays and actors of Kabuki theater, and Japanese rural and urban landscapes. Paralleling the rise of a merchant class who had extensive trading networks throughout Japan, ukiyo-e creatively fuse traditional Japanese aesthetics with Western artistic patterns and traditions. The genre is said having inspired later Japanese art forms like manga and animé.

Stars, Beauties and the Stage will display thirty-five (35) ukiyo-e portraits of women engaged in everyday tasks: picking irises, crossing a river, serving tea, and smoking a pipe. A few men disguising as women are also portrayed. Encoding notions of femininity and the gender dynamics of early modern Japan, the portraits feature women from different social classes: a courtesan, a servant, a geisha, and a bonsai vendor. A sample of the ukiyo-e was used in the exhibit poster.

The exhibit is curated by Asian Center faculty, Dr. Reuben Ramas Cañete, Professor, and Dr. Michiyo Yoneno-Reyes, Associate Professor. For more inquiries, please contact Louise at 981.8500 local 3580 or via email: This email address is being protected from spambots. You need JavaScript enabled to view it. .