TILAOK: An Art Exhibit Inspired by "Ang Mahiyaing Manok"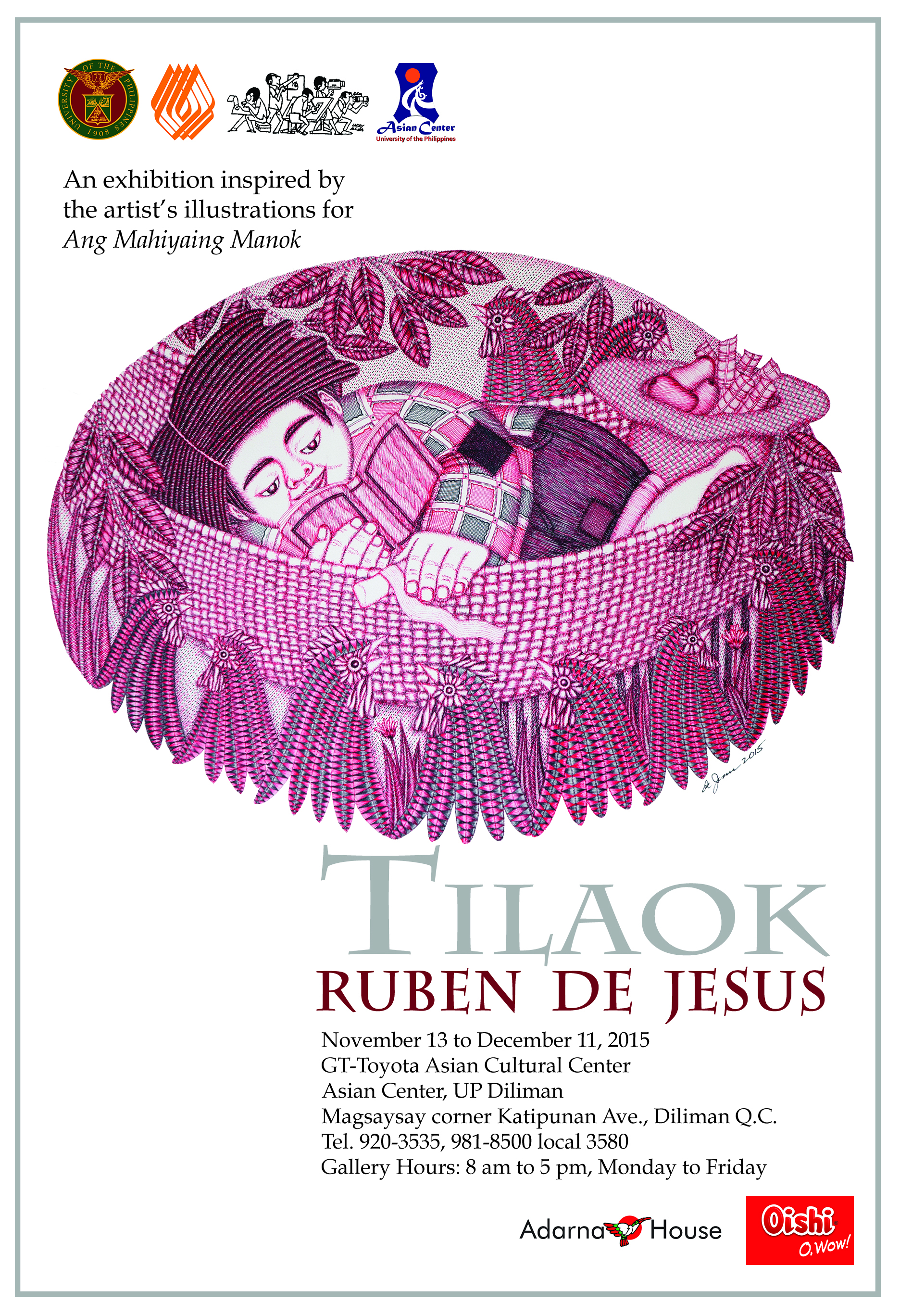 The Asian Center, University of the Philippines Diliman will be hosting an art exhibit by Professor Ruben de Jesus, "Tilaok" (Crowing) from 12 November to 11 December 2015 at the GT-Toyota Asian Cultural Center, Hall of Wisdom, Asian Center, University of the Philippines Diliman.
The exhibit, which is free and open to the public, opens at 5:30 p.m. on 12 November. Regular viewing schedule runs from 13 November to 11 December 2015, Mondays to Fridays, 8 a.m. to 5:00 p.m. 
The exhibit features fifteen of Professor Ruben de Jesus' new art works inspired by the theme and style of his illustrations for Ang Mahiyaing Manok (The Shy Rooster), a children's book that was published in 2000 and received various local and international awards, including the Encourage Prize, 2000 Noma Concours for Children's Picture Book Illustrations, Tokyo, Japan. The book was also a finalist in 2000 for Best Children's Book, National Book Awards, Manila Critics Circle; and runner-up at the 2004 New York Showcase Exhibition, Winter Conference, Society of Children's Book Writers and Illustrators (SCBWI).
Tilaok also displays artworks inspired by Professor de Jesus' solo exhibits, Simpleng Buhay, Simpleng Kulay  1 and 2 (Simple Life, Simple Color), at the Filipinas Heritage Library in 2010 and 2011. Rendered in ball point and featuring detailed linear strokes, the artworks for Parts 1 and 2 of the Simpleng Buhay, Simpleng Kulay exhibits depict simple daily life of the Filipino family and lighthearted scenes of children reading books, respectively. Part 2 reflected the artist's involvement in reading advocacies.
Ruben de Jesus is Professor at the Department of Visual Communication, College of Fine Arts, University of the Philippines Diliman. He is one of the founders of "Ang Ilustrador ng Kabataan" (Ang INK; the Illustrator of the Youth) and the Sectoral Representative for Illustrators of the Philippine Board on Books for Young People (PBBY). His illustrations in Ang Mahiyaing Manok established a distinct style recognized and honored in visual and children's literary art circles.
Please let us know you're coming by filling out this Google Form. For inquiries, please contact Ms. Louise Sanchez at 920.3535 or 981.8500 local 3580 or  This email address is being protected from spambots. You need JavaScript enabled to view it. .
---
The Asian Center offers M.A. degrees in Asian Studies with four fields of specialization: Northeast Asia, Southeast Asia, South Asia, and West Asia. The Center also has an M.A. program in Philippine Studies that allows students to major in Philippine society and culture, Philippine foreign relations, or Philippine development studies. The Center offers a Ph.D. program in Philippine Studies in conjunction with the College of Arts and Letters and the College of Social Sciences and Philosophy. For an overview of these graduate programs, click here. The Asian Center also publishes Asian Studies: Journal of Critical Perspectives on Asia, the latest issue of which can be downloaded at the journal's website. View recent and upcoming Lectures & Conferences and read other News & Announcements. Join our mailing list to receive invitations to lectures, conferences, etc.