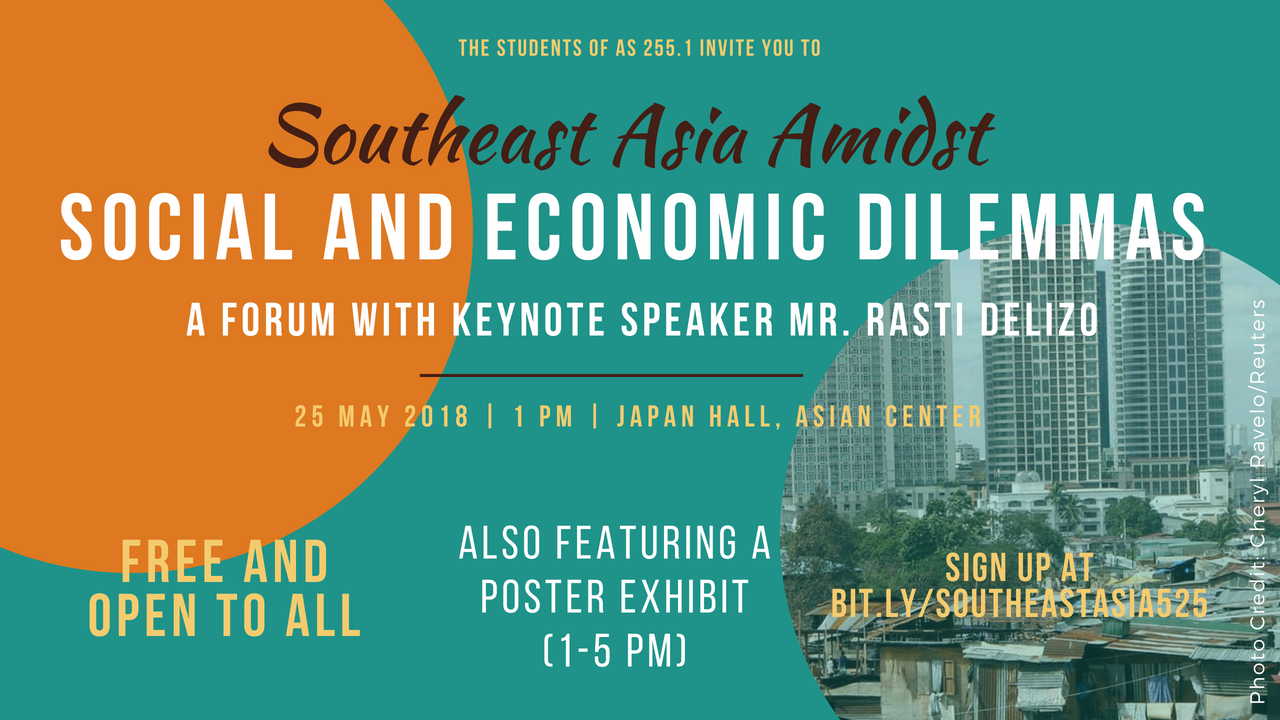 The UP Asian Center will launch a forum-poster exhibit, Southeast Asia Amidst Social and Economic Dilemmas, on 25 May 2018, 1:00 pm to 5:00 pm, Japan Hall, UP Asian Center, Quezon City. The forum-exhibit is free and open to the public; seating is first-come, first-served, but participants are requested to sign up.
LIST OF POSTER PRESENTATIONS
The forum-exhibit also features research posters by graduate students of the UP Asian Center taking up the course Asian Studies (AS) 255.1 (Social and Economic Development in Southeast Asia) under UP Asian Center Dean Joefe B. Santarita.
The posters, divided into five clusters, will delve on the following topics:
International Political Economy
Rice and the Global Food Regime by Kristine Calleja

Foreign Aid and Trade: Donor Trade Gains in Aid Provision by Leny Amparo
Connectivity and Creativity in Southeast Asian Development
Conjectures and Constraints: Appraising Local and Regional Contexts of Developing Creative Economies in ASEAN by Ace Vincent Molo

Pursuing Innovation: Harmonizing ASEAN MSMEs' Direction to the Fourth Industrial Revolution by Liam De Guzman
Economic Impacts of Education in Southeast Asia
Internationalization of Higher Education by Dyandell Mendoza

Employability of the First K-12 Graduates (2018): A Focus on Antipolo SHS Graduates by Cris Roco-Escape
Tourism and Health Policy Development in Southeast Asia
Closed Doors and Open Secrets: Sex Tourism in Southeast Asia by Mary Roseanne Ramirez

Do or Die: The Implications of Indonesia's Economic Status to its Roadmap to Universal Health by Cheska Diaz
Migrants, Borders, and Development
Towards an ASEAN Borderless Economic Community: Exploring the Steps and Forecasts by Monica Abrille

Vulnerabilities of Indonesian Women Migrant Workers to Violent Extremism by Alma Amargo
SPECIAL LECTURE
A special lecture will be delivered on the event by Mr. Rasti Delizo, a foreign policy analyst focusing on international political and security affairs from a socially progressive perspective. He once headed the Political/Security Affairs Staff of the Macroeconomy and Political Affairs Office of the Presidential Management Staff-Office of the President (PMS-OP) and used to teach International Politics and Philippine Foreign Policy. He is also the national coordinator of the mass-movement political center Laban ng Masa, the political affairs coordinator of the socialist labor center Bukluran ng Manggagawang Pilipino, and the coordinator for the People's Forum during APEC 2015. He also writes extensively on Southeast Asian regional issues.
EXHIBIT SCHEDULE
The students' posters will be available for viewing from 25 to 26 May 2018. Exhibit hours 8 am to 5 pm. 
ABOUT THE ORGANIZERS
The exhibit is organized by the students of the UP Asian Center taking up Asian Studies (AS) 255 taught this semester by Dean Joefe Santarita, PhD, who specializes in Indian studies, migration studies, Philippine culture and society, maritime history and Southeast Asian political economy. Dr. Santarita, who obtained his Ph.D. in South Asian Studies from the National University of Singapore, handles several graduate courses at the UP Asian Center, including those on Regionalism and Community Building in Asia, Modern Asia, and Asia in Antiquity, among others. Visit his faculty profile.
---
The Asian Center offers M.A. degrees in Asian Studies with four fields of specialization: Northeast Asia, Southeast Asia, South Asia, and West Asia. The Center also has an M.A. program in Philippine Studies that allows students to major in Philippine society and culture, Philippine foreign relations, or Philippine development studies. The Center offers a Ph.D. program in Philippine Studies in conjunction with the College of Arts and Letters and the College of Social Sciences and Philosophy. For an overview of these graduate programs, click here. The Asian Center also publishes Asian Studies: Journal of Critical Perspectives on Asia, the latest issue of which can be downloaded at the journal's website. For other news and upcoming events at the Asian Center, click here.