The Asian Studies MA program of the Asian Center yields a deeper understanding and a wider perspective on Asia that cannot be obtained by concentrating on a single discipline. Grounding them on research methodologies and theories on area studies, and on various social sciences, the program requires students to take courses on the history, politics and governance, economic development, and culture of Northeast Asia, Southeast Asia, South Asia, OR West Asia.
Program Overview (Units)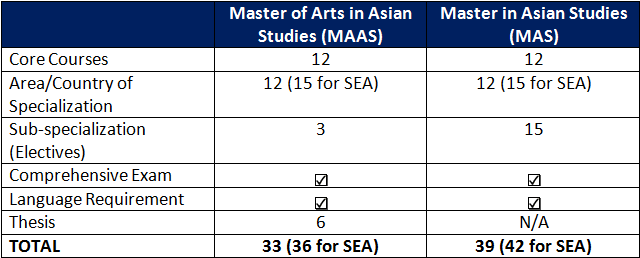 Two Tracks: Thesis or Nonthesis
The Asian Center offers two tracks for its MA programs: The Master of Arts in Asian Studies (thesis track), and the Master in Asian Studies (non thesis). The latter entails more coursework.
Areas of Specialization
Regardless of track, students must specialize on one of four regions.
Northeast Asia
Southeast Asia
South Asia, OR
West Asia (Middle East)
Northeast Asia majors will specialize on China, Japan OR Korea. The other regions do not entail a country of specialization.
Program of Study: List of Required Courses

The program of study lists down the required courses according to track and area of specialization.
Coursework: Interdisciplinary
Students take courses on the political, social, economic, historical, and cultural aspects of their chosen region (country for Northeast Asia majors). View list of Asian Studies courses.
Grade Requirements
There is no GWA requirement in applying for the program. But starting 1st semester, Academic Year 2019–2020, students are required to maintain a GWA of 1.75 or better. Students who began their studies before this are subject to the previous 2.0 GWA requirement.
Coursework: Schedules
Generally, classes meet on weekdays once a week for three hours from 5:00 p.m. to 8:00 p.m. Some classes are offered on Saturdays at 8:30 a.m, 11:30 a.m., and 3:30 p.m. What these courses are depend on the teacher and the semester.
Language Requirement
Competency in an Asian language IS NOT required for application. But once enrolled, Asian Center students must demonstrate competence in one (1) Asian language such as Bahasa-Indonesia/Malaysia, Chinese, Japanese OR any language required in or relevant to their area of specialization by:
• Passing a language proficiency examination given by an accredited institution; by completing 196 hours of language classes offered by an accredited institution; OR
• Completing 196 hours or 12 units of language classes offered within the University of the Philippines. Students can take and language courses in Bahasa and Japanese offered in the Asian Center or at the Department of Linguistics, UP Diliman.
This requirement must be satisfied before taking the comprehensive examination. Language classes may be taken outside the UP Asian Center or outside the University of the Philippines Diliman, but before enrolling in these external courses, please ask the Office of the College Secretary if such institutions are accredited and courses taken therein will be credited accordingly. Click here to learn more about course offerings, and rules and regulations.
Comprehensive Examinations
Upon completion of their coursework and language proficiency requirement, students can take a comprehensive examination. The exam covers general Asian history; theories, perspectives, and research methods; and area/country of specialization. For students in the nonthesis track, passing this exam is the last major step to qualifying for graduation.
For those on the thesis track, passing the comprehensive exam is required before they can enroll in Asian Studies (AS) 300 (thesis). There are no numerical grades for the comprehensive examination. One either fails, or gets a pass or high pass for each facet of the exam.
Contact Us
For more information, you may contact the Office of the College Secretary at 981.8500 local 3578 or via email: This email address is being protected from spambots. You need JavaScript enabled to view it..
---