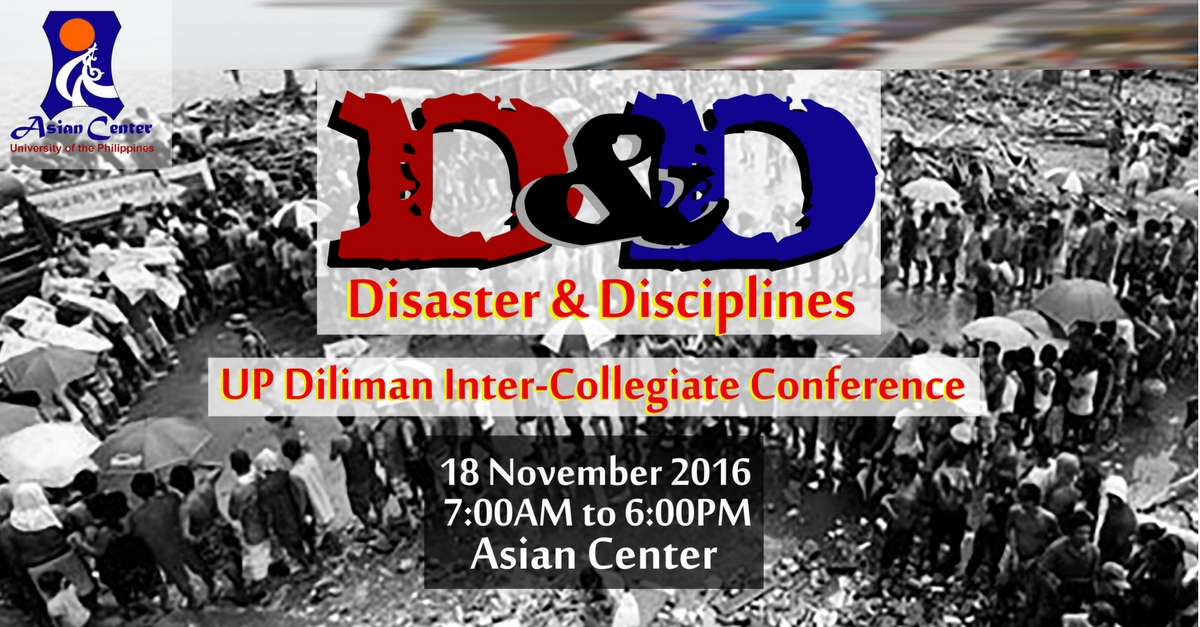 The UP Asian Center will be hosting a conference, Disaster and Disciplines: A UP Diliman Intercollegiate Conference, on Friday, November 18, 2016, 8 am to 5 pm, GT-Toyota Asian Center Auditorium, UP Asian Center. The conference is free and open to the public, but seating is first-come, first-served. Participants are encouraged to sign up online to expedite the registration on the day of the conference. Venue and on-site registration begins at 7 am.   
CONFERENCE OVERVIEW
The conference features the presentations of faculty from various institutes and colleges from the University of the Philippines Diliman. Sharing their insights and findings from their respective research, the speakers will cover several topics, including, but not limited to, the following:
Disasters, local development planning, and the building of 'disaster-resilient communities'

The role of the government in disaster governance

Higher education institutions and climate change

Cultural resources and disaster management

The interaction among food security, sea-level rise, and coastal erosion

Irrigation, agricultural infrastructure, and climate change

Weather events and their impact

Emerging urban districts

The language of disaster
The keynote address, "Building Resilient Communities Through Probabilistic Risk Assessment," will be delivered by Mahar Lagmay at 8 am. First panels begin at 10 am. 
VICINITY MAP
Vehicles entering the UP Asian Center (GT-Toyota Asian Cultural Center) grounds can only do so via the gate on Magsaysay Avenue that is near a UP guardhouse, a few meters away from Katipunan Avenue, and across Maynilad. A small gate for pedestrians on Guerrero St. lies across the College of Law parking lot and a few meters away from a waiting shed, where the Ikot jeepney, and jeepneys from Philcoa and SM North pass by.
INQUIRIES
For inquiries about the symposium, please email the Information Office of the UP Asian Center: This email address is being protected from spambots. You need JavaScript enabled to view it.. 
RELATED ACTIVITIES 
The conference is one of many events that the UP Asian Center is organizing for its 61st anniversary this November. Please do join us for these activities:
---
The UP Asian Center offers M.A. programs in Asian Studies with four fields of specialization: Northeast Asia, Southeast Asia, South Asia, and West Asia. The Center also has an M.A. program in Philippine Studies that allows students to major in Philippine society and culture, Philippine foreign relations, or Philippine development studies. The Center offers a Ph.D. program in Philippine Studies in conjunction with the College of Arts and Letters and the College of Social Sciences and Philosophy. Get an overview of these programs. The Asian Center also houses a peer-reviewed, open-access journal, Asian Studies: Journal of Critical Perspectives on Asia. It has published several books and monographs, and hosts or organizes various lectures and conferences.