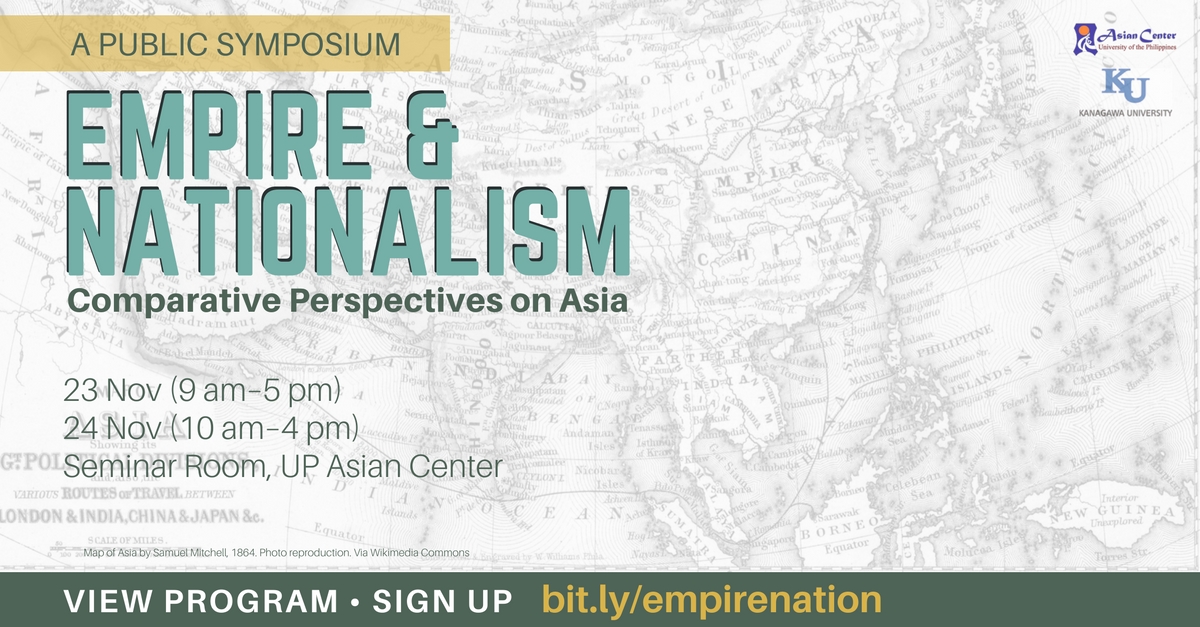 The UP Asian Center and Kanagawa University, Japan will be holding a joint public symposium, "Empire and Nationalism: Comparative Perspectives on Asia," from 23 to 24 November, Seminar Room, UP Asian Center. The schedule for 23 November is 9 am to 5 pm, while the program for 24 November is 10 am to 4 pm. The symposium is free and open to the public; seating is first-come, first-served, but participants are encouraged to register online to expedite the registration process on the days of the symposium. 
ABOUT THE SYMPOSIUM
The joint symposium will feature nine (9) speakers on as many topics, including Thai social and political movements; new internationalism in Asia; U.S. rubber plantations in the Philippines; world cinema and Southeast Asian regional cinemas; Chinese citizenship in British Malaya; national cultural minorities during the American colonial period; public diplomacy in Japan and the Republic of Korea; photography, scholarship, and the (re)imagining of Sulu; and racism and nationalism in the Battle of Saipan.
The papers are grouped into five (5) sessions, each of which features a discussant and a moderator. 
LIST OF SPEAKERS
Paper presenters from the University of the Philippines include Ramon Guillermo; Patrick Campos; and MCM Santamaria. Joining them are colleagues from Japan: Nobutaka Suzuki; Hiroshi Murai; Michiyo Yoneno-Reyes; Kazutaka Hisada; and Hidekazu Sensui.
ABOUT THE ORGANIZERS
The joint symposium is part of a Kanagawa University research project of the same title, which is led by Professor Yoshiko Nagano of Kanagawa University. The research project revisits and reflects on the crossroads of the discourse on formal/informal Imperialism and official/unofficial nationalism in the context of the emergence of global history vis-a-vis various forms of national history. 
VICINITY MAP
Vehicles entering the UP Asian Center (GT-Toyota Asian Cultural Center) grounds can only do so via the gate on Magsaysay Avenue that is near a UP guardhouse, a few meters away from Katipunan Avenue, and across Maynilad. A small gate for pedestrians on Guerrero St. lies across the College of Law parking lot and a few meters away from a waiting shed, where the Ikot jeepney, and jeepneys from Philcoa and SM North pass by.
INQUIRIES
For inquiries about the symposium, please email the Information Office of the UP Asian Center: This email address is being protected from spambots. You need JavaScript enabled to view it.. The symposium is one of many events—lectures, etc.—that the UP Asian Center is holding in celebration of its 61st anniversary this November. View a complete list of such activities. Please do join us for the following: 
---
The UP Asian Center offers M.A. programs in Asian Studies with four fields of specialization: Northeast Asia, Southeast Asia, South Asia, and West Asia. The Center also has an M.A. program in Philippine Studies that allows students to major in Philippine society and culture, Philippine foreign relations, or Philippine development studies. The Center offers a Ph.D. program in Philippine Studies in conjunction with the College of Arts and Letters and the College of Social Sciences and Philosophy. Get an overview of these programs. The Asian Center also houses a peer-reviewed, open-access journal, Asian Studies: Journal of Critical Perspectives on Asia. It has published several books and monographs, and hosts or organizes various lectures and conferences.