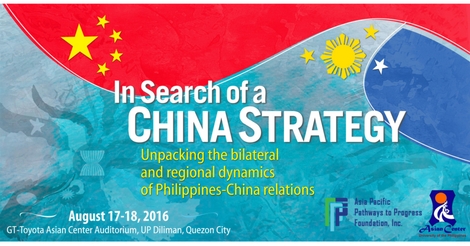 The Asia Pacific Pathways to Progress Foundation, Inc. in partnership with the Asian Center, University of the Philippines Diliman, will be holding a symposium, "In Search of a China Strategy: Unpacking the Bilateral and Regional Dynamics of Philippines-China Relations." It will be held from 17 (9:00 a.m. to 5:30 p.m.) to 18 (8:30 a.m. to 12:30 p.m.)* August 2016 at the GT-Toyota Asian Center Auditorium, Asian Center, University of the Philippines Diliman. The symposium is open to the public.
The symposium will "cover the sociocultural, economic, development, political and security aspects of relations, set against the backdrop of domestic priorities in Beijing and Manila as well as broader regional and global trends."
TENTATIVE LIST OF TOPICS AND PANELS*
PANEL 1:




Sociocultural and People-to-People Ties (17 Aug)

PANEL 2:
Economic and Development Issues (17 Aug)
PANEL 3:
The South China Sea (17 Aug)
PANEL 4:
Philippines-China Ties in a Broader Context (18 Aug)

 Migration trends and their socioeconomic implications

Tourism prospects and challenges

 The Arbitration Award and its implications on Philippine Development

 China's domestic politics and foreign policy implications

The role of civil society in PH-China relations

 Bilateral trade: Issues and challenges

 Lessons from international fisheries and cooperation agreements

Geopolitical shifts 

Science and technology cooperation

 Bilateral investments

 Prospects for oil and gas competition and cooperation with China 

 The Philippines between China and ASEAN 

 Youth and educational networks and exchanges

Chinese mining interests

 

 Regional connectivity and the Maritime Silk Road

 Cooperation against transnational crime

 

 

 
Register online. Walk-ins are welcome, but please note that seats are limited and are available on a first-come, first-served basis.

Pay the registration fee* of Php 400.00 for one day or Php 800.00 for two days, which will cover the food (lunch will be served on both days) and symposium kit. The kit includes the program, copy of abstracts, and CVs of the speakers. Three payment options are available.


*UP faculty and students can register for free. They are asked to present their UP ID or valid Form 5 at the registration desk.

 
Click to pop up the Vicinity Map. Vehicles entering the GT-Toyota Asian Cultural Center grounds can only do so via the gate on Magsaysay Avenue that is near a UP guardhouse and a few meters away from Katipunan Avenue. There is a small gate for pedestrians on Guerrero St., which lies across the College of Law parking lot and a few meters away from a waiting shed, where the Ikot jeepney, and jeepneys from Philcoa and SM North EDSA pass by.
Please call the APPFI at (02) 455-5363 or send an email to This email address is being protected from spambots. You need JavaScript enabled to view it.. Visit the APPFI website to learn more.
---
The UP Asian Center offers M.A. programs in Asian Studies with four fields of specialization: Northeast Asia, Southeast Asia, South Asia, and West Asia. The Center also has an M.A. program in Philippine Studies that allows students to major in Philippine society and culture, Philippine foreign relations, or Philippine development studies. The Center offers a Ph.D. program in Philippine Studies in conjunction with the College of Arts and Letters and the College of Social Sciences and Philosophy. Get an overview of these programs. The Asian Center also houses a peer-reviewed, open-access journal, Asian Studies: Journal of Critical Perspectives on Asia. It has published several books and monographs, and hosts or organizes various lectures and conferences.