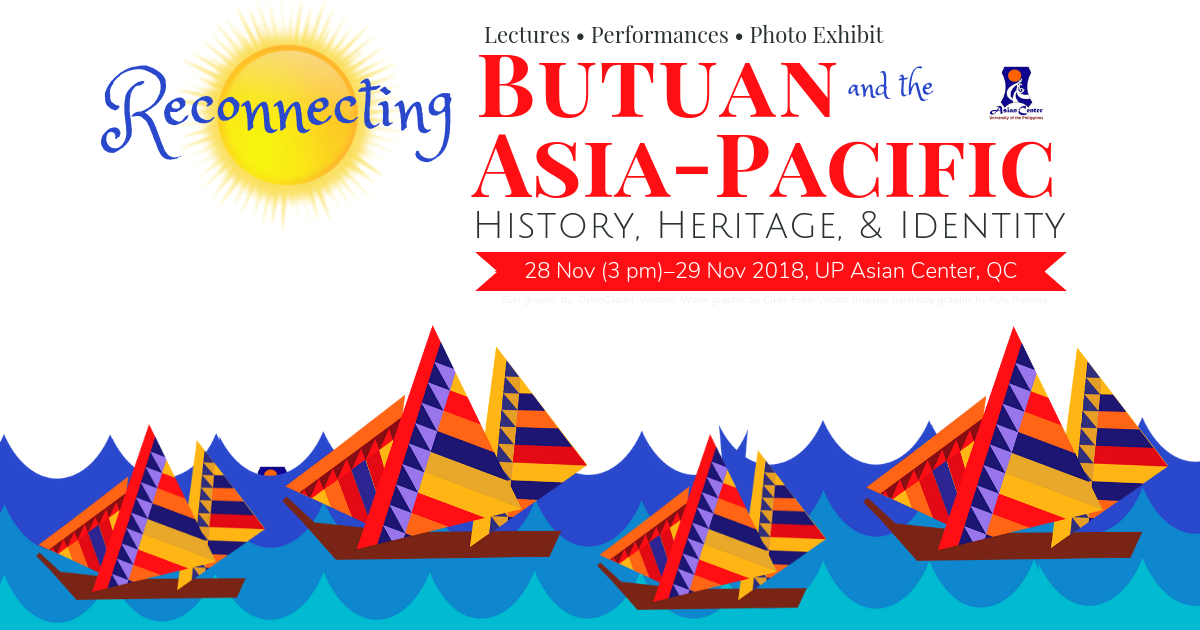 The graduate students of Philippine Studies 201 at the UP Asian Center are organizing an exhibit, Reconnecting Butuan and the Asia-Pacific: History, Heritage and Identity from 28 to 29 November 2018 at the UP Asian Center, QC. The event opens at 3 pm, 28 November and will feature lectures (tentative) and Manobo cultural traditions and performances. It is free and open to the public, but participants are encouraged to sign up:
ACTIVITIES FOR 28 NOV, 3 PM
Manobo Prayer

Datu Aljun Cayawan, Manobo Prince of Sibagat, Agusan del Sur

Welcome Remarks

Henelito A. Sevilla, Jr. PS 201 Professor

Remarks

Matthew Santamaria, Professor, UP Asian Center

Environment, Literacy and Cultural Immersion: A Video Presentation

The video presentation will feature scenes/highlights of the literacy program in the elementary school?

Manobo Music and Dance: A Performance

Datu Aljun Cayawan, Manobo Prince of Sibagat and Champion, 2018 World Championships in Performing Arts, Long Beach California

Impressions from the Field

Nomer Angeles, PhD student, PhD Philippine Studies Program
Emerrie Fegarido, Student, Master in Philippine Studies Program

Dance Presentation
Musical Performance (Song)

Arjay Espartero, Madrigal Foundation and Gold Medal Winner, World Championships of Performing Arts

Historical and Archaeological Finds in Agusan: PHL-Asia Links | A Lecture

Dr. Potenciano Malvar, President, Butuan Calagan Cultural and Historical Foundation
ABOUT THE EXHIBIT
The photo exhibit will showcase the vibrant history, culture and heritage of the Manobos and of Butuan: from the balangays (boats) and the controversial First Mass to the traditional Laksoy (local wine) making. A small, eight-feet version of the Balangay—made from various materials—will also be on display. The exhibit will also showcase the results of the community engagement and literacy program done by the PS 201 Students in an elementary school.
ABOUT THE ORGANIZERS
The exhibit is organized by graduate students of Philippine Studies (PS) 201—Philippines in the Asia-Pacific—under Dr. Henelito Sevilla. It is the outcome of their visit to Butuan in November 2018.
INQUIRIES
For questions, please email This email address is being protected from spambots. You need JavaScript enabled to view it.
---
The Asian Center offers M.A. degrees in Asian Studies with four fields of specialization: Northeast Asia, Southeast Asia, South Asia, and West Asia. The Center also has an M.A. program in Philippine Studies that allows students to major in Philippine society and culture, Philippine foreign relations, or Philippine development studies. The Center offers a Ph.D. program in Philippine Studies in conjunction with the College of Arts and Letters and the College of Social Sciences and Philosophy. For an overview of these graduate programs, click here. The Asian Center also publishes Asian Studies: Journal of Critical Perspectives on Asia, the latest issue of which can be downloaded at the journal's website. For other news and upcoming events at the Asian Center, click here.