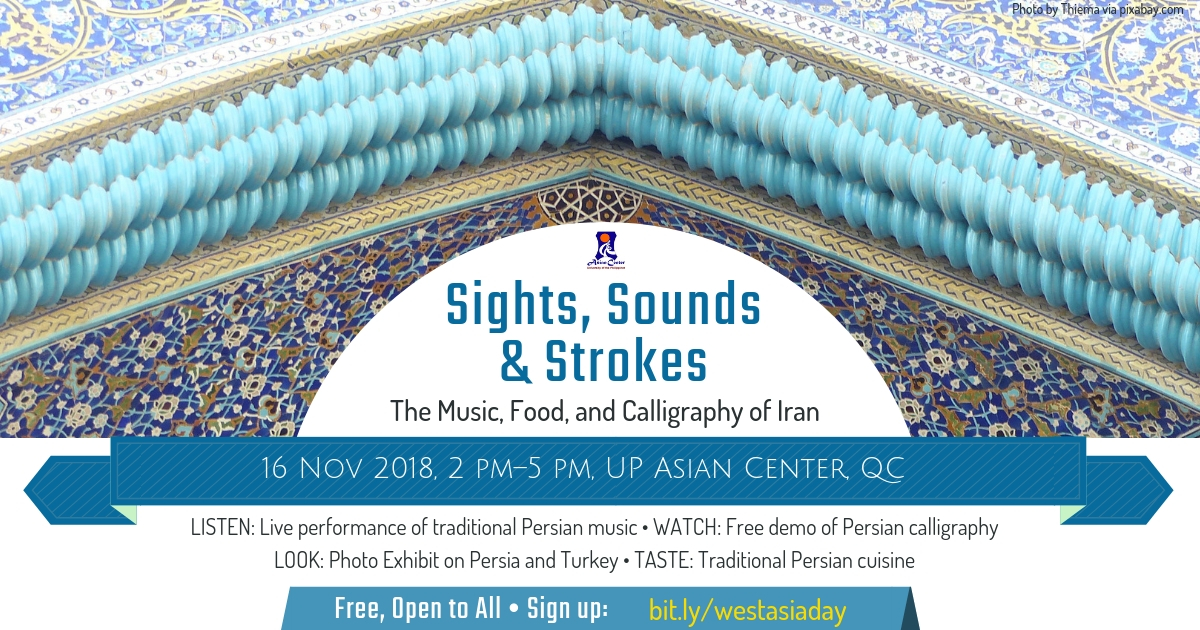 The UP Asian Center will be showcasing Persian culture in Sights, Sounds, and Strokes: The Music, Food and Calligraphy of Iran on 16 November 2018, 2 to 5 pm @ UP Asian Center, QC. The event is free and open to the public, but participants are encouraged to sign up.
ABOUT THE EVENT
The event features brief introductions to Persian culture. Guests will be treated to:
A live performance of traditional Persian music (Santoor)
Free demo of Persian calligraphy
Photo exhibit of Persia and Turkey
Traditional Persian cuisine
The event is organized as part of the 63rd anniversary of the UP Asian Center, with the theme, Bridging Asia and the Philippines, Bringing Asia to Filipinos.
INQUIRIES
For inquiries, please email This email address is being protected from spambots. You need JavaScript enabled to view it.
---
The Asian Center offers M.A. degrees in Asian Studies with four fields of specialization: Northeast Asia, Southeast Asia, South Asia, and West Asia. The Center also has an M.A. program in Philippine Studies that allows students to major in Philippine society and culture, Philippine foreign relations, or Philippine development studies. The Center offers a Ph.D. program in Philippine Studies in conjunction with the College of Arts and Letters and the College of Social Sciences and Philosophy. For an overview of these graduate programs, click here. The Asian Center also publishes Asian Studies: Journal of Critical Perspectives on Asia, the latest issue of which can be downloaded at the journal's website. For other news and upcoming events at the Asian Center, click here.