Lectures @ UP Asian Center
All our lectures and conferences and the like are free and open to the public unless otherwise stated within the press release. To receive invitations to these lectures directly to your inbox.
---
Details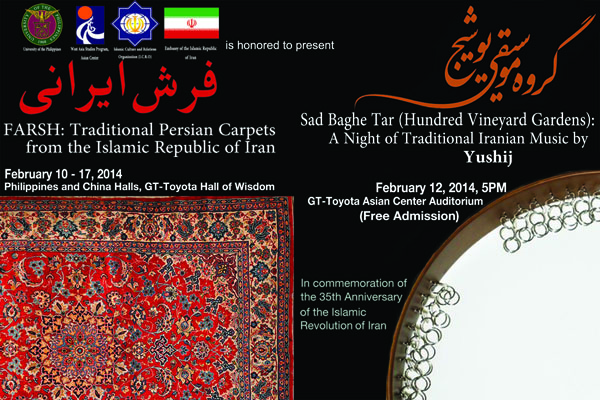 In commemoration of the 35th anniversary of the Islamic Revolution of Iran, the Asian Center and the Cultural Counselor's Office of the Embassy of the Islamic Republic of Iran, will be hosting two major cultural events at the Asian Center, University of the Philippines Diliman between 10 February and 17 February 2014.

A Persian carpet exhibit, Farsh: Traditional Carpets from the Islamic Republic of Iran, will run from 10 February 2014 to 17 February 2014 at the Philippines and China Halls, Hall of Wisdom, GT-Toyota Asian Cultural Center, Asian Center. The exhibit opens at 3 P.M., February 10, with a demonstration of traditional metalworking techniques by an Iran-based craftsman, and will display an unprecedented number of designs throughout Iran.

The Persian carpet, farsh, means "to spread" in Farsi and boasts of a long history that dates back to the Achaemenid Dynasty (559 B.C.E. to 323 B.C.E.). Ancient Chinese sources also mention carpets from the Sassanid Dynasty in Iran (224 C.E. to 641 C.E.). In premodern and early modern Iran, carpets constituted a booming industry, with several of Iran's provinces and nearby regions developing their own styles and traditions of carpet-making. Today, carpets are used as interior furnishings; as prayer rugs; as historical documents; and as markers of social status, among others.

His Excellency Ambassador Ali Asghar Mohammadi will attend the opening ceremony. He will be joined by officials from the Iranian embassy, the foreign diplomatic corps, the Philippine government, and academics and businessmen.

Sad Baghe Tar (Hundred Vineyard Gardens): A Night of Traditional Iranian Music will feature Yushij, an Iranian band that was formed in 1998, on 12 February 2014, 5 p.m. at the GT-Toyota Asian Cultural Center Auditorium. Admission is free.

Aiming to revive and disseminate Iranian traditional music. Yushij has performed in Sweden, Czech Republich, Austria, Azerbaijan, etc. They use various traditional musical instruments such as the tumbak (a goblet drum) and the santoor (Indian stringed instrument that originated in Persia). The band performs music in regional and local dialogues, and seeks to bridge modern and traditional Iranian music.  

Both events hope to raise awareness of Iran's rich and diverse arts and traditions, and are also held in conjunction with the 50th anniversary of the establishment of diplomatic bilateral relations between the Philippines and Iran.