Lectures @ UP Asian Center
All our lectures and conferences and the like are free and open to the public unless otherwise stated within the press release. To receive invitations to these lectures directly to your inbox.
---
Details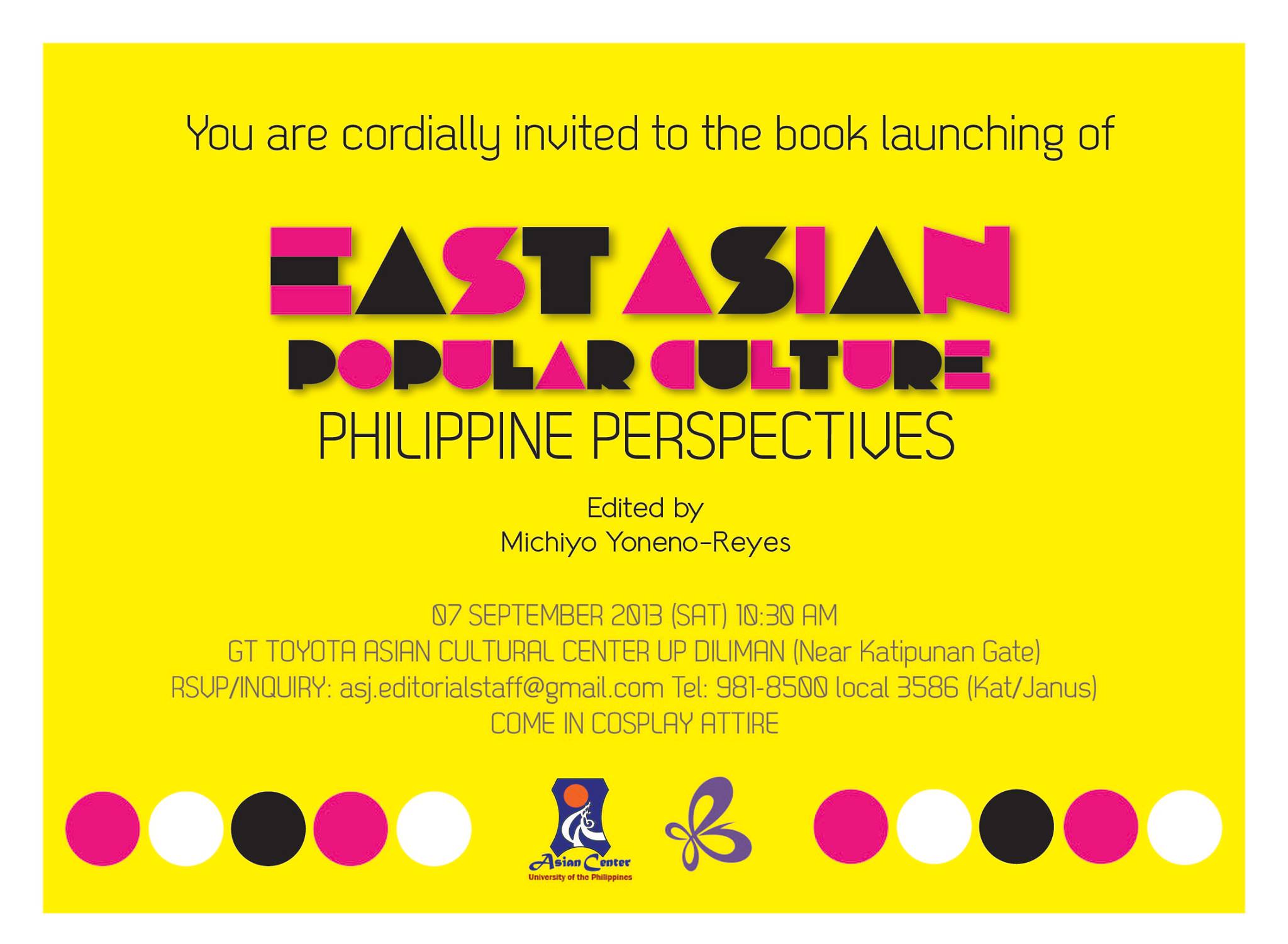 East Asian Popular Culture: Philippine Perspectives (edited by Michiyo Yoneno-Reyes, authored by Francesca Aguiluz, Herlyn Gail Alegre, John Rex de Guzman, Rogerick F. Fernandez, Mario Rico Micu Florendo, Marian F. Gongora, Giselle Jimenez, Dorcas Juliette Ramos, and Myrtle Anne Zabala, published by Asian Center, University of the Philippines) at 10:30am, on Saturday, September 7, 2013, at GT-Toyota Asian Cultural Center, University of the Phlippines Diliman.

The book is a compilation of the articles on manga, films, dramas, music of Japan, Korea and China written by young Filipino scholars.The themes of discussion ranges from fandom to gender issues.

The book is available for sale with PhP250.00, while the lunching price is PhP220.00.

For attendance to the book launching, reservation of the book, and inquiry, please contact asj.editorialstaff@gmail.com .
Details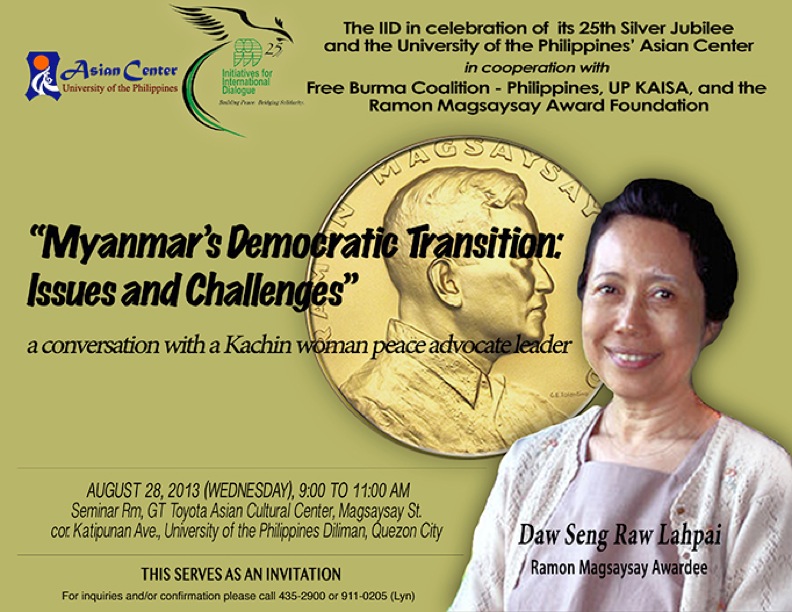 The Initiatives for International Dialogue in its celebration of the 25th Silver Jubilee and the University of the Philippines' Asian Center, in cooperation with the Free Burma Coalition -Philippines, the UP Kaisa, and the Ramon Magsaysay Award Foundation (RMAF), are pleased to invite you to a Forum on "Myanmar's Democratic Transition: Issues & Challenges - a conversation with a Kachin woman peace advocate leader " on

Wednesday, August 28, 2013

 from 

9:00 to 11:00 a.m

.

at the Seminar Room, GT Toyota Cultural Center, Maysaysay St. corner Katipunan Avenue, University of the Philippines, Diliman, Quezon City.
The forum is organized to give honor to Daw Seng Raw Lahpai, who is set to receive the Ramon Magsaysay Award on

August 31

, in Manila. She is being recognized for "her quietly inspiring and inclusive leadership—in the midst of deep ethnic divides and prolonged armed conflict—to regenerate and empower damaged communities and to strengthen local NGOs in promoting a non-violent culture of participation and dialogue as the foundation for Myanmar's peaceful future. Daw Seng Raw, former Executive Director of METTA Foundation in Myannmar, has also been one of the partners of IID in working towards building a lasting peace in Myanmar.
Please come and join us in this meaningful solidarity gathering of academics, government officials, civil society groups, media friends and students.
For inquiries and confirmation, you may reach us at IID (Attention: Ms. Lyn Pangilinan), telephone nos.: 9110205/ 4352900; email:

This email address is being protected from spambots. You need JavaScript enabled to view it.

or UP Asian Center (Attention Ms. Ivy Ganadillo), tel no. 9818500 local 3577; email:
This email address is being protected from spambots. You need JavaScript enabled to view it.

.