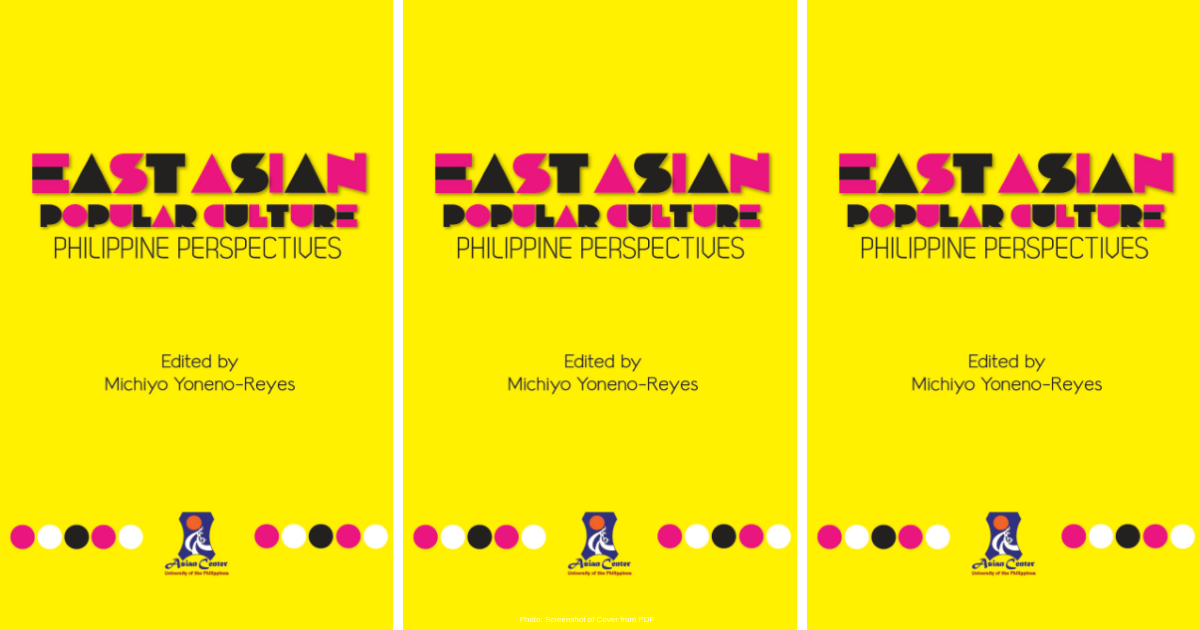 Editor: Michiyo Yoneno-Reyes
Price: PhP 250 | Availability: Out of print but free PDF
Year of Publication: 2013
This book is a compilation of nine articles on Japanese, Korean and Chinese pop culture, offering interdisciplinary analyses of manga, films, TV dramas, and music and examining how these cultural forms are consumed and experienced in a Philippine context.
Acknowledgment

Introduction
Michiyo Yoneno-REYES

Staging Masculinity: KAT-TUN and Dramaturgy in a Japanee Pop Concert
Herlyn Gail ALEGRE

The Circumvention of of the Shojo Image and Violence as a Spectacle in 'Deadman Wonderland' and 'Mirai Nikki'
Francesca AGUILUZ

'Good Wife, Wise Mother' in 2008: Kobayashi Mika in 'Departures' (Okurubito)
Giselle JIMENEZ

Portraits of Homosexual Men in Selected Contemporary Japanese Films
Mario Rico Micu FLORENDO

Film It and They Will Come: Drama-Induced Tourism in South Korea
Myrtle Ann ZABALA

The Identification and Distancing of Filipino Korean Language Students in Watching Korean Telenovelas
Marian F. GONGORA

Pinoy Cosplay: Profile of Cosplayers in the Philippines
Dorcas Juliette RAMOS

They Who Worship: Profiling the Fandom of Asian Celebrities
John Rex DE GUZMAN
*Chaper 4 is not available as a PDF
---
The Asian Center offers M.A. degrees in Asian Studies with four fields of specialization: Northeast Asia, Southeast Asia, South Asia, and West Asia. The Center also has an M.A. program in Philippine Studies that allows students to major in Philippine society and culture, Philippine foreign relations, or Philippine development studies. The Center offers a Ph.D. program in Philippine Studies in conjunction with the College of Arts and Letters and the College of Social Sciences and Philosophy. Get an overview of these graduate programs. The Asian Center also publishes an open-access, peer-reviewed journal, Asian Studies: Journal of Critical Perspectives on Asia.