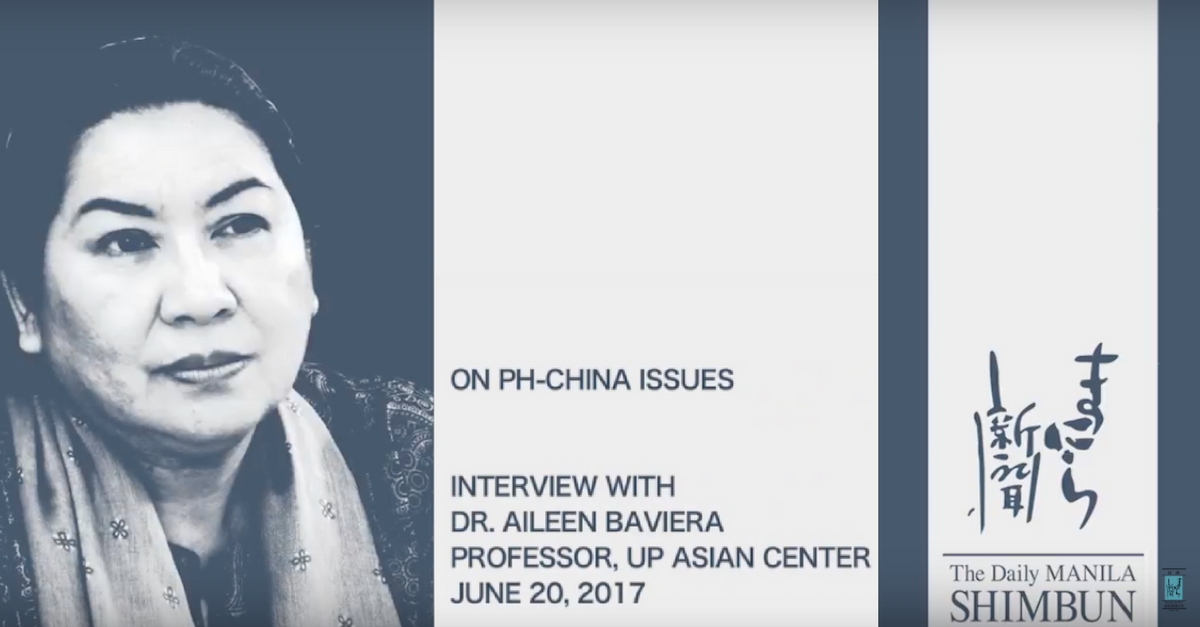 ---
In an interview July 2017 with Daily Shimbun, Professor Aileen Baviera, PhD remarked that the Philippines must build stronger institutional capacity to deal with territorial disputes by investing in a stronger navy and clarifying the mandates for law enforcement, among others.
The interview covers salient issues about the Philippines' foreign policy direction in the region, including its relationship with ASEAN and China, the difference in approaches towards the maritime disputes of the Aquino and the Duterte administrations, the ASEAN-China Code of Conduct, and the Philippines' pursuit of an independent foreign policy.
Since the Philippines shifted its tone on the West Philippine Sea dispute to a less confrontational stance under the Duterte administration, the country's relationship with China has become less hostile. But whether that leads to a more stable, more peaceful environment in the West Philippine Sea remains to be seen.
The improvement in relations also helps China create a more agreeable, more cooperative atmosphere in its neighborhood, as needed for its so-called "21st Century Maritime Silk Road Initiatives".
As for the Philippines, the country must think long-term, i.e. beyond the current administration, if it wants to truly accomplish a more independent foreign policy. On relations with China, Dr. Baviera emphasized laying "very strong foundations so that our institutional capacity to deal with maritime disputes in general will be stronger at the end of the Duterte administration."
Watch below:
ABOUT THE AUTHOR
Dr. Aileen SP. Baviera is Professor at the Asian Center, University of the Philippines Diliman. She specializes on and writes about contemporary China studies, China-Southeast Asia relations, Asia-Pacific security, territorial and maritime disputes, and regional integration. The editor in chief of the journal, "Asian Politics & Policy," she is the author of many academic publications, including the "The Domestic Mediations of China's Influence in the Philippines," which appears in Rising China's Influence in Developing Asia, edited by Evelyn Goh and published by Oxford University Press. She completed her Ph.D. in Political Science at the University of the Philippines Diliman. VIEW FULL PROFILE.
---
The UP Asian Center offers M.A. programs in Asian Studies with four fields of specialization: Northeast Asia, Southeast Asia, South Asia, and West Asia. The Center also has an M.A. program in Philippine Studies that allows students to major in Philippine society and culture, Philippine foreign relations, or Philippine development studies. The Center offers a Ph.D. program in Philippine Studies in conjunction with the College of Arts and Letters and the College of Social Sciences and Philosophy. Get an overview of these programs. The Asian Center also houses a peer-reviewed, open-access journal, Asian Studies: Journal of Critical Perspectives on Asia. It has published several books and monographs, and hosts or organizes various lectures and conferences.