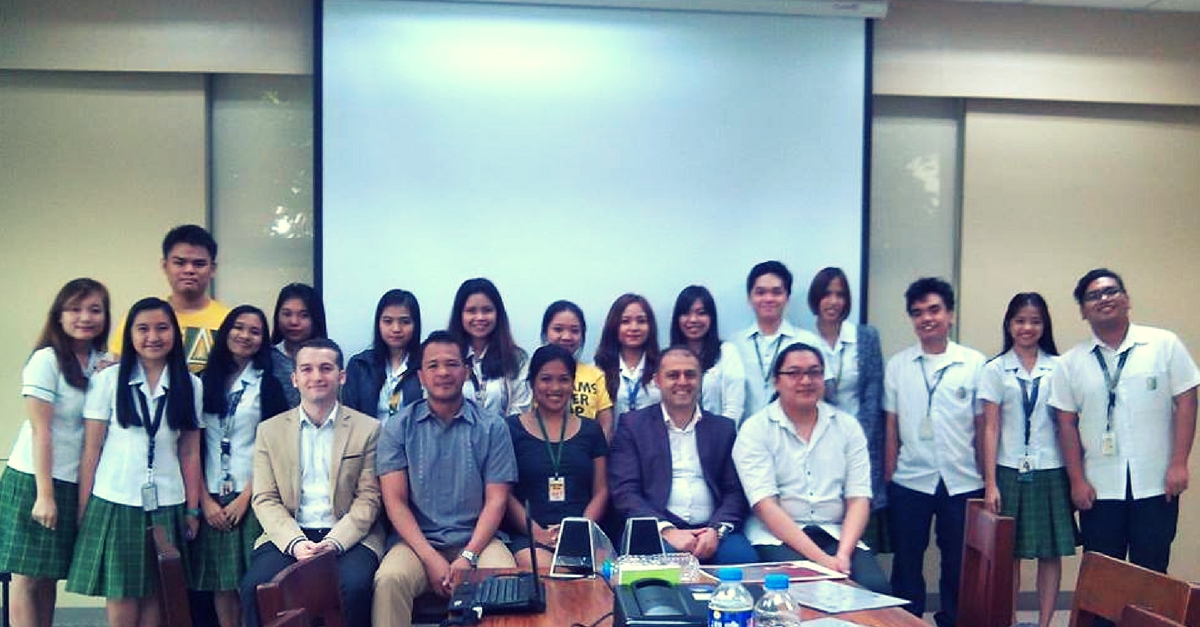 Professor Sevilla with participants at the Turkey and the World Forum held on 31 August 2016 at Far Eastern University. Photo grabbed from Dr. Sevilla's Facebook page. 
---
Dr. Henelito Sevilla of the UP Asian Center presented an analysis, Turkey's Current Crisis and its Implications on the World, at the "Turkey and the World Forum" held on 31 August 2016, at the University Library, Department of International Studies, Far Eastern University, Manila, Philippines.
His presentation argues "first, that Turkey under the Erdogan government is experiencing a unique but dangerous political transformation as Erdogan tries to consolidate power at the expense of the country's democratically held values and tradition; second, Erdogan's moves to suspend vocal media outlets, removal and replacement of university academics, judges, military officers and politicians without fair court trial and solid evidence for their alleged support to the Gulen movement (an organization he labelled as terrorist), were all geared towards the consolidation of Erdogan's political power, disenfranchisement of the Fethulla Gulen's influence among his followers, and the categorical elimination of opposition voices that may check and balance the government's performances; third, that while the crisis witnessed Erdogan's power consolidation, Turkey was also placed in a bad light in the eyes of the international community. This would have implications for Turkey's long held reputation as a successful democracy in the Middle East region. Fourth, and it remains unclear if Erdogan can restore peace and order in the three months since he declared the National State of Emergency."   
Dr. Henelito A. Sevilla, Jr. is Assistant Professor at the Asian Center, University of the Philippines Diliman and Assistant to the Dean for Administration and Public Affairs. He specializes in international relations, Mindanao studies, Philippine-Middle East Relations, political economy of the Middle East, energy security in Asia, Persian Gulf security and Middle Easterners in the Philippines. The coordinator of the West Asian Studies graduate program of the UP Asian Center, he handles several graduate courses such as Seminar on West Asia, Philippine Foreign Relations in Selected Countries in West Asia, and History and Development of Philippine Foreign Policy. Visit his faculty profile.
---
The UP Asian Center offers M.A. programs in Asian Studies with four fields of specialization: Northeast Asia, Southeast Asia, South Asia, and West Asia. The Center also has an M.A. program in Philippine Studies that allows students to major in Philippine society and culture, Philippine foreign relations, or Philippine development studies. The Center offers a Ph.D. program in Philippine Studies in conjunction with the College of Arts and Letters and the College of Social Sciences and Philosophy. Get an overview of these programs. The Asian Center also houses a peer-reviewed, open-access journal, Asian Studies: Journal of Critical Perspectives on Asia. It has published several books and monographs, and hosts or organizes various lectures and conferences.