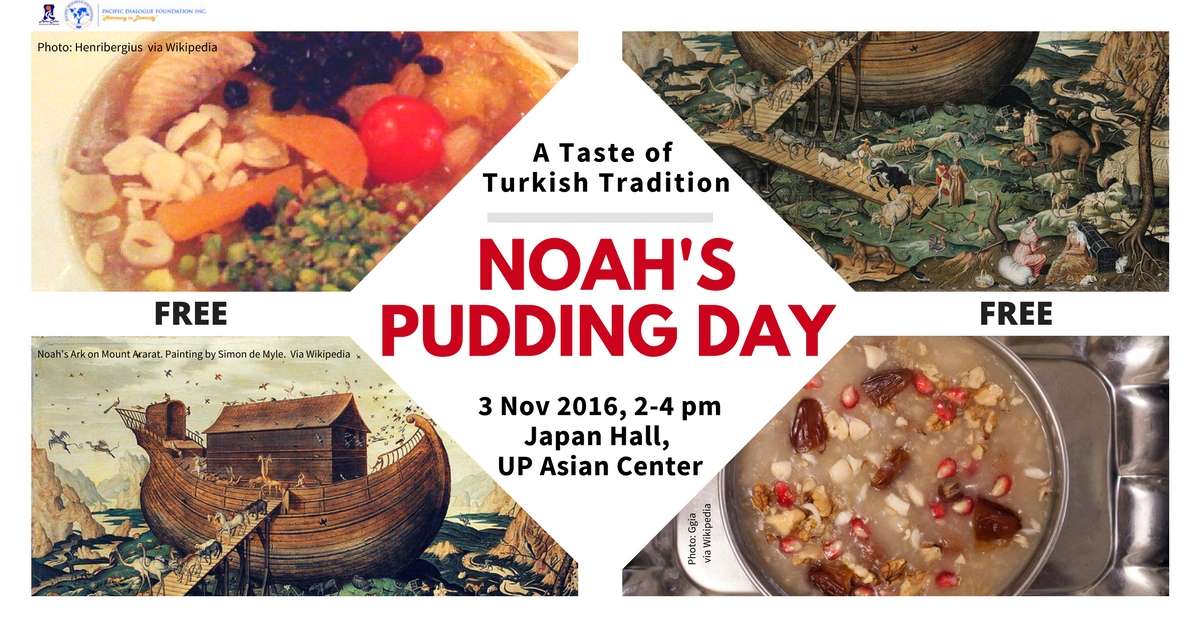 The UP Asian Center, in cooperation with the Pacific Dialogue Foundation, Inc., is inviting the public to enjoy a Turkish delicacy and understand a Turkish tradition in Noah's Pudding Day: A Taste of Turkish Tradition, which will be held on Thursday, 3 November, 2:00 p.m. to 4:00 p.m., Japan Hall, Asian Center, University of the Philippines Diliman. The event is free; servings are limited and seating is first-come, first-served, but participants are encouraged to register to expedite the registration process on the day of the event.
About the Event
Participants will enjoy free servings of Noah's Pudding, a traditional Turkish dessert consisting of grain, dried fruits, and nuts. In addition, a representative from the Pacific Dialogue Foundation will discuss the historical, religious, social, and cultural significance of Noah's Pudding Day, a cultural event celebrated every October in Turkey. The event aims to promote understanding and appreciation of a cultural tradition of a Middle Eastern country.  
About the Pacific Dialogue Foundation
According to their website, The Pacific Dialogue Foundation, Inc. (PDF) is "a non-stock, non-profit, educational, and cultural foundation established by a group of Filipino and Turkish volunteers in 2011 seeking to build and foster relationships between and among people of diverse backgrounds. The foundation upholds the primacy of universal values such as tolerance, understanding, compassion, mutual respect, and fairness. For more information on the Foundation, please visit their webpage.
View a vicinity map of the UP Asian Center. For inquiries, please email the Information Office, Asian Center at This email address is being protected from spambots. You need JavaScript enabled to view it. or call 981.8500 local 3586.
---
 The UP Asian Center offers M.A. programs in Asian Studies with four fields of specialization: Northeast Asia, Southeast Asia, South Asia, and West Asia. The Center also has an M.A. program in Philippine Studies that allows students to major in Philippine society and culture, Philippine foreign relations, or Philippine development studies. The Center offers a Ph.D. program in Philippine Studies in conjunction with the College of Arts and Letters and the College of Social Sciences and Philosophy. Get an overview of these programs. The Asian Center also houses a peer-reviewed, open-access journal, Asian Studies: Journal of Critical Perspectives on Asia. It has published several books and monographs, and hosts or organizes various lectures and conferences.