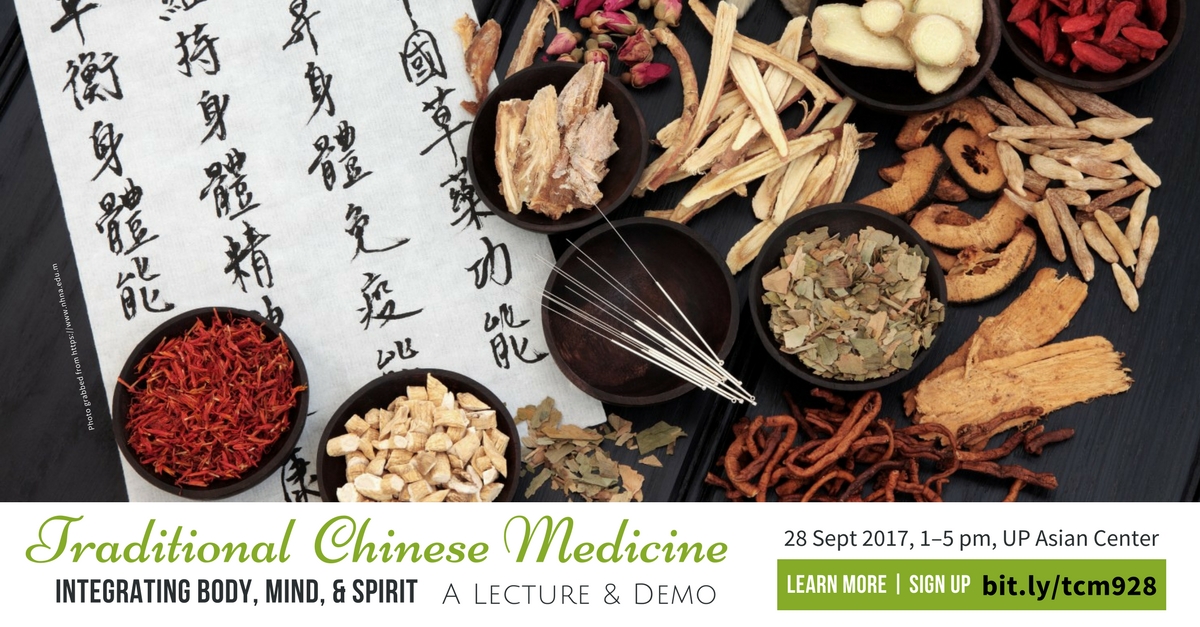 ---
The UP Asian Center will be hosting a lecture and demonstration, Traditional Chinese Medicine: Integrating Body, Mind and Spirit, on 28 September 2017, 1:00 pm–5:00 pm at the GT-Toyota Asian Center Auditorium, University of the Philippines Diliman, Quezon City. The lecture is free and open to the public, but seating is first-come, first-served. Participants are encouraged to sign up. 
ABOUT THE LECTURE and DEMO
The lecture will discuss the features of traditional Chinese medicine (TCM) and related concepts of health maintenance, including a demonstration of acupuncture practices. It hopes to provide a broad overview of TCM theory and of its practical applications; highlight the role of TCM in the proper maintenance of health and wellness; help participants understand how TCM restores health and promotes well-being; and illustrate how TCM can be integrated into Chinese language and culture courses.
ABOUT THE SPEAKERS
Dr. Qian Xiaoyan is a Professor at the Xiamen University's medical college, and has been a TCM practitioner for 30 years.  Her expertise in acupuncture covers cosmetology, facial paralysis, insomnia, weight loss, and gynecology.
Dr. Qiming Zheng has been a Lecturer of TCM and Acupuncture Course at the University of the East, Ramon Magsaysay Memorial Medical Center, Quezon City since 2005. He is a Consultant of the Philippine Institute of Traditional & Alternative Medicine Health Care, Department of Health Philippines. He graduated from Fujian University of Traditional Chinese Medicine in 1986.
THE ORGANIZERS
The lecture is organized by the Confucius Institute, University of the Philippines Diliman and the UP Asian Center. 
VENUE And VICINITY MAP
Vehicles entering the UP Asian Center (GT-Toyota Asian Cultural Center) grounds can only do so via the gate on Magsaysay Avenue that is near a UP guardhouse, a few meters away from Katipunan Avenue, and across Maynilad. A small gate for pedestrians on Guerrero St. lies across the College of Law parking lot and a few meters away from a waiting shed, where the Ikot jeepney, and jeepneys from Philcoa and SM North pass by. VIEW VICINITY MAP and GOOGLE STREET VIEW
ATTENDANCE
If you are planning to come with/as a big group (a class or delegation), please inform us the number of participants at This email address is being protected from spambots. You need JavaScript enabled to view it.. It would also be best if their names could be registered online or if you could send us a list of their names.
INQUIRIES
Please contact Dr. Lourdes M. Tanhueco-Nepomuceno: 09989510868 or send an email to This email address is being protected from spambots. You need JavaScript enabled to view it.. 
---
The UP Asian Center offers M.A. programs in Asian Studies with four fields of specialization: Northeast Asia, Southeast Asia, South Asia, and West Asia. The Center also has an M.A. program in Philippine Studies that allows students to major in Philippine society and culture, Philippine foreign relations, or Philippine development studies. The Center offers a Ph.D. program in Philippine Studies in conjunction with the College of Arts and Letters and the College of Social Sciences and Philosophy. Get an overview of these programs. The Asian Center also houses a peer-reviewed, open-access journal, Asian Studies: Journal of Critical Perspectives on Asia. It has published several books and monographs, and hosts or organizes various lectures and conferences.