Read Summary: "Loyalty on Trial: Chinese-Filipinos and the West PH Sea Dispute" | Dr. Clemente (Summary)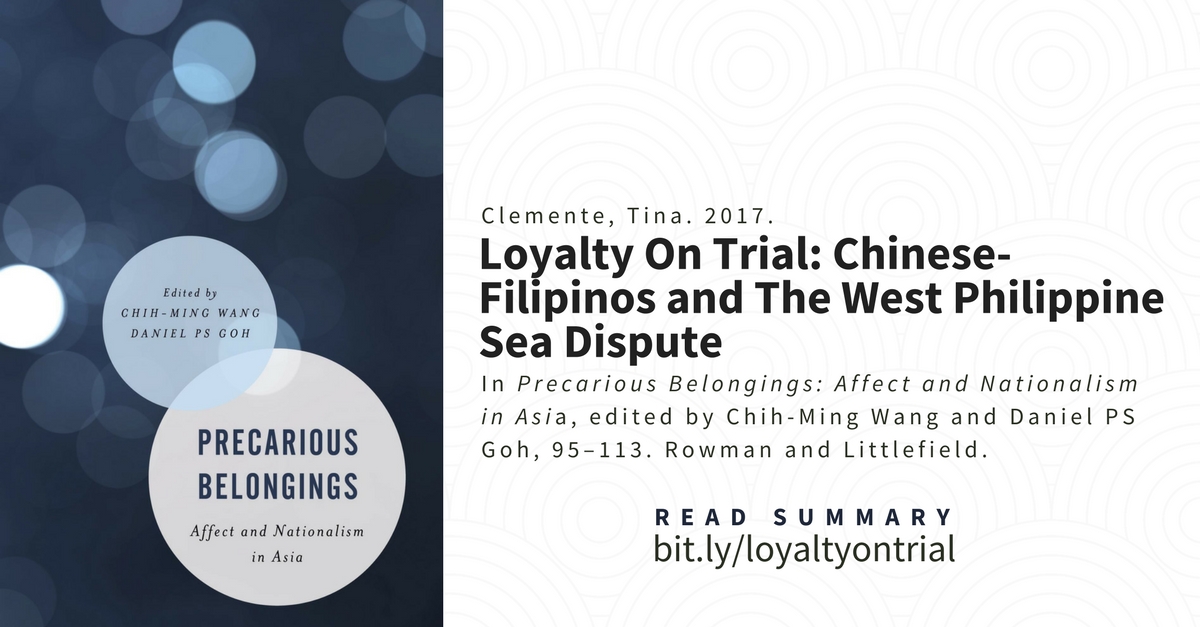 Photo on the left is the official book cover of Precarious Belongings. 
---
An article entitled "Loyalty on Trial: Chinese-Filipinos and the West Philippine Sea Dispute," by Dr. Tina S. Clemente of the UP Asian Center, was recently published as a chapter in the book 

Precarious Belongings: Affect and Nationalism in Asia

, edited by Chih-ming Wang and Daniel PS Goh.
The "predicament of the maritime dispute offers a marked contextual departure from the previous historical contexts. The dispute has led to queries on how Chinese-Filipinos stand, not amid a pre-1978 China but a China that is the world's second largest economy and a dominant regional power. In problematizing themes of loyalty and nationalism, [the study employs discourse analysis and] a survey to gather the explicit and structured view of youth on questions that indicate challenges to the loyalty of the community that they self-identify with." The study provides insights into how the "trial of the national affect of Chinese-Filipinos at a time of bilateral maritime dissension reveals the true nature of Philippine nationalism." (p. 99)
Precarious Belongings: Affect and Nationalism in Asia

 is part of the The Asian Cultural Studies: Transnational and Dialogic Approaches series by Rowman and Littlefield International. You may order a copy of the book here. 
Dr. Clemente teaches graduate courses at the UP Asian Center, including one on the social and economic development of China, one of three courses required for students majoring on the Middle Kingdom. She obtained her Ph.D. in Economics from the School of Economics, University of the Philippines Diliman. Her latest publication is titled "China Studies in the Philippines: Evolution and Challenges", which will appear in a forthcoming book from the China Social Science Press, 

From Sinology to Post-Chineseness: Intellectual Histories of China, Chinese People, and Chinese Civilization

. View her full faculty profile. 
---
The UP Asian Center offers M.A. programs in Asian Studies with four fields of specialization: Northeast Asia, Southeast Asia, South Asia, and West Asia. The Center also has an M.A. program in Philippine Studies that allows students to major in Philippine society and culture, Philippine foreign relations, or Philippine development studies. The Center offers a Ph.D. program in Philippine Studies in conjunction with the College of Arts and Letters and the College of Social Sciences and Philosophy. Get an overview of these programs. The Asian Center also houses a peer-reviewed, open-access journal, Asian Studies: Journal of Critical Perspectives on Asia. It has published several books and monographs, and hosts or organizes various lectures and conferences.