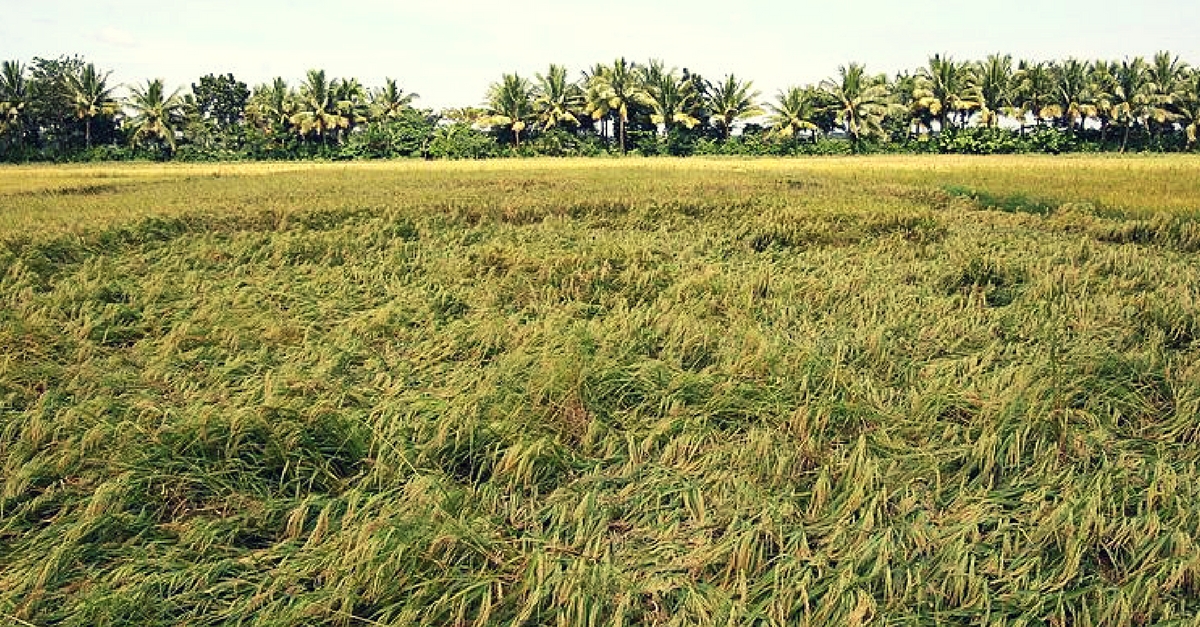 Photo of a brown rice field in Bulacan taken by Andrew Martin (2010) via Wikimedia Commons
---
Dr. Eduardo Tadem, Professorial Lecturer at the UP Asian Center, penned several commentaries for the Inquirer and Rappler over the last few weeks. In three separate opinion pieces for the Inquirer, one co-authored with Meanne Manahan, Dr. Tadem discussed the perils of unrestricted rural land markets and the red flags of current government debts, and questioned the promise of regionalism to improve the welfare of ASEAN citizens. In an article for Rappler coauthored with Manahan as well, Dr. Tadem urged for the reevaluation of the efficacy of alternative venture agreements. Below are excerpts from and links to the original articles. 
Perils of an Unrestricted Rural Land Market: 7 June 2017
In this article responding to the position of the Foundation for Economic Freedom claiming that the fundamental problem of Philippine agriculture is restrictions on selling and mortgaging of land identified under the Comprehensive Agrarian Reform Program, Dr. Tadem and Manahan argue that rural poverty comes down to a "lack of access to land and productive resources," not to the restrictions in rural land market: 
"... it is disingenuous to call for an unrestricted land market regime to solve the Philippines' agricultural problems. To paraphrase one of this commentary's authors, under the current dysfunctional capitalist system where noneconomic factors are prominent, where political and agribusiness rural elites are predatory, and where rent-seeking speculation through voracious property developers rules, it would be highly naive to dream of such a land regime.
More essential, an unrestricted land market with no ownership ceiling "will simply open wide the rural floodgates to modern mutant versions of the unlamented landlord class and reintroduce the oppressive and exploitative social relations that necessitated a redistributive land reform program in the first place. It is precisely this rapacious property rights regime in the rural sector that a truly just and meaningful land reform seeks to prevent, and where it exists, to overturn."
Red flags on Government debts: 29 May 2017
As a temper to the country's' plan of going on a "borrowing  binge from 2017 onward" to finance the current administration's massive infrastructure plans, Dr. Tadem underlines the potential consequences for future generations if the country raises its debts without addressing the country's poor debt management mechanisms: 
"Unless these debt-related issues are addressed properly, the country might just end up with billions of dollars in illegitimate debts that only bleed public coffers. The Indian government, for one, in boycotting the recent Beijing Belt and Road Summit, warned that China's Silk Road initiative could impose an "unsustainable debt burden" for recipient countries as they may "struggle to pay back loans for huge infrastructure projects" funded by China.
Furthermore, Forbes magazine estimates that, within 10 years, even at a minimum concessional interest rate of 5 percent, the Philippines would be saddled with an additional debt of P13.75 trillion from the infrastructure program alone. By then, the country's debt-to-GDP ratio will hit 136 percent, a quantum leap from the current ratio of 42.1 percent. At this point, the Philippines could ignominiously reenter a period of debt peonage."
Why the RCEP is the problem, not the solution: 17 May 2017
In this article, Dr. Tadem criticizes the Investor State Dispute Settlement (ISDS) enshrined in the Regional Comprehensive Economic Partnership, a one-way mechanism that allows corporations to sue governments "over perceived threats to their profit-taking goals":
"Trade Justice Pilipinas, a coalition of civil society groups, people's organizations and labor unions, has raised the alarm and called on Asean leaders "to defend the primacy of human rights, environmental integrity and peoples' welfare against international economic agreements like RCEP that advance … the corporate agenda, and impinge on the ability of the government to advance the greater public interest." In effect, the RCEP runs counter to the stated vision of a people-centered and people-oriented ASEAN." 
The Asia Pacific Research Network is calling for a new model of regional integration "based on cooperation and solidarity, not on competition and profits; that puts the development needs of the region and its peoples above that of corporations; one that recognizes that economic policy can work only if it is inclusive, … [and] integrates the social and environmental concerns of the world."
Going Bananas: 17 May 2017
By citing the significance of the revocation of two agribusiness contracts in Mindanao, Dr. Tadem and Meanne Manahan discuss the need to reevaluate the alternative venture agreements (AVA) enforced under the Comprehensive Agrarian Reform Program. He looks at different sides of the debate and concludes that regulation of the AVAs is necessarily to achieve its mandate of giving beneficiaries "access to capital, farming technology, and markets provided by private investors."
"For the vision of agrarian reform of overturning inequalities in land ownership and control to be realized, government should take a proactive role in supporting small farmers in all croplands. This includes resisting any form of reversals of land redistribution particularly those coming from large agribusiness corporations in the guise of promoting farm productivity and exports."
Dr. Eduardo C. Tadem specializes in rural development, agrarian reform, and the peasantry, among other topics. He handles graduate courses on Southeast Asia. His most recent publication is "Technocracy and the Peasantry: Martial Law Development Paradigms and Philippine Agrarian Reform," 2015. Journal of Contemporary Asia, Vol. 45. No.3.  He has a PhD in Southeast Asian Studies from the National University of Singapore. View his full faculty profile.
---
The Asian Center offers M.A. degrees in Asian Studies with four fields of specialization: Northeast Asia, Southeast Asia, South Asia, and West Asia. The Center also has an M.A. program in Philippine Studies that allows students to major in Philippine society and culture, Philippine foreign relations, or Philippine development studies. The Center offers a Ph.D. program in Philippine Studies in conjunction with the College of Arts and Letters and the College of Social Sciences and Philosophy. For an overview of these graduate programs, click here. The Asian Center also publishes Asian Studies: Journal of Critical Perspectives on Asia, the latest issue of which can be downloaded at the journal's website. View recent and upcoming Lectures & Conferences and read other News & Announcements. Join our mailing list to receive invitations to lectures, conferences, etc.