Download FREE: Presentations from the 'ASEAN Economic Community' Forum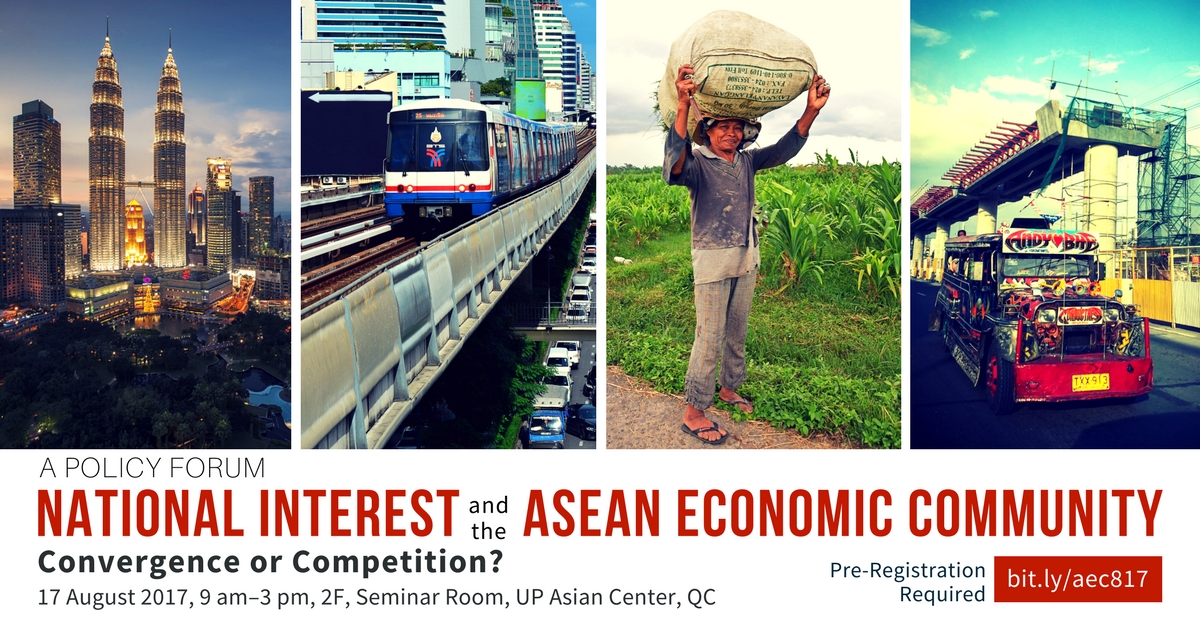 ---
That the Philippines is chair of ASEAN in its 50th year of existence provides the country the opportunity to influence the process of community-building, specifically, the push toward the formation of the ASEAN Economic Community (AEC). This milestone year saw the government hosting the 30th ASEAN Summit held on April 26-29, while other stakeholders, from academic institutions, think tanks, and business and civil society organizations have held many forums and other activities in order to drum up public awareness of the ASEAN processes and raise issues and concerns for a "stable, peaceful, united, and dynamic ASEAN."
A missing element in the puzzle is the role that domestic processes play in ASEAN community-building efforts. While the regional processes, punctuated by high-level summits, have drawn much public interest, activities at the national level that would serve as building blocks for regional decision-making have not been given due attention. Not much has been said about efforts toward aligning national interests and regional goals. Over the past decade, work has focused on reducing national trade barriers to facilitate regional economic integration, as outlined in the AEC 2025 Blueprint. Yet, remaking ASEAN into a single economic bloc needs to consider the diverse economic systems and development experiences, as well as uneven development among member-states.
To better understand the road ahead for the AEC initiative, the University of the Philippines Asian Center's Bugkos Research Program organized a policy forum on August 17, 2017 with the theme, "National Interest and the ASEAN Economic Community: Convergence or Competition?". The public forum brought together leading political economists from Indonesia, Malaysia, Thailand and the Philippines. The forum asks: "What are each country's stakes in the AEC?"
Philippines
According to Dr. Josef Yap, Professorial Lecturer at the UP School of Economics and the former president of the Philippine Institute for Development Studies, the Philippines had already brought almost all tariffs down to 0% except for rice and sugar, yet its participation in regional production networks continues lag behind those of its neighbors.  In this light, the country hopes to use the ASC process to play catch-up. Nevertheless, Dr. Yap noted that a gap exists between vision and reality in the ASEAN's pursuit of regional integration. Trade and other economic agreements among ASEAN member-states are filled with loopholes. For example, the ASEAN Framework Agreement on Services (AFAS) does not have binding commitments and penalties for non-compliance. Yap concluded his talk by saying that the AEC can lead to a higher standard of living for Filipinos and accelerated domestic economic reforms but, because of uneven implementation of agreements by member states, the Philippines has not been able to benefit as expected from the AEC. Divergence also arises if there are different views on how useful the AEC is among the different sectors in society.
Thailand
Thailand receives migrant workers from all over ASEAN, and exports many different goods and services all over South East Asia. Nevertheless, Dr. Wisarn Pupphavesa, Senior Adviser for International Economic Relations, Thailand Development Research Institute, noted that other member states have not kept apace with Thailand's move to open its market to goods and services from the region. As such, it sees the AEC as a way to further synchronize the different member-states' efforts to reduce tariff and non-tariff borders. Dr. Wisarn also recommended that ASEAN should strive to have a common regional tax structure that would significantly improve trade facilitation and deepen investment liberalization.
Malaysia
Malaysia is focused on exporting goods and services, as well as expanding their markets overseas as it has a small domestic market. Dr. Tham Siew Yean, Senior Fellow of the Institute of Southeast Asian Studies, Yusof Ishak Institute, stated that Malaysia is committed to fulfilling tariff liberalization commitments, focusing on trade facilitation, investment, and aligning their initiatives and policies with the ASEAN 2025 Vision. Malaysia is a member of different multilateral trade organizations to have as many markets as possible for its goods. Overall, Malaysia believes that full integration and regional liberalization are in its national interest even as its participation in the process continues to be affected by domestic factors, notably politics.
Indonesia
Indonesia has a large domestic market, as well as protectionist economic policies. Dr. Shofwan Al-Banna Choiruzzad, Research Fellow of the ASEAN Study Center, University of Indonesia, cited that domestic concerns influence Indonesia's participation in the AEC. Each administration, for instance, pursues different priorities when pursuing the Trans-Pacific Partnership (TPP); for President Joko Widodo, joining the TPP is partly in response to the country's textile industry's interests.  Indonesia is also concerned that a unified production base and market might mean the relocation of production, investments and jobs, and as such, is working to ensure that the AEC aligns with its national economic priorities. One area in which there may be a convergence of interest is President Jokowi's 30 Priority Infrastructure Projects listed under the 2015-2019 Medium Term National Development Plan.
Reactions
The first of three reactors was Dr. Erlinda Medalla, Senior Research Fellow of the Philippine Institute for Development Studies. For her, both convergence and competition are necessary in the AEC. She cites that currently, ASEAN's critical areas are in logistics, infrastructure and connectivity. Finally, she says that the ASEAN Way, for all its limitations, has slowly but surely brought its members together in regional cooperation and collective action. For example, she cites the free travel visa in ASEAN, where citizens from member states are able to visit each other's countries without needing visas.
On the other hand, Ms. Jelen Paclarin, Executive Director of the Women's Legal Bureau and Chair of the Regional Steering Committee of the ASEAN Civil Society Conference asked where the ordinary people are in ASEAN's participation, and whether trade does in fact translate into jobs and quality of life. She also stressed the need to look at integration from a feminist lens: for instance, most migrant workers in the region are women in the informal sectors. She noted that the issue of women is only discussed in the area of ASEAN Socio-Cultural Community-building, but missing in both the ASEAN Political Security Community and ASEAN Economic Community discussions.
Dr. Geoffrey M. Ducanes, economist and former International Labour Organization consultant, spoke on two initiatives that will affect labor mobility in the region: 1. the Mutual Recognition Agreements (MRAs) in which countries agree to recognize each other's professionals and their credentials, and 2. the ASEAN Declaration on the Protection and Promotion of the Rights of Migrant Workers, which may have a greater impact because of its focus on around 6.5 million intra-ASEAN low-skilled worker migrants. However, he notes that labor-sending countries and labor-receiving countries are at odds when it comes to forging a binding document for the protection of migrant workers. Because of the principle of ASEAN consensus, such a document may not be forthcoming. Thus, he cautions that there is a need to keep expectations in check.
About the Forum
The forum organizers, including the UP Political Science Department and Third World Studies Center, as well as the private think tank, the Asia-Pacific Pathways for Progress Foundation Inc., stressed the need for continuous dialogue in order for all the ASEAN countries to have better practices, confidence building, and deepening cooperation.
Download Presentations (as PDF)
---
The UP Asian Center offers M.A. programs in Asian Studies with four fields of specialization: Northeast Asia, Southeast Asia, South Asia, and West Asia. The Center also has an M.A. program in Philippine Studies that allows students to major in Philippine society and culture, Philippine foreign relations, or Philippine development studies. The Center offers a Ph.D. program in Philippine Studies in conjunction with the College of Arts and Letters and the College of Social Sciences and Philosophy. Get an overview of these programs. The Asian Center also houses a peer-reviewed, open-access journal, Asian Studies: Journal of Critical Perspectives on Asia. It has published several books and monographs, and hosts or organizes various lectures and conferences.