Moving Care between Japan and the Philippines: Policy, Theory and Experience | A Forum & Roundtable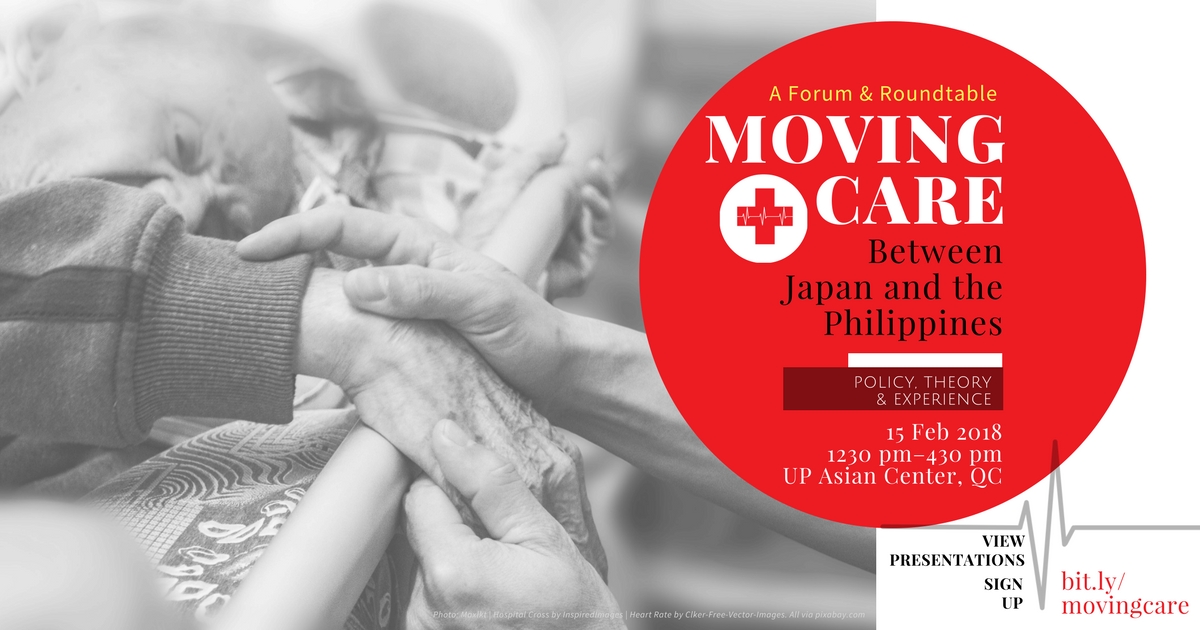 ---
The UP Asian Center will host a public forum and roundtable, "Moving Care between Japan and the Philippines: Policy, Theory and Experience" on 15 February 2018, 12:30 to 4:30 pm, Seminar Room, UP Asian Center, Quezon City. The forum is free and open to the public, but seating is first-come, first-served; interested participants are requested to sign up.
MULTISECTORAL ROUNDTABLE (1:00–2:30 PM)
Rose Duquez

, Director II, Government Placement Branch, Philippine Overseas Employment Administration (POEA)



Myrna Ricafort

, OIC, Client Services Division, Philippine Overseas Employment Administration (POEA)



Ellene Sana

, Director, Center for Migrant Advocacy (CMA)



Albert Valenciano

, Director, Fund and Investment Management Office, Overseas Workers Welfare Administration (OWWA)



Maria Clara Ignacio

, Language Center, Technical Education and Skills Development Authority (TESDA)



Ma. Isabel Gamurot

, Qualifications and Standards Office, Technical Education and Skills Development Authority (TESDA)



Faculty from the Ateneo de Manila University, University of the Philippines Diliman, and De La Salle University Manila
ACADEMIC FORUM (3:00 PM–4:30 PM)
ABOUT THE SPEAKERS
Benjamin San Jose is an assistant professor of Japanese Studies and Political Science at the Ateneo de Manila University, Philippines. San Jose completed his doctorate degree in International Public Policy from the University of Tsukuba, Japan. His research interests include the political economy of Philippine migration and he is currently doing research on the role of migration industry in managing the Philippine-Japan migration corridor.

Ron Bridget Vilog is the current chair of the International Studies Department of De La Salle University. He obtained his PhD in International Development from Nagoya University, Japan. His latest publications, published in the Asia-Pacific Social Science Review, include "Perceived Discrimination in Ancestral Homeland Filipino Nikkeijins and the Dynamics of Migrant Resistance" (2012) and "The Paradox of Immigration Politics: Revisiting the Dynamics of Philippine Nikkeijin Labor Migration" (2014). 

Jocelyn O. Celero recently obtained her Ph. D. in International Studies at Waseda University-Graduate School of Asia-Pacific Studies, Tokyo, Japan. Her dissertation examined the transnational life trajectories of 1.5- and second- generation Japanese-Filipinos. She has taught in the Philippines and Japan for more than 10 years. She serves as Assistant Professor at the Asian Center, University of the Philippines beginning 2018.

Reiko Ogawa is Associate Professor at Graduate School of Social Sciences, Chiba University, Japan. She is co-editor of (Palgrave Macmillan, 2018), and special guest editor for the issue, "Migration and Care Work" of the Asia Pacific Journal of Social Work and Development (2017). Her recent publications include "Demographic Change and Migration of Care Workers: State, Care Facilities and Migrants" (2016), "Globalization of Care in Japan and Korea" (2015, in Japanese), "Configuration of Migration and Long-Term Care in East Asia" (2014), "Globalization and Transformation of Care in Japan" (2014). 
BACKGROUNDER
Human migration is regarded as the most intense source of social, cultural and historical linkage between Japan and the Philippines. Inextricably linked to migration, care has been one of the key aspects through which recent labor and family migration between Japan and the Philippines may be examined. The emergence of Japanese-Filipino partnerships and families, as well as the movement of caregivers have influenced Japanese and Filipino societies. Care can generate both a crisis and an opportunity. In the case of Japan, aging population, labor shortage and declining fertility rate have all contributed to a care crisis, prompting the national government to adjust its social welfare, labor and migration policies. On the part of the Philippines, the socioeconomic inequality between Japan and the Philippines, along with geographical proximity, labor opportunities and legal policies in Japan, play a role in the mobility of families and caregivers.
While much recent discussion on care has focused on the bilateral programs supporting the movement of Filipino caregivers, the forum includes the caring contributions of permanent resident Filipinas in Japan. The forum's panelists aim to discuss care more broadly by examining how it is conceptualized and constructed in relation to family, work and migration regimes. The forum-roundtable will gather and highlight various perspectives from academics, government officials, migration brokers and NGOs in order to examine care as a cultural ideology, a social and migration policy and a framework for evaluating shifts (and continuities) in Japan-Philippine relations.
VENUE and VICINITY MAP 
Vehicles entering the UP Asian Center (GT-Toyota Asian Cultural Center) grounds can only do so via the gate on Magsaysay Avenue that is near a UP guardhouse, a few meters away from Katipunan Avenue, and across Maynilad. A small gate for pedestrians on Guerrero St. lies across the College of Law parking lot and a few meters away from a waiting shed, where the Ikot jeepney, and jeepneys from Philcoa and SM North pass by. VIEW VICINITY MAP and GOOGLE STREET VIEW
INQUIRIES and ATTENDANCE
If you are planning to come with/as a big group (a class or delegation), please inform us the number of participants at This email address is being protected from spambots. You need JavaScript enabled to view it. . It would also be best if their names could be registered online or if you could send us a list of their names.

---
The UP Asian Center offers M.A. degrees in Asian Studies with four fields of specialization: Northeast Asia, Southeast Asia, South Asia, and West Asia. The Center also has an M.A. program in Philippine Studies that allows students to major in Philippine society and culture, Philippine foreign relations, or Philippine development studies. The Center offers a Ph.D. program in Philippine Studies in conjunction with the College of Arts and Letters and the College of Social Sciences and Philosophy. Get an overview of these programs. The Asian Center also houses a peer-reviewed, open-access journal, Asian Studies: Journal of Critical Perspectives on Asia. It has published several books and monographs, and hosts or organizes various lectures and conferences.