Download Free PDFs of Four (4) UP Asian Center Publications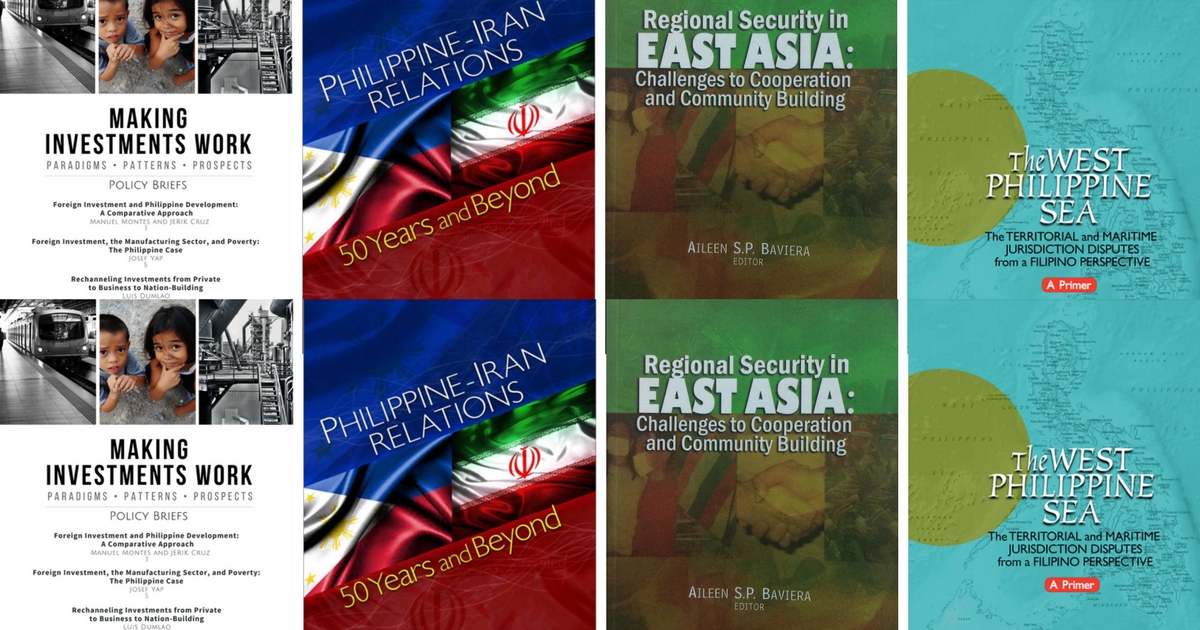 The UP Asian Center has published over the years several monographs and books, four of which may be downloaded free online.
Click on the titles to pop up the downloadable PDFs. 
The briefs, which can viewed online or downloaded as PDFs for free, represent abridged versions of three papers presented during the forum, "Making Investments Work: Paradigms, Patterns, Prospects," which was held on 24 November 2016 at Balay Kalinaw, University of the Philippines Diliman.
---
Philippines-Iran Relations: 50 Years and Beyond (2017) 
Edited by Henelito A. Sevilla, Jr, this volume—composed of nine chapters—reflects on the diplomatic history, academic exchanges, and the cultural, political and developmental linkages between Iran and the Philippines. They are based on presentations delivered at the International Conference on Philippine-Iran Relations: 50 Years and Beyond at the UP Asian Center in February 2015.
---
The West Philippine Sea: The Territorial and Maritime Jurisdiction Disputes From A Filipino Perspective (2013)
Written by Aileen Baviera and Jay Batongbacal (2013), this primer is intended to assist.....in deepening their understanding of the many different issues of the West Philippine Sea disputes. The questions and answers are framed from a Filipino perspective that focuses on information that the authors considered to be most important and of interest to citizens of this country, rather than information that may be highlighted by various foreign authors, organizations or governments.
---
Regional Security In East Asia: Challenges To Cooperation and Community Building (2008)
Based on a conference held at the UP Asian Center in November 2006, the "present collection of essays looks beyond the ASEAN security community that Amitav Acharya, Jurgen Haacke, and Rizal Sukma among others problematize to explore the possibility that a broader East Asian security community might also come into being in the future."
---
 The Asian Center offers M.A. degrees in Asian Studies with four fields of specialization: Northeast Asia, Southeast Asia, South Asia, and West Asia. The Center also has an M.A. program in Philippine Studies that allows students to major in Philippine society and culture, Philippine foreign relations, or Philippine development studies. The Center offers a Ph.D. program in Philippine Studies in conjunction with the College of Arts and Letters and the College of Social Sciences and Philosophy. For an overview of these graduate programs, click here. The Asian Center also publishes Asian Studies: Journal of Critical Perspectives on Asia, the latest issue of which can be downloaded at the journal's website. For other news and upcoming events at the Asian Center, click here.