Don't Miss Out: October Lectures @ UP Asian Center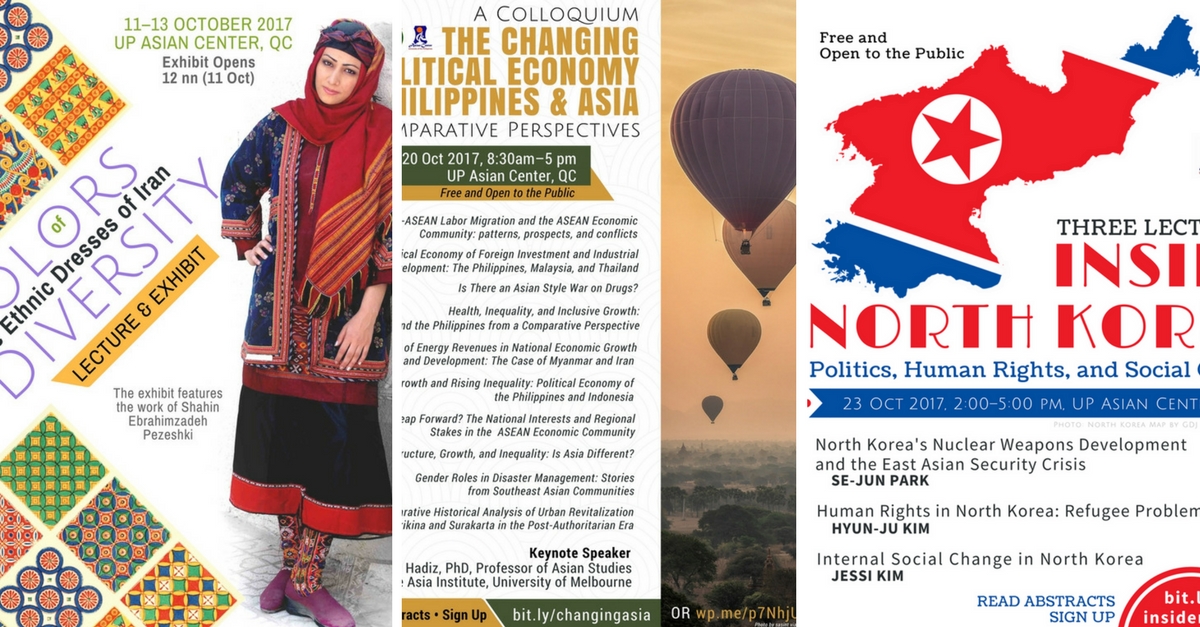 The UP Asian Center is hosting four major events for the month of October. All events are free and open to the public, but seating is first-come, first-served; participants are encouraged to pre-register online. 
11 to 13 October: Lecture and Exhibit on the Ethnic Dresses of Iran
"Colors of Diversity: The Ethnic Dresses of Iran" will be held from 11 to 13 October 2017 at the UP Asian Center, Quezon City. Exhibit opens at 12 noon on 11 October. Artist and researcher Ms. Shahin Ebrahimzadeh Pezeshki will deliver a lecture on traditional Iranian dressmaking and exhibit a collection of the different ethnic dresses across Iran.
---
20 October: Colloquium on Asian Political Economy
The Bugkos Research Program of the UP Asian Center will be holding a colloquium, "The Changing Political Economy of the Philippines and Asia: Comparative Perspectives" on 20 October 2017, 8:30 am–5:00 pm, GT-Toyota Asian Center Auditorium, UP Asian Center, Quezon City. The colloquium will feature studies that shed light on the various political and economic changes unfolding in Asia and the Philippines today. The panel themes include determinants of growth, states and markets, and social policy and inclusive growth. Dr. Vedi Hadiz will serve as the colloquim's keynote speaker.
---
23 October: Three Lectures on North Korean Politics
Three lectures, which are themed Inside North Korea: Politics, Human Rights and Social Change, will be held on 23 October 2017, 2:00 pm to 5:00 pm, Seminar Room, UP Asian Center, Quezon City. The lectures will cover the topics of nuclear weapons development and East Asian security, human rights and refugee problems in China, and internal social change in North Korea.
---
24 October: Forum on the Marawi Crisis
Students of the AS 211 class (Security Issues in the Asia Pacific) under Professor Aileen Baviera are organizing a forum, "The Marawi Crisis: Implications on the Philippine Security Policy" on October 24, 1 pm to 4 pm, UP Asian Center, QC. 
Venue and Vicinity Map
For directions to the venue, please view this vicinity map or go to Google Street View. 
Inquiries
For inquiries, please email the Information Office at  This email address is being protected from spambots. You need JavaScript enabled to view it.  or call 981.8500 local 3586.
---
The UP Asian Center offers M.A. degrees in Asian Studies with four fields of specialization: Northeast Asia, Southeast Asia, South Asia, and West Asia. The Center also has an M.A. program in Philippine Studies that allows students to major in Philippine society and culture, Philippine foreign relations, or Philippine development studies. The Center offers a Ph.D. program in Philippine Studies in conjunction with the College of Arts and Letters and the College of Social Sciences and Philosophy. Get an overview of these programs. The Asian Center also houses a peer-reviewed, open-access journal, Asian Studies: Journal of Critical Perspectives on Asia. It has published several books and monographs, and hosts or organizes various lectures and conferences.