Southeast Asian Democracy between Neoliberalism and Populism: A Keynote Address, 20 October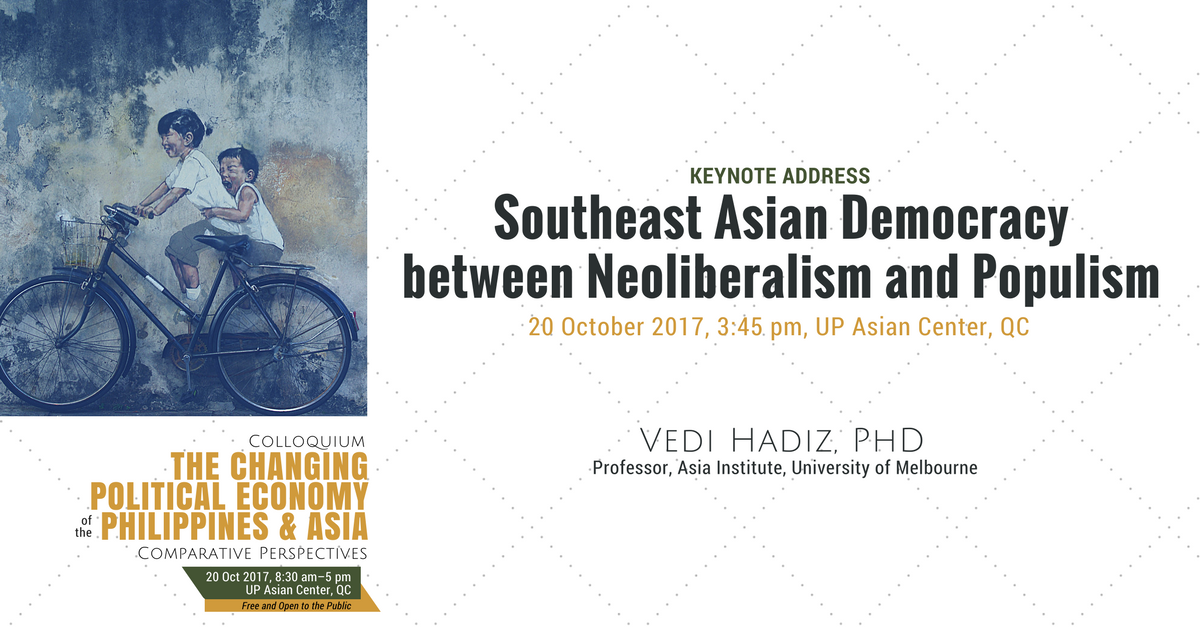 Professor Vedi Renandi Hadiz of the Asia Institute, University of Melbourne will be delivering the keynote address, Southeast Asian Democracy Between Neoliberalism and Populism, for the whole-day colloquium, The Changing Political Economy of the Philippines and Asia: Comparative Perspectives, on 20 October 2017, GT-Toyota Asian Center Auditorium, UP Asian Center, QC. He will deliver his address at 3:45 pm. The colloquium is free and open to the public, but participants are encouraged to sign up.  
ABSTRACT
Democratic struggles in Southeast Asia in the present-day are complicated by an increasingly inhospitable context and which belies previously fashionable concepts such as 'waves of democratisation'. On the one hand, processes of neoliberal globalisation ensure that new social dislocations and marginalisations continue to be accompanied by forms of political exclusion associated with technocratic politics. On the other hand, populist politics, especially in their right wing expressions, have undermined liberal democracies even in the advanced industrial countries, a development related to growing social inequalities resulting from the erosion of the welfare state. In significant and varied parts of the world, populism has produced new kinds of politics underpinned by notions of political inclusion/exclusion on the basis of ethnic or religious solidarities or hyper-nationalist hyperbole. But neoliberalism and populism are not mutually contradictory, as prior experiences in Latin America have shown and present examples in countries such Turkey and India reveal. Within Southeast Asian polities,combinations of different elements of neoliberal and populist strategies can be harnessed by ruling elites to insulate themselves against popular challenges or to domesticate and co-opt them according to specific exigencies.  What remains largely absent are cross-class political movements that are able to cultivate sufficiently broad and deep social bases of support for progressive political projects, linked to a continuing dearth ofcultural resources through which to develop and mount effective ideological challenges.
Professor Hadiz's keynote serves as the culmination of a whole-day colloquium on Southeast Asian Political Economy that starts at 8:30 am and features two morning panels, one on Determinants of Growth and another on States and Markets. Dr. Hadiz's presentation comes after the afternoon panel (1:40 pm to 3:40 pm), Social Policy and Inclusive Growth.
ABOUT THE KEYNOTE SPEAKER
Dr. Vedi Hadiz is Professor of Asian Studies, Asia Institute, University of Melbourne. Before coming to Melbourne, he was Professor of Asian Societies and Politics at Murdoch University's Asia Research Centre and Director of its Indonesia Research Programme. He has also taught at the National University of Singapore. Professor Hadiz received his PhD in Murdoch University in 1996; his research interests "revolve around political sociology and political economy issues, especially those related to the contradictions of development in Indonesia and Southeast Asia more broadly, and more recently, in the Middle East."
Professor Hadiz is the author of Islamic Populism in Indonesia and the Middle East (2016); Localising Power in Post-Authoritarian Indonesia: A Southeast Asia Perspective; and with Richard Robison, of Reorgansing Power in Indonesia: The Politics of Oligarchy in an Age of Markets (2004). He is also editor or co-editor of Between Dissent and Power: The Transformation of Islamic Politics in the Middle East and Asia (2014); and Empire and Neoliberalism in Asia (2006) VIEW FULL PROFILE
---
 The UP Asian Center offers M.A. degrees in Asian Studies with four fields of specialization: Northeast Asia, Southeast Asia, South Asia, and West Asia. The Center also has an M.A. program in Philippine Studies that allows students to major in Philippine society and culture, Philippine foreign relations, or Philippine development studies. The Center offers a Ph.D. program in Philippine Studies in conjunction with the College of Arts and Letters and the College of Social Sciences and Philosophy. Get an overview of these programs. The Asian Center also houses a peer-reviewed, open-access journal, Asian Studies: Journal of Critical Perspectives on Asia. It has published several books and monographs, and hosts or organizes various lectures and conferences.