Muslim Heritage in PH and ASEAN Community: AC Faculty Joins Culture and Local Wisdom Conference in Medan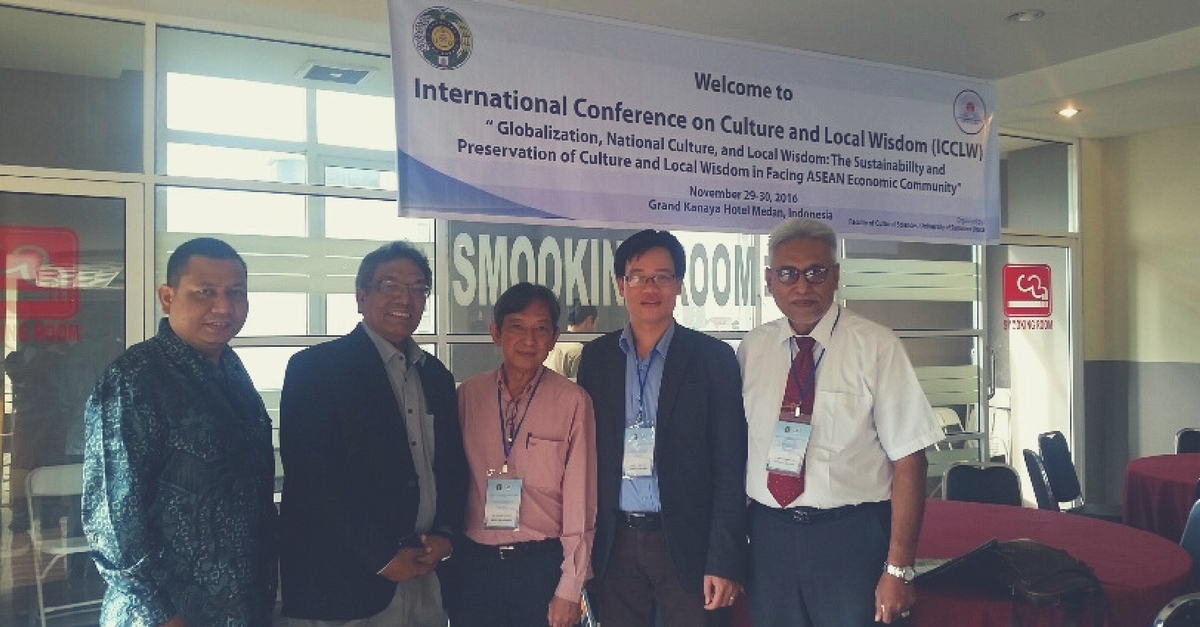 Associate Professor Rolando Talampas @ the International Conference on Culture and Local Wisdom.
---
Rolando Talampas, Associate Professor of the UP Asian Center, presented a paper entitled "Muslim Filipino Cultural Heritage and National Efforts for ASEAN Socio-Cultural Community Building" at the International Conference on Culture and Local Wisdom, which was held from 29-30 November 2016 in the Grand Kanaya Hotel, Medan, Indonesia, Universitas Sumatera Utara University of Northern Sumatra.
In his paper, Assoc. Prof. Talampas discusses the cultural heritage of a number of Muslim Filipino ethnic groups in Mindanao arguing that "at the crossroad of long-lasting civil strife fought between various armed groups and state forces, the rich cultural legacy of said peoples has been maintained by artistic expressions, artisanal production, educational institutions, nongovernmental advocacy, tourist-promotion agencies, selective (sometimes much delayed, if token) state recognition and some business initiatives."
He adds that "modern communication technologies, cross-cultural interaction, migration, and drawn out violent conflict have steadily eroded the time-honored artistic/artisanal  production and rendered Muslim Filipino cultural contribution to ASEAN community building limited to where market-oriented involvement is pre-eminent. In the process, either misrepresentations of their culture and identity, denial of their means for cultural preservation and observance, and restrictions on their mobility and livelihood have made them even more inaccessible for involvement in interaction in the ASEAN regional setting."
However, not all is negative: "notwithstanding the challenges that beset Muslim Filipinos, rays of hope shine on peoples who rely on tradition against an overcast backdrop of marginalization."
Rolando Talampas is Associate Professor and current College Secretary of the Asian Center, University of the Philippines Diliman. He specializes in Southeast and West Asian Studies, Philippine Studies, and Development Studies. Professor Talampas also handles several graduate courses at the UP Asian Center, including Research Methods in Asian/Philippine Studies and Seminar on Southeast Asia. He handles a few courses as faculty affiliate of the UP Open University-MA ASEAN Studies Program. View his faculty profile here.
---
The UP Asian Center offers M.A. degrees in Asian Studies with four fields of specialization: Northeast Asia, Southeast Asia, South Asia, and West Asia. The Center also has an M.A. program in Philippine Studies that allows students to major in Philippine society and culture, Philippine foreign relations, or Philippine development studies. The Center offers a Ph.D. program in Philippine Studies in conjunction with the College of Arts and Letters and the College of Social Sciences and Philosophy. Get an overview of these programs. The Asian Center also houses a peer-reviewed, open-access journal, Asian Studies: Journal of Critical Perspectives on Asia. It has published several books and monographs, and hosts or organizes various lectures and conferences.