Sintang Dalisay Wins Silver Medal for Production in Intl Theatre Festival in Hanoi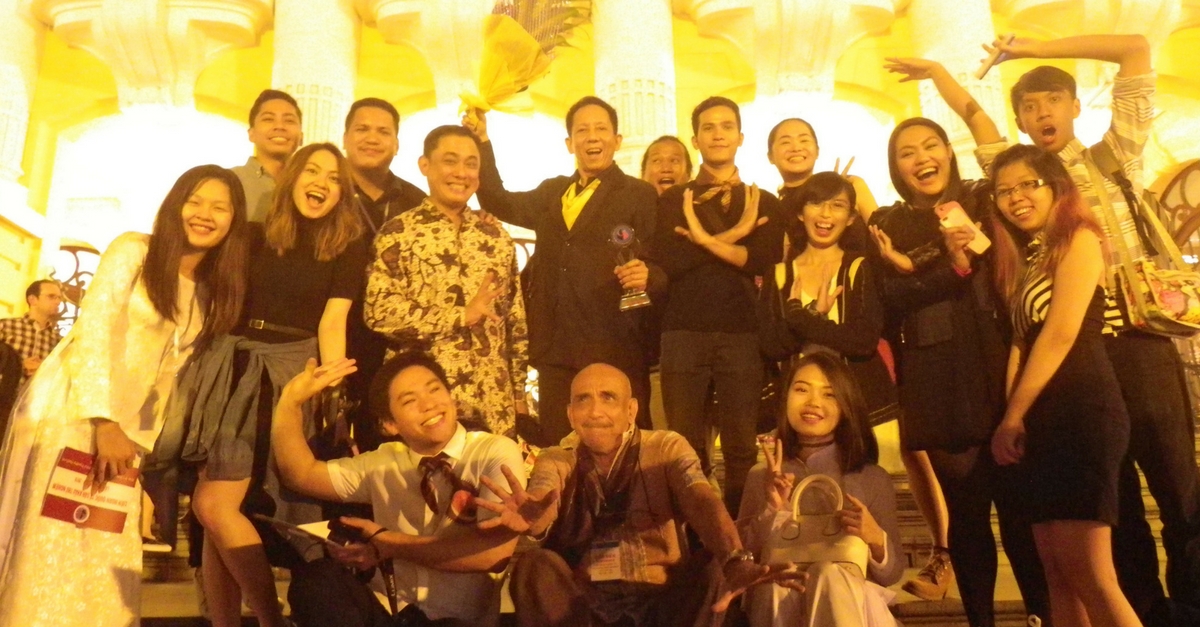 The cast and production staff of

Sintang Dalisay

in Hanoi posing after winning the Silver Medal. Photo provided by MCM Santamaria.
---
Sintang Dalisay

, a play whose choreography was done by Professor MCM Santamaria of the UP Asian Center, won the Silver Medal for Production at the 3rd International Experimental Theatre Festival, which was held from 12 to 19 November 2016, Hanoi, Viet Nam.
Performed in Dai Nam Theatre,

Sintang Dalisay

is based on a Filipino poet's adaptation of Shakespeare's play, Romeo and Juliet, written in 1901. It is set in a fictional Muslim town in the Philippines and features the rivalry of the Mustaffa and Kalimuddin clans, as well as the romance between Jamila and Rashiddin.  
The music of

Sintang Dalisay

builds on "the Sama Bajau tradition in southern Philippines, but infuses it with sounds and rhythms from other indigenous Philippine groups." The costumes are also based on Sama-Bajau and other Muslim traditions in the Philippines, while its dances and movements come from the Sama-Baju igal dance, suitably rendered "to meet the exigencies of theatrical production.
An expert in Sama-Bajau music and dance, Professor Santamaria choreographed the dances for

Sintang Dalisay

. Professor MCM Santamaria has a Doctor of Law in Political Science from Kyoto University, Japan. His research interests include Performance Studies, Politics, Japan and Southeast Asia, and Sama-Bajau studies. He teaches several graduate courses at the UP Asian Center that cover Japanese Culture and Society, Philippine Artistic Expressions, Southeast Asian Culture and Society, and Theater and Society in East Asia, among others. View his faculty profile. Dr. Ricardo Abad is chairperson of the Department of Sociology and Anthropology, Ateneo de Manila University, Philippines. He has a Ph.D. in Sociology from Fordham University, New York. View his full profile.
Sintang Dalisay is produced by Tanghalang Ateneo, Ateneo de Manila University and directed by Dr. Ricardo Abad. To learn more about the play, view photos and read the press release from the Ateneo de Manila University, as well as a feature article from the Philippine Daily Inquirer. The 3rd International Experimental Theatre Festival featured performances and delegations from Panama, Viet Nam, China, Germany, and Japan.
---
The UP Asian Center offers M.A. degrees in Asian Studies with four fields of specialization: Northeast Asia, Southeast Asia, South Asia, and West Asia. The Center also has an M.A. program in Philippine Studies that allows students to major in Philippine society and culture, Philippine foreign relations, or Philippine development studies. The Center offers a Ph.D. program in Philippine Studies in conjunction with the College of Arts and Letters and the College of Social Sciences and Philosophy. Get an overview of these programs. The Asian Center also houses a peer-reviewed, open-access journal, Asian Studies: Journal of Critical Perspectives on Asia. It has published several books and monographs, andxhosts or organizes various lectures and conferences.