China's Rise and Its Geopolitical Impact in Northeast Asia: Poster Presentations and Exhibit | 18 and 22 May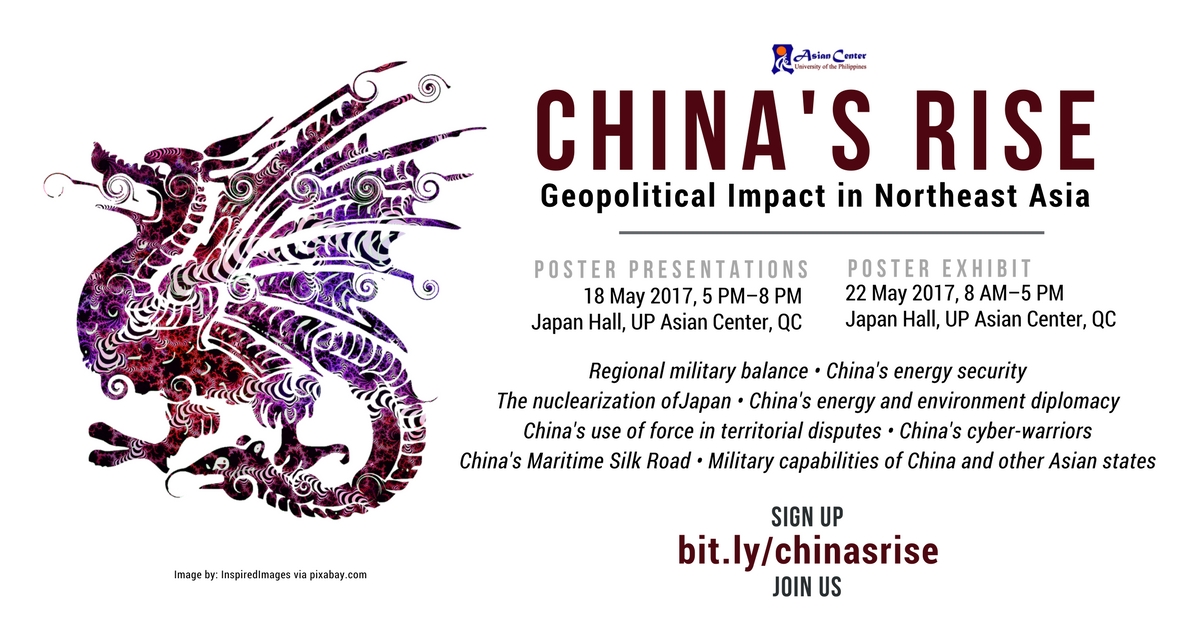 Students of the AS 234 class (Special Problems in Northeast Asia) under Professor Aileen Baviera will be giving poster presentations on Thursday, May 18 (5:00–8:00 p.m.) on the theme, "China's Rise and Geopolitical Impact in Northeast Asia." The posters will then be displayed on 22 May 2017, 8 am to 5 pm.  The presentations and exhibit will be held in Japan Hall, UP Asian Center, Quezon City. Both are free and open to the public, but participants are requested to sign up. 
ABOUT THE EXHIBIT/PRESENTATIONS
Nine members of the class, including Japan, Korea and China majors as well as cross-enrollees from the Masters in International Studies program of the UP Department of Political Science, will present, via posters, their research findings on the following studies (tentative titles):  
When China Uses Force: Factors that Push China to Use Force in Interstate Territorial Disputes

Regional Geopolitics and Japan's Nuclearization

Patriotic Hackers: The Effectivity of an Unconvetional Advancement in China's Defense Technology

Perspectives on China's 21st Maritime Silk Road: Strategic Regional Hegemony or Economic Cooperation?

China's Quest for Energy Security: Its Implications on its Role as a Global Environmental Leader

THAAD Deployment and the Northeast Asian Power Structure

Military Capabilities of China and Selected Countries in the Region
"The presentations mark the end of a fulfilling semester," says Dr. Baviera. "And we are holding these poster presentations to give the general public an awareness of the various geopolitical issues in and across Northeast Asia. Scholars who are working on and who are interested in China and Northeast Asia are most welcome; they and our students can engage in friendly and productive debate." 
Dr. Aileen SP. Baviera is teaching AS 234 this semester. She specializes on and writes about contemporary China studies, China-Southeast Asia relations, Asia-Pacific security, territorial and maritime disputes, and regional integration. The editor in chief of the journal, "Asian Politics & Policy," she is the author of many academic publications, including the "The Domestic Mediations of China's Influence in the Philippines," which appears in Rising China's Influence in Developing Asia, published by Oxford University Press. She completed her Ph.D. in Political Science at the University of the Philippines Diliman. VIEW FULL PROFILE.
VENUE And VICINITY MAP
Vehicles entering the UP Asian Center (GT-Toyota Asian Cultural Center) grounds can only do so via the gate on Magsaysay Avenue that is near a UP guardhouse, a few meters away from Katipunan Avenue, and across Maynilad. A small gate for pedestrians on Guerrero St. lies across the College of Law parking lot and a few meters away from a waiting shed, where the Ikot jeepney, and jeepneys from Philcoa and SM North pass by. VIEW VICINITY MAP and GOOGLE STREET VIEW
INQUIRIES And ATTENDANCE
If you are planning to come with/as a big group (a class or delegation), please inform us the number of participants at  This email address is being protected from spambots. You need JavaScript enabled to view it. . It would also be best if their names could be registered online or if you could send us a list of their names.
---
The UP Asian Center offers M.A. programs in Asian Studies with four fields of specialization: Northeast Asia, Southeast Asia, South Asia, and West Asia. The Center also has an M.A. program in Philippine Studies that allows students to major in Philippine society and culture, Philippine foreign relations, or Philippine development studies. The Center offers a Ph.D. program in Philippine Studies in conjunction with the College of Arts and Letters and the College of Social Sciences and Philosophy. Get an overview of these programs. The Asian Center also houses a peer-reviewed, open-access journal, Asian Studies: Journal of Critical Perspectives on Asia. It has published several books and monographs, and hosts or organizes various lectures and conferences.