Diaspora, Disaster, Democracy in ASEAN: Film Screenings and Paper Presentations @ ASEANnale 2018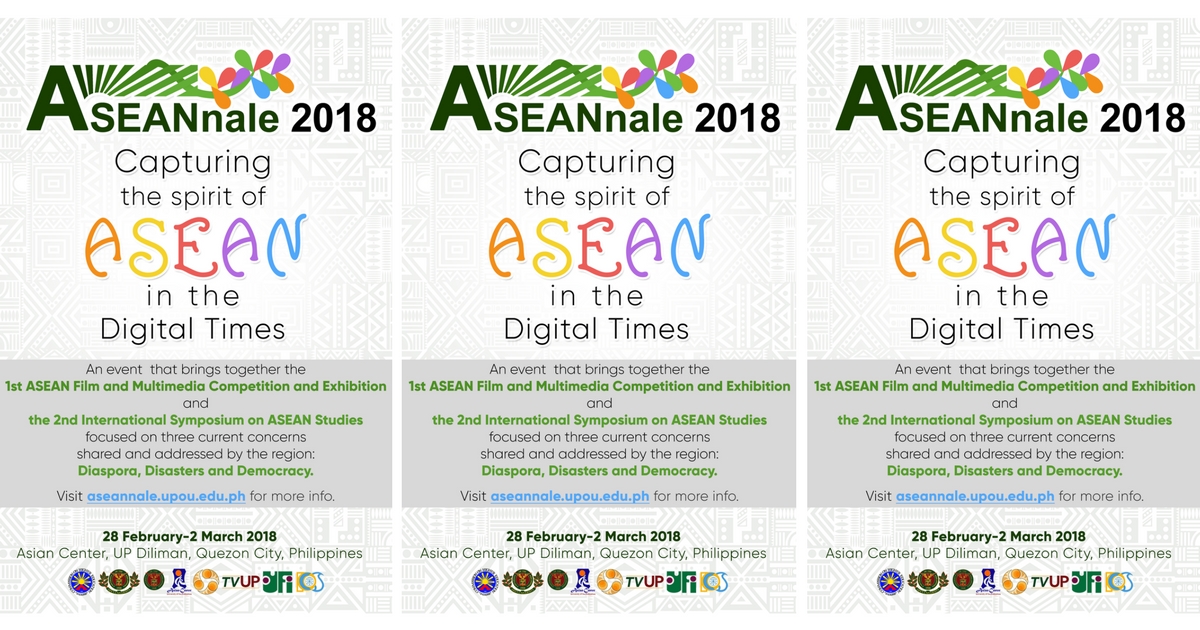 ASEANnale 2018, which brings together the 1st Film and Multimedia Competition and Exhibition and the 2nd International Symposium on ASEAN Studies (2nd ISAS), will be held from 28 February to 2 March 2018 at the Asian Center, University of the Philippines Diliman. Registration fees (PhP 3000) apply. 
ASEANNale: AN OVERVIEW
The three-day event features presentations of research studies and film screenings based on three themes: Diaspora, Disaster, and Democracy. The theme of ASEANnale is "Capturing the ASEAN Spirit in Digital Times." 
There are three plenary sessions, and several panels each for every theme. 
KEYNOTE ADDRESS
PLENARY SESSIONS
Diaspora Panel (28 Feb, 1:30 pm–3:00 pm)

Dr. Nguyen Thi Hoai Phoung (Lecturer, Vietnam National University)

Dr. Orlando Mercado (Secretary-General, Eastern Regional Organization for Public Administration, Philippines)

The Democracy Panel (1 March, 9 am–10 am)

Dr. Suthipand Chirathivat (Director of the ASEAN Studies Center, Chulalongkorn University, Thailand)

Girard Philip Bonotan (Senior Officer, Culture and Information Division, ASEAN Secretariat)

The Disaster Panel (1 March, 1:30 pm–3:00 pm)

Dr. Alfredo Mahar Francisco Lagmay (Director, Nationwide Operational Assessment of Hazards)

Dr. Zenaida Beltejar (Head, Social Welfare Development, Philippine Red Cross)

Dr. Edimon Ginting (

Director of Economic Analysis and Operational Support Division, 

Asian Development Bank)

Dr. Sheila Bonito (Professor, UP Open University, Dean of the College of Nursing, UP Manila)
PAPER PRESENTATIONS
There are thirteen (13) papers all in all in the Diaspora panels, twelve (12) in the Democracy Panels, and eight (8) in the Disaster Panels. An additional panel, Digital Spaces, will have six (6) papers. 
FILM SCREENINGS
Films, documentaries, and other multimedia content for each area—Diaspora, Democracy, and Disaster—will be shown in the auditorium.
VENUE, VICINITY, MAP and INQUIRIES and REGISTRATION
To register online, visit the ASEANNALE Registration page. Registration fees of PhP 3,000 pesos apply for the three-day event. 
For directions to the venue, please view this vicinity map. For inquiries, kindly contact 981.8500 local 2663 or local 3679; or 9263465; or via email:  This email address is being protected from spambots. You need JavaScript enabled to view it. . 
To learn more about the conference, visit the ASEANnale 2018 website. [back to top]
---
The UP Asian Center offers M.A. degrees in Asian Studies with four fields of specialization: Northeast Asia, Southeast Asia, South Asia, and West Asia. The Center also has an M.A. program in Philippine Studies that allows students to major in Philippine society and culture, Philippine foreign relations, or Philippine development studies. The Center offers a Ph.D. program in Philippine Studies in conjunction with the College of Arts and Letters and the College of Social Sciences and Philosophy. Get an overview of these programs. The Asian Center also houses a peer-reviewed, open-access journal, Asian Studies: Journal of Critical Perspectives on Asia. It has published several books and monographs, and hosts or organizes various lectures and conferences.