AC Faculty Compares Indonesia, Myanmar, and PH in 'Sea, State, and Society' Paper in Oslo Conference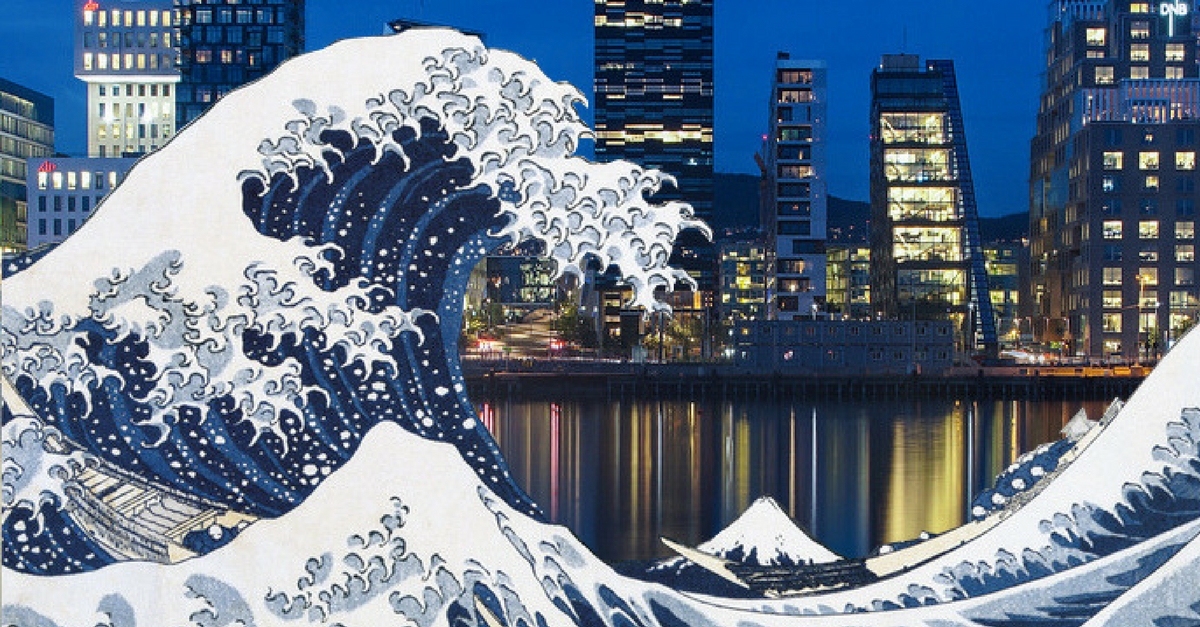 A juxtaposition of Hokusai's "The Great Wave of Kanagawa" an a city skyline by Linn Christiansen; it appears as the header of the NORASIA VII Conference web page. 
---
Rolando Talampas, Associate Professor at the UP Asian Center, delivered a paper at the NORASIA VII: Maritime Asia Conference, which was held from 12 to 13 January 2017 at the Centre for Development and the Environment, University of Oslo, Norway.
The title of his paper is "Sea, State, Society in Southeast Asia: Shipshaping Indonesia, Myanmar and the Philippines," where he argues that:
"modern-day national and global challenges and crises have set back the conditions of sea-dependent populations in the Indonesia, Myanmar and the Philippines, and that official statements notwithstanding, nation-states have unnoticeably retreated as water levels advance worldwide. Specifically, it hazards the following arguments: 1) state efforts notwithstanding, the marginality of coastal fishing populations sustain their social exclusion and neglect, 2) state preoccupation with maintenance of economic survival drive seafarers to world shipping under labor terms and conditions that deny agency and dignity, and, 3)  boat peoples' "nomadism" stems largely from intra- and interstate crimes (that have spawned "maritime zomian-ism", especially among Myanmar's Moken and Rohingya peoples) against the true freedom-loving maritime bridge-builders of Asia."
Prof. Talampas' paper was part of a panel, "Human, Land, and Water Interactions: Ethnographies of Ecological and Societal Change," which was comprised of three separate sessions. There were seven panels all in all in the two-day conference. Learn more about the conference, view the program and the complete list of panels and speakers
NORASIA VII aims to "explore maritime Asia from multiple perspectives, and will also function as a meeting and networking point for scholars in the Nordic region working on Asia more broadly. The conference was organized by the Asianettverket (Asia Network), "a Norweigian research network whose mission is to promote studies and research and disseminate knowledge about the region's modern history, society, culture, economy, and environment." Additional support was provided by Scandinavia-Japan Sasakawa Foundation and the Toshiba International Foundation.
Rolando Talampas is Associate Professor and current College Secretary of the Asian Center, University of the Philippines Diliman. He specializes in Southeast and West Asian Studies, Philippine Studies, and Development Studies. Professor Talampas also handles several graduate courses at the UP Asian Center, including Research Methods in Asian/Philippine Studies and Seminar on Southeast Asia. He handles a few courses as faculty affiliate of the UP Open University-MA ASEAN Studies Program. View his faculty profile here. 
---
The Asian Center offers M.A. degrees in Asian Studies with four fields of specialization: Northeast Asia, Southeast Asia, South Asia, and West Asia. The Center also has an M.A. program in Philippine Studies that allows students to major in Philippine society and culture, Philippine foreign relations, or Philippine development studies. The Center offers a Ph.D. program in Philippine Studies in conjunction with the College of Arts and Letters and the College of Social Sciences and Philosophy. For an overview of these graduate programs, click here. The Asian Center also publishes Asian Studies: Journal of Critical Perspectives on Asia, the latest issue of which can be downloaded at the journal's website. For other news and upcoming events at the Asian Center, click here.