'My Little Brother Reuben' | A Eulogy for Professor Cañete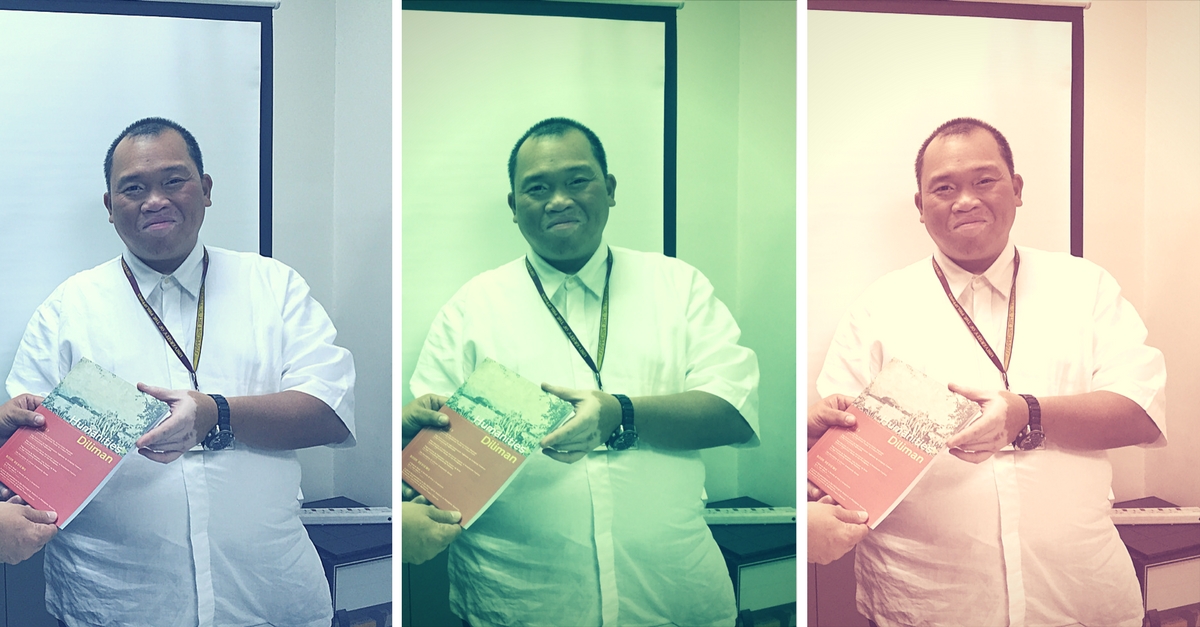 This eulogy was written by Dr. Rowena "Wendy" Cañete-Gross, Professor Reuben Ramas Cañete's sister. She is a 1980 BS Biology graduate of the University of the Philippines Diliman. She is now a practicing dermatologist at the outskirts of Freiburg in southern Germany, near the borders of France and Switzerland. 
Maybe some of you would smile, even make a grin, perhaps raise an eyebrow, upon hearing how I refer to our dearly departed brother Reuben. Don´t misunderstand me! I am not being disrespectful. That comes out of habit ... because despite his former Stature and numerous academic achievements, he will always remain for me, my baby brother. After all, there are 8 whole years and more than a month difference between us. I am his oldest sister, his "Manang." But then Reuben never called me that, at least not in public.

Reuben was a gentle, precocious child. He was content to entertain himself. He was happiest with his drawing materials, which began with a Chalkboard and multicolored Chalkpieces. He was capable of immersing himself in a book, into a World of Facts and Fantasy, guided at the beginning with Disney Characters, in his first series of encyclopedia, The Wonderful World of Disney Encyclopedia. A collection of 10 books, each book about a different topic: The Beginning of the Universe, The Age of the Dinosaurs, The Age of Invention, and so on. These served as the basis of his memory bank. He would quote facts and figures from these books, and not many an adult were astounded by his sharp intellect.

As a baby, I remember his attempts at speaking. One of his first words were "do ... dat ! ", interpreted as " ligo sa dagat". Yes, he loved the sea. He loved running here on the beach in Liloan. Actually, we used to bury his legs deep in the sand, because the old folks said, that way he would learn to walk the soonest. One day, he was about 2 or 3 years old then, our cousin Eva and I, who were given the task of babysitting that afternoon, decided to do just that, but this time a bit deeper, up beyond his waist, in the hope that, we would be able to immobilize him, to enable us to join our other cousins, who were gathering on the beach, to play patintero. Little did we realize what he already knew about being buried in the sand by then! Once we were engaged in the game, we just suddenly saw Reuben running with all his might, straight down to the sea, plunging in and immersing himself wet by sitting on ankle-deep water. Thank God that it was low tide! He just laughed out loud at our stupefied faces, Eva's and mine. To our chagrin, everybody was laughing at us and at the situation. It didn't help our confidence, being punished after that ... it was painful, for sure!
As a boy, Reuben was also headstrong. I remember the time when he was in Grade I and decided to walk on his own, being impatient to wait for us to be picked up from Mom. We older ones were used to waiting for Mommy, because we knew she had to finish all her patients first before she could leave. But Reuben, at 7 years old, did not understand that. Maybe he was also used to having his wishes fulfilled, that being the pampered, youngest child he was. Alone walking up Gorordo Avenue, he was picked up by a fellow golfer of our dad, who saw this familiar-looking boy walking alone. He was asked if he was the son of Capt. Cesar Canete, and as he nodded, he was then asked where he wanted to go. At that he answered, " Club Filipino... my dad is playing golf there." At this, the gentleman then invited him to ride with him, since he too, was on his way to the Golf Club. Upon arriving, he was then endorsed to the hands of a very surprised Father, who immediately alarmed our mother of the situation. Unthinkable nowadays, right?

I must say, I barely noticed him growing up. I was then on my senior years in high school, and I was interested in other things, as in my growing baby brother. Then came college and my entrance to UP Diliman. I would like to believe that I paved the way for my younger Siblings in entering the prestigious Halls of UP Diliman. I encouraged them to enter the state university after high school, not only because of the prestige but also because in UP they will learn the realities of life...  Communism and Democracy, Independence and Self-Worth... Rebellion ... MAKIBAKA !  I am indeed proud that both Cely and Reuben followed my advice.

Then I left the Philippines, on his birthday, Nov. 7, 1993. He was very sober as he wished me well on my scholarship. The following years later, we were both preoccupied with our private lives. He was establishing himself as a serious artist, and I was busy becoming a housewife, a mother, and much later a practicing dermatologist in Germany. Reuben went on to his Master's Degree in UP. Then on to teaching as member of the faculty in the College of Arts and Letters, then on to his doctorate degree. After which he proudly said to me quite cockily, " You can call me Doctor! " And to my shock I responded with my katarayan, " Ano ´ko ... sira? Tumigil ka, Prof. ... parehas lang tayo!" And then we laughed ... yes, that was good!
One day, as I was showing Dieter and the girls Metro Manila, actually Makati, Reuben accompanied us to the Ayala Museum. We were all quite impressed by the show of wealth in this building. All that glass,  all that concrete, and the natural stone tiles, perfectly laid, that even Dieter´s scrutinous eyes stared in almost disbelief. Dieter was just amazed to see such a museum in a Third World country like the Philippines. Little did we notice the excitement of the reception staff as they saw us entering the building. Upon paying for our entrance tickets, my husband inquired if someone would guide us through the different exhibits. Promptly, we received the answer, " Sir, there is nobody in the whole premises, who is as capable of guiding you throughout the museum, as your companion, Professor Cañete." At this moment, Dieter and I realized that we were in the midst of a celebrity, a known artist and critic, a respected teacher and tutor, our very own Reuben.

It is really a crying shame that he had to leave us so soon. For me, I believe he had just attained the peak of his career. He had not yet enjoyed all the accolades he is supposed to receive. He still had more to give. He could have trained and encouraged more students to show their ingenuity and creativeness. He had after all just reached the golden age of 50.

But then I sober down and remember how he was when we were all together for the last time on New Year´s Eve last December 2016. How he tried to cope with himself in the days and weeks after that. How he would close his eyes in pain, how he tried to walk without having to be assisted, how he would suddenly lose his strength after standing for a short while, how he tried to enjoy the feast we were partaking, but only manage 2 to 3 spoonfuls and no more. This was not the Reuben I knew!  I prayed to God that he deliver Reuben from his pain and suffering ... that He might still retain Reuben´s sense of self-worth, after losing his sense of independence.  I thank God that He answered my plea.  I was able to talk to him barely a week before expiring, and I could hear the pain in his voice and the weakness in his incoherence. I was very upset. I couldn't help him! Where is palliative medicine when you need it? Apparently it doesn't exist in the Third World.

Farewell, my little brother! Godspeed! May the Lord, our God, embrace you in His Arms! May He allow you to join Him and His angels and all the saints in Heaven. May He allow you to be together with our beloved departed!  Give Daddy a big kiss from me! I miss you both very dearly!  Rest in Peace!