UP Asian Center to Host Public Lecture on ASEAN-Timor Leste Relations on 4 May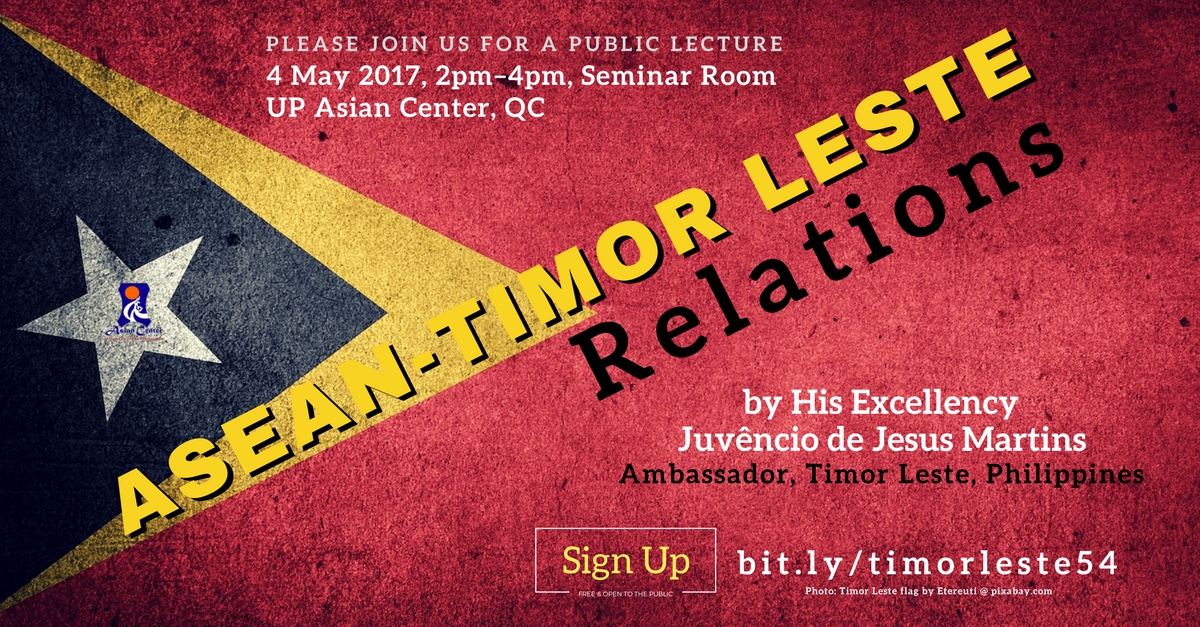 The UP Asian Center will be hosting a public lecture on ASEAN-Timor Leste Relations on 4 May 2017, 2 pm to 4 pm, Seminar Room, UP Asian Center, Quezon City. The lecture is free and open to the public, but seating is first-come, first-served, and participants are encouraged to sign up.
ABOUT THE LECTURE 
Ambassador Juvencio de Jesus Martins will discuss Timor Leste's colonial history, including the relationship between the Portuguese and Timorese people. He then moves on to the Portguese Revolution and its impact on Timor Leste; to the "Indonesian" era, where Timor Leste as de-facto declared part of Indonesia and thus part of ASEAN for 24 years; early  and continuing efforts, strategies, and approaches of Timor Leste and its leaders to join ASEAN; and the skepticism of some ASEAN members over Timor Leste's intention to join the regional organization, with particular focus on the Philippine position.
ABOUT THE SPEAKER
Juvencio de Jesus Martins is the Ambassador Extraordinary and Plenipotentiary of the Democratic Republic of Timor-Leste to the Philippines. A graduate of the Universitas Timor-Timur-UNTIM in Indonesia, Ambassador de Jesus Martins played an active role during East Timor's Liberation Struggle as an educational tutor, mass organizer, and a member of the Executive Committee of CNRM-National Council of Maubere People. He was imprisoned under the Suharto Regime before becoming the Co-Director of the National Council of Timorese Youth. Since then he has served in East Timor's foreign service in several capacities: as the Minister Counselor to the Embassy of the Democratic Republic of Timor-Leste in Jakarta, as Director of Region Affairs of the Ministry of Foreign Affairs of Timor-Leste, as Co-Director of the Commission of Truth and Friendship Timor-Leste-Indonesia, and as the Director General of External Relations of the Ministry of Foreign Affairs. Prior to serving as Ambassador to the Philippines, he also served as the Ambassador to Malaysia, Vietnam, and Myanmar.
ABOUT THE ASEAN AMBASSADOR LECTURE SERIES
The event is the second lecture in the ASEAN Ambassador Lecture Series of the UP Asian Center, which was launched last March 2017 with an inaugural lecture featuring Indonesia. The ASEAN Ambassador Lecture Series will run from March 2017 to November 2017. Ambassadors in Manila of various ASEAN member states (or their representatives) will be invited to deliver a public lecture where they will speak about their respective countries' role and relations in and with ASEAN. The lecture series aims to help build public awareness of ASEAN within the Philippines, especially in light of the Philippines' chairmanship of the organization and its 50th anniversary in 2017.
VENUE And VICINITY MAP