Bridging Asia and PHL: Dean Santarita Highlights Internationalization Efforts of the UP Asian Center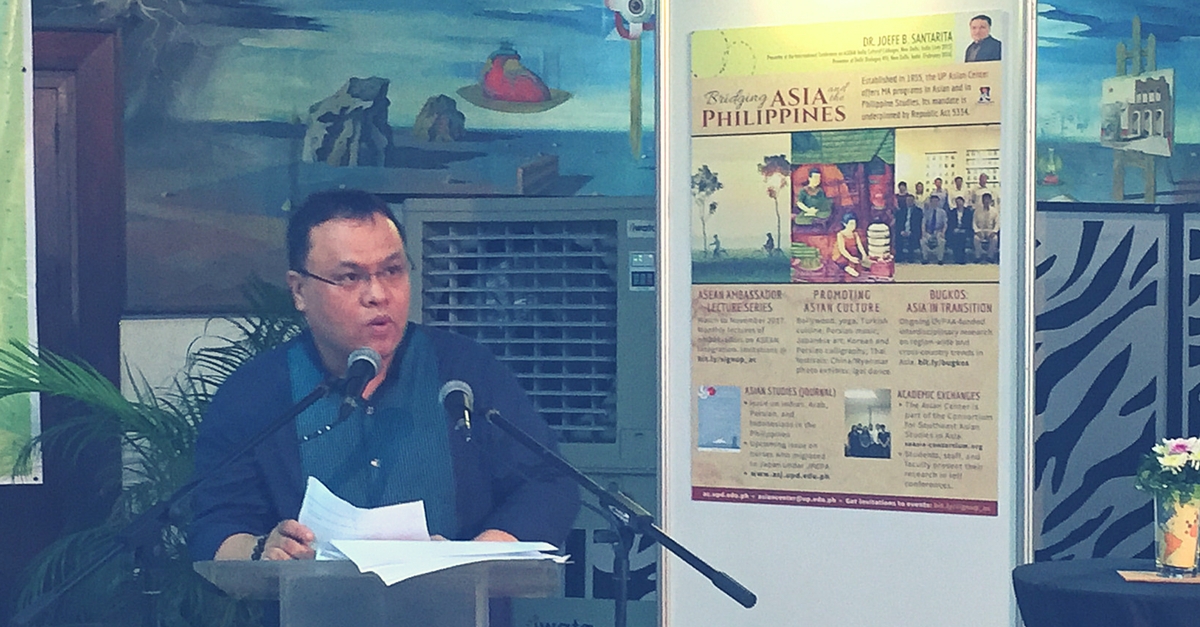 Dean Santarita during his poster presentation.
---
Stating that internationalization has always been inherent in the UP Asian Center's mandate, Dean Joefe Santarita, PhD presented the internationalization efforts of the college at a forum and fair, "International Engagements: Harnessing Global Experiences" on 25 April 2017 at the Palma Hall, University of the Philippines Diliman.
The fair was part of the university's attempt to showcase internationalization efforts across colleges and institutes. In his poster presentation, "Bridging Asia and the Philippines," Dean Santarita stressed the recent projects of the UP Asian Center:
ASEAN Ambassador Lecture Series

Promotion of Awareness and Appreciation of Asian Cultural Traditions

Comparative Research Studies on Asia

Issues of Asian Studies: Journal of Critical Perspectives on Asia

International Academic Exchanges
Established in 1955, the UP Asian Center offers MA programs in Asian and in Philippine Studies. Its mandate is underpinned by Republic Act 5334. 
---
The Asian Center offers M.A. degrees in Asian Studies with four fields of specialization: Northeast Asia, Southeast Asia, South Asia, and West Asia. The Center also has an M.A. program in Philippine Studies that allows students to major in Philippine society and culture, Philippine foreign relations, or Philippine development studies. The Center offers a Ph.D. program in Philippine Studies in conjunction with the College of Arts and Letters and the College of Social Sciences and Philosophy. For an overview of these graduate programs, click here. The Asian Center also publishes Asian Studies: Journal of Critical Perspectives on Asia, the latest issue of which can be downloaded at the journal's website. View recent and upcoming Lectures & Conferences and read other News & Announcements. Join our mailing list to receive invitations to lectures, conferences, etc.