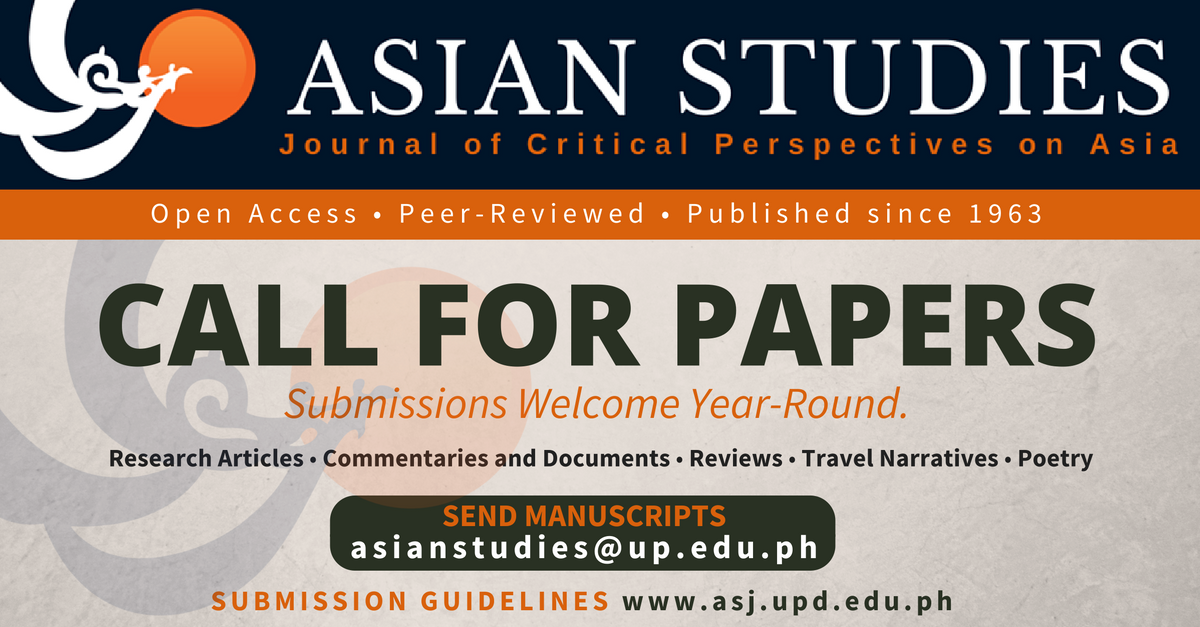 Asian Studies: Journal of Critical Perspectives on Asia, a peer-reviewed journal published since 1963 by the Asian Center, University of the Philippines Diliman, welcomes original contributions in the form of full-length research articles, reviews, commentaries and documents, and literary writings (poetry and short fiction), and travel narratives. There is no deadline for submission. Manuscripts are welcome all-year round. 
Research Articles
The journal accepts papers from the social sciences, humanities, and cultural  studies; submissions must run between 6,000 and 10,000 words, including notes and references. 
Commentary Section
Submissions to the commentary section include commentaries, interviews, and NGO and civil society statements. Manuscripts must be between 1,000 and 4,000 words, including notes and references. 
Reviews
Reviews run for 1,000 words, and can feature books, fiction (novels or short story collections), films, music, plays, art exhibits, and even websites. 
Travel Narratives
Travel narratives must feature reflections or analyses of an event or place in Asia, obscure or otherwise. Submissions must not be merely descriptive but also must contain analysis or discussions connecting the event or place to broader issues — theoretical and/or practice — affecting Asian societies. For example, an analysis of Universal Studios in Singapore as located in Asia but indicative of the universality of Hollywood
Poetry
Short poems are to be accepted. Authors can submit as many entries, but will not necessarily be published all at the same time. 
View complete submission guidelines @ www.asj.upd.edu.ph and send all manuscripts to the editor in chief: This email address is being protected from spambots. You need JavaScript enabled to view it.. For inquiries, please contact the managing editor at the same email address. 
---
The UP Asian Center offers M.A. programs in Asian Studies with four fields of specialization: Northeast Asia, Southeast Asia, South Asia, and West Asia. The Center also has an M.A. program in Philippine Studies that allows students to major in Philippine society and culture, Philippine foreign relations, or Philippine development studies. The Center offers a Ph.D. program in Philippine Studies in conjunction with the College of Arts and Letters and the College of Social Sciences and Philosophy. Get an overview of these programs. The Asian Center also houses a peer-reviewed, open-access journal, Asian Studies: Journal of Critical Perspectives on Asia. It has published several books and monographs, and hosts or organizes various lectures and conferences.