Bodies in/and Asian Theatres: A Conference @ UP Asian Center, QC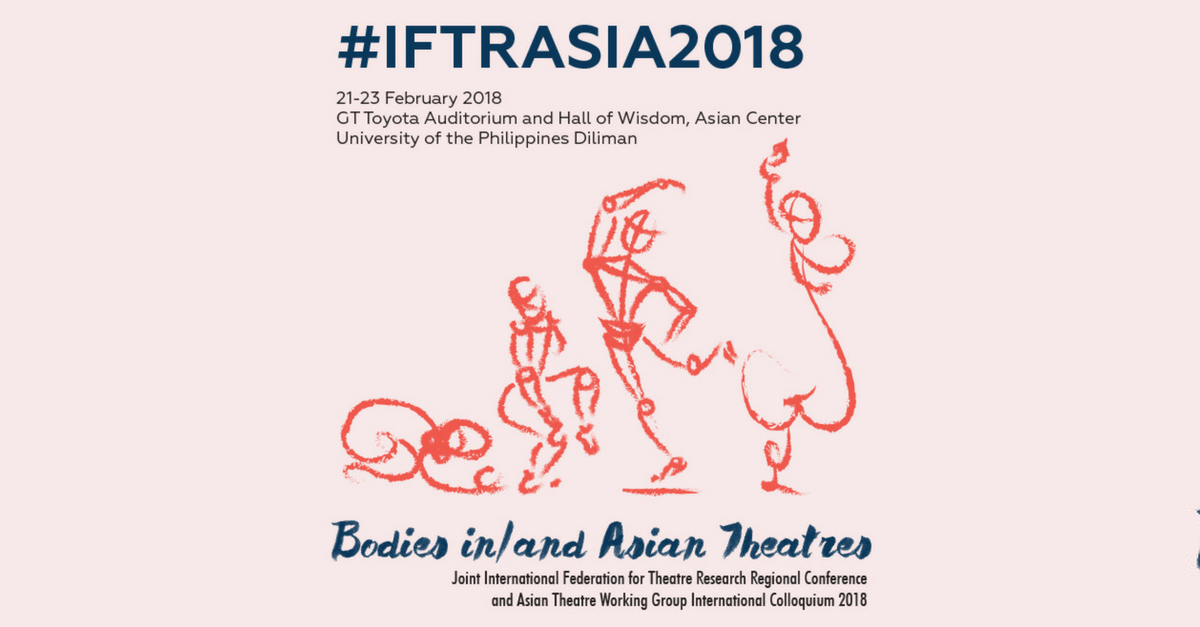 A three-day conference, Bodies in/and Asian Theatres, will be held from 21 to 23 February 2018 at the Asian Center, University of the Philippines Diliman, Quezon City. The conference is open to the public; registration rates apply.
KEYNOTE SESSIONS
Please click on each title to view the abstract.  
PLENARY DISCUSSIONS
Body Politics/Body Narratives in Southeast Asian Performances

(February 22)

Paul Alexander Rae, PhD (University of Melbourne)

Jazmin Llana, PhD (De La Salle University Manila)

Kathy Foley, PhD (University of California Santa Cruz)
Bodies and Praxes

(February 23)

How Ngean Lim, PhD (Asian Dramaturg's Network)

Eisa Jocson (Independent Dancer, Philippines)

Jay Cruz (Performance Research Network, Philippines)
PANELS and PAPER PRESENTATIONS
The three-day conference will feature 55 individual papers across 19 panels; four (4) roundtable sessions; three (3) three keynote addresses; and two 2(two) workshops.  
Panel themes examine the body from a variety of perspectives such as gender, (bio)politics, tradition, heritage, performance, (trans)nation(alism), emotion, and religion, among others. 
REGISTRATION: RATES, PROCEDURES, DEADLINES
View registration rates for students, Filipinos, and non-Filipino participants. Online registration is open until 2 February 2018, but walk-ins and onsite payment of registration fee are allowed. [BACK TO TOP]
ABOUT THE THEME
The Joint 2018 Asian Theatre Working Group Colloquium and International Federation for Theatre Research Regional Conference (IFTR-Asia) attempts to answer these general questions: what do we mean when we talk about bodies in Asian theatres and performances? What do we mean when we talk about Asian bodies in different performances outside the region? How does theatre affect the way we think about the bodies of Asians?
These questions reflect "a growing interest on the body as a starting point of discourse is seen in the past decades. Even theatre studies has been involved on scrutinizing the body as an important performance aspect. In Western theatre practice, physical theatre is a well-articulated practical approach for understanding the body vis-à-vis theatre and performance. However, the increasing number of the most influential theorizations and conceptualizations has primarily, if not exclusively, focused on how the cultures in the West (Europe and the Americas) conceive it.
Taking cue from Bryan Turner and Zheng Yangwen, it is important to note that peoples in Asia have experienced colonization, decolonization and now globalization albeit different modalities. These contexts, as suggested by Turner and Zheng, are important socio-political and historical factors for understanding the Asian body.
The conference is one of three events in the UP Asian Center that will be held as part of Kat(h)awan, a three-month Festival of Culture and Arts at the University of the Philippines Diliman, which celebrates the "Filipino body—what it is, how it is perceived and shaped by art, culture and society and manipulated by social engineering and advertising." [BACK TO TOP]
VENUE and VICINITY MAP
Vehicles entering the UP Asian Center (GT-Toyota Asian Cultural Center) grounds can only do so via the gate on Magsaysay Avenue that is near a UP guardhouse, a few meters away from Katipunan Avenue, and across Maynilad. A small gate for pedestrians on Guerrero St. lies across the College of Law parking lot and a few meters away from a waiting shed, where the Ikot jeepney, and jeepneys from Philcoa and SM North pass by. VIEW VICINITY MAP and GOOGLE STREET VIEW
INQUIRIES and CONFERENCE WEBSITE
To learn more about the conference, visit the website and inquire via email  This email address is being protected from spambots. You need JavaScript enabled to view it. .
The conference is organized by the Asian Theatre Working Group; the UP Office for Initiatives for Culture and the Arts; the UP Department of Speech Communication and Theater Arts; UP College of Arts and Letters; the UP Diliman Information Office; UP Asian Center; and the UP Theater Complex. 
---
The UP Asian Center offers M.A. degrees in Asian Studies with four fields of specialization: Northeast Asia, Southeast Asia, South Asia, and West Asia. The Center also has an M.A. program in Philippine Studies that allows students to major in Philippine society and culture, Philippine foreign relations, or Philippine development studies. The Center offers a Ph.D. program in Philippine Studies in conjunction with the College of Arts and Letters and the College of Social Sciences and Philosophy. Get an overview of these programs. The Asian Center also houses a peer-reviewed, open-access journal, Asian Studies: Journal of Critical Perspectives on Asia. It has published several books and monographs, and hosts or organizes various lectures and conferences.