UP Asian Center Student Discusses Humanitarian Assistance, Disaster Relief @ ASEANnale 2018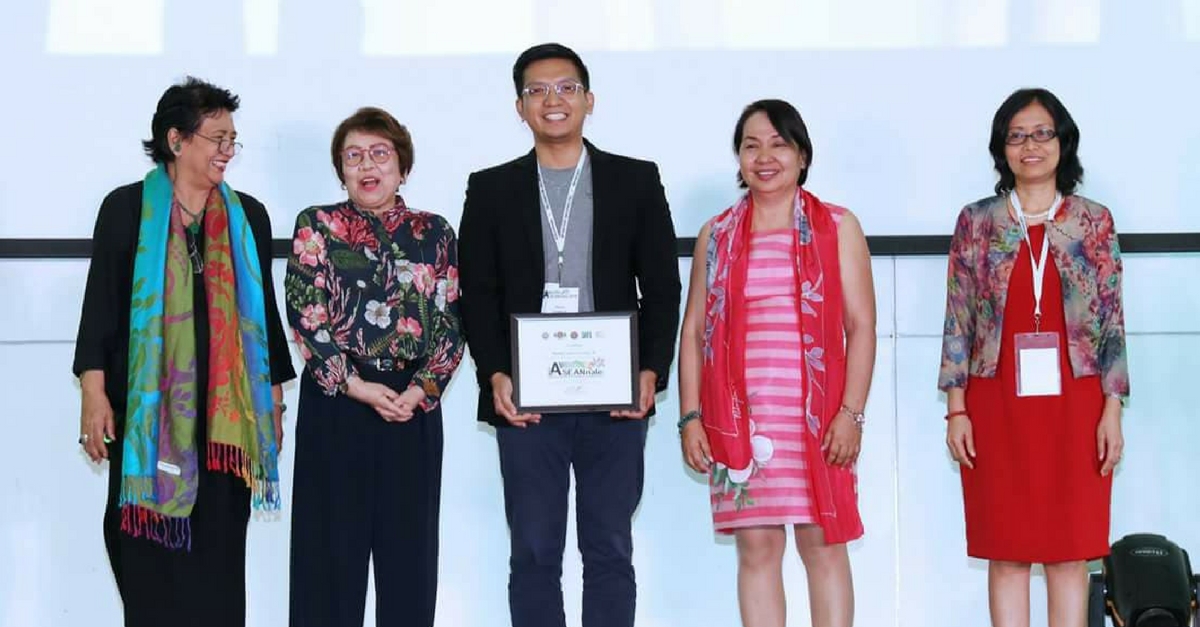 Photo (Middle): Danilo Cortez Jr. By Misael Bacani, MPRO, UP.
---
Mr. Danilo Cortez, Jr. a student @ UP Asian Center presented his paper, Understanding the Socio-Cultural Lynchpin of ASEAN Regional Cooperation on Humanitarian Assistance and Disaster Relief (HADR) from a Philippine Perspective, at the "ASEANnale 2018,"which brought togetherthe 1st Film and Multimedia Competition and Exhibition and the 2nd International Symposium on ASEAN Studies (2nd ISAS) from 28 February to 2 March 2018 at the Asian Center, University of the Philippines Diliman.
ABSTRACT
Southeast Asia is grappling with the wrenching impacts of climate change and the high vulnerability of countries in the region to colossal natural disasters. In recent years, several Association of Southeast Asian Nations (ASEAN) member states (AMS) have suffered from large-scale natural disasters such as tsunami, earthquake, volcanic activity, and super typhoon; both in accelerating frequency, and in rising intensity. Philippines is particularly at the top of the list of disaster-prone countries not only in Southeast Asian region, but in the world. This paper explores the intra-regional Humanitarian Assistance and Disaster Relief (HADR) of ASEAN from 2012-2016, in the context of the Philippines. The paper gives emphasis on regionalionalization and socio-culturalization of disaster response as two dynamic processes that essentially shape the cooperation landscape of ASEAN intra-regional HADR. This paper presents key concepts underlying social constructivism together with a collection of patterns of responses at the vantage point of the Philippines, whereby cultural values as symbolic capital can be deployed to catalyze and facilitate engagements for ASEAN regional cooperation on HADR. In this paper, I argue that placing disaster management under the pillar of ASEAN Socio-Cultural Community serves as a lynchpin --- a central cohesive element, which positively reinforces ASEAN spirit through its common values for community-building and for the cultivation of ASEAN consciousness and regional identity.
ABOUT AUTHOR
Mr. Danilo Cortez is completing his M.A. in Philippine Studies @ UP Asian Center. His paper won Honorable Mention @ ASEANnale 2018. 
ABOUT ASEANNALE
Themed Capturing the Spirit of ASEAN in the Digital Times, the three-day event featured presentations of research studies and film screenings based on the themes of Diaspora, Disaster, and Democracy. Dr. Brenda S.A. Yeoh of the National University of Singapore delivered the conference's keynote address.
---
The Asian Center offers M.A. degrees in Asian Studies with four fields of specialization: Northeast Asia, Southeast Asia, South Asia, and West Asia. The Center also has an M.A. program in Philippine Studies that allows students to major in Philippine society and culture, Philippine foreign relations, or Philippine development studies. The Center offers a Ph.D. program in Philippine Studies in conjunction with the College of Arts and Letters and the College of Social Sciences and Philosophy. For an overview of these graduate programs, click here. The Asian Center also publishes Asian Studies: Journal of Critical Perspectives on Asia, the latest issue of which can be downloaded at the journal's website. For other news and upcoming events at the Asian Center, click here.