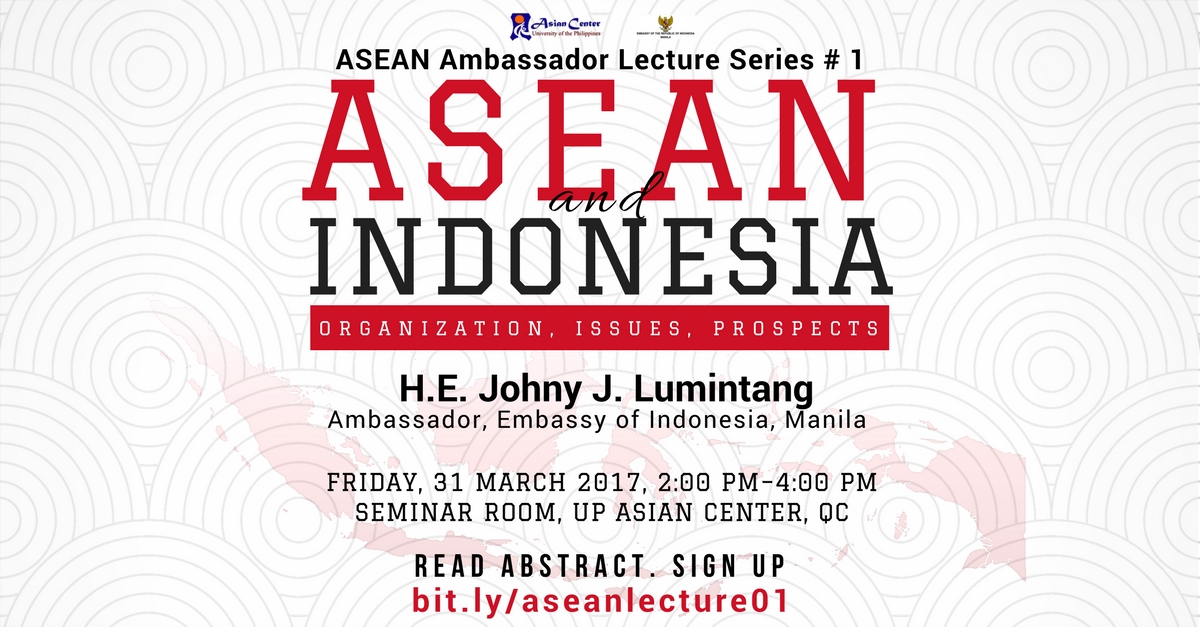 Photo of Indonesian Map: Indonesia - Blue by FreeVectorMaps.com 
---
The UP Asian Center, together with the Embassy of the Republic of Indonesia in Manila, will be holding a public lecture, ASEAN and Indonesia: Organization, Issues, Prospects, on Friday, 31 March 2017, 2:00 p.m. to 4:00 p.m., Seminar Room, UP Asian Center, QC. The lecture is free and open to the public, but seating is first-come, first-served and participants are encouraged to sign up.
ABOUT THE LECTURE
Ambassador Lumintang will discuss the role and relationship of Indonesia in and with ASEAN through the 21st century, noting ASEAN's and Indonesia's achievements, significant steps, and the challenges that lie ahead. After giving an overview of ASEAN — its history, establishment, identity, secretariat, organizational structure — Ambassador Lumintang will also touch on ASEAN Community Vision 2025, focusing on its characteristics and paths for cooperation.   
ABOUT THE SPEAKER
Ambassador Johny L. Lumintang has been Ambassador of the Republic of Indonesia to the Philippines since 2014. He graduated from the Armed Forces Academy, Megalang in 1970 and became a Second Lieutenant, rising to the Lieutenant General in 1998. He was a member of the People's Consultative Assembly, representing the provinces of East Timor (1993), Irian Jaya (1996) and the Armed Forces (1998).  From 1998 to his retirement in 2002, he served in some important positions, notably as Governor of the National Resilience Institute, Jakarta and as Secretary General, Ministry of Defense, Republic of Indonesia.
ABOUT THE ASEAN AMBASSADOR LECTURE SERIES
Ambassador Lumintang's lecture is the first in the UP Asian Center's ASEAN Ambassador Lecture Series, which will run from March 2017 to November 2017. Ambassadors in Manila of various ASEAN member states (or their representatives) will be invited to deliver a public lecture where they will speak about their respective countries' role and relations in and with ASEAN. The lecture series aims to help build public awareness of ASEAN within the Philippines, especially in light of the Philippines' chairmanship of the organization and its 50th anniversary in 2017.
INQUIRIES and ATTENDANCE
If you are planning to come with/as a big group (a class or delegation), please inform us the number of participants at This email address is being protected from spambots. You need JavaScript enabled to view it.. It would also be best if their names could be registered online or if you could send us a list of their names.
---
The UP Asian Center offers M.A. degrees in Asian Studies with four fields of specialization: Northeast Asia, Southeast Asia, South Asia, and West Asia. The Center also has an M.A. program in Philippine Studies that allows students to major in Philippine society and culture, Philippine foreign relations, or Philippine development studies. The Center offers a Ph.D. program in Philippine Studies in conjunction with the College of Arts and Letters and the College of Social Sciences and Philosophy. Get an overview of these programs. The Asian Center also houses a peer-reviewed, open-access journal, Asian Studies: Journal of Critical Perspectives on Asia. It has published several books and monographs, and hosts or organizes various lectures and conferences.