Call for Papers: Philippine Association for Chinese Studies 30th Annivesary Conference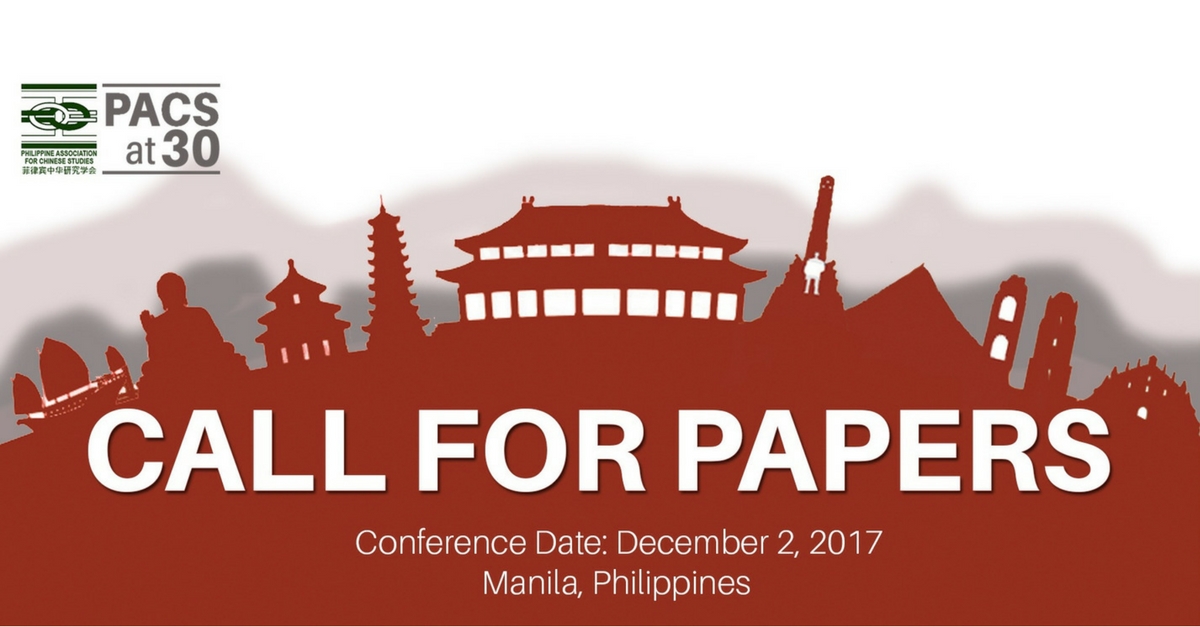 Security and geopolitics have long dominated narratives of Philippines-China relations but changing local and regional dynamics are beginning to cast more light on the transformative role of economics in the bilateral relations. A stream of high-level official visits, reciprocal exchanges and mutual consultations followed President Duterte's October 2016 state visit to Beijing, demonstrating both sides' deep interest in implementing key economic, trade and investment deals. Chinese-led undertakings, notably the Belt and Road connectivity, Asian Infrastructure Investment Bank, and Silk Road Fund are gaining traction with projects taking shape in Southeast, Central, South and West Asia, Caucasus and Africa. With the Philippines aiming to accelerate annual infrastructure spending, increase agricultural and rural enterprise productivity and rural tourism as part of the government's 10-Point Socioeconomic Agenda, expanded economic cooperation with its neighbors, including China, is becoming more valuable than ever. Given the dynamics in the country, the region, and the world, how should the Philippines consider its economic relations with China?the region, and the world, how should the Philippines consider its economic relations with China?
In celebration of its 30th founding anniversary, the Philippine Association for Chinese Studies (PACS) is pleased to invite you to submit abstracts for the PACS conference on December 2, 2017. The following are possible topics on Philippine-China economic relations for panels and individual presentations:
Prospects and challenges for economic cooperation

Priority sectors/areas

Constraints and limits

Complementarities and competition in Philippines' and China's economies

Philippines and China in the regional/global productivity chain

Addressing trade and investment imbalance

External and domestic variables that can influence economic cooperation

Comparative case study of China-supported project/s abroad with potential relevance to the Philippines

Lessons from past China-backed projects in the Philippines
We also welcome presentations on other areas of interest in China/Chinese Studies including but not limited to interrogations on history, culture, humanities, international relations, science and technology, and Chinese in the Philippines. Interested presenters should send a 150-200 word abstract no later than August 1, 2017. Full papers are due on October 1, 2017.
---
The UP Asian Center offers M.A. programs in Asian Studies with four fields of specialization: Northeast Asia, Southeast Asia, South Asia, and West Asia. The Center also has an M.A. program in Philippine Studies that allows students to major in Philippine society and culture, Philippine foreign relations, or Philippine development studies. The Center offers a Ph.D. program in Philippine Studies in conjunction with the College of Arts and Letters and the College of Social Sciences and Philosophy. Get an overview of these programs. The Asian Center also houses a peer-reviewed, open-access journal, Asian Studies: Journal of Critical Perspectives on Asia. It has published several books and monographs, and hosts or organizes various lectures and conferences.