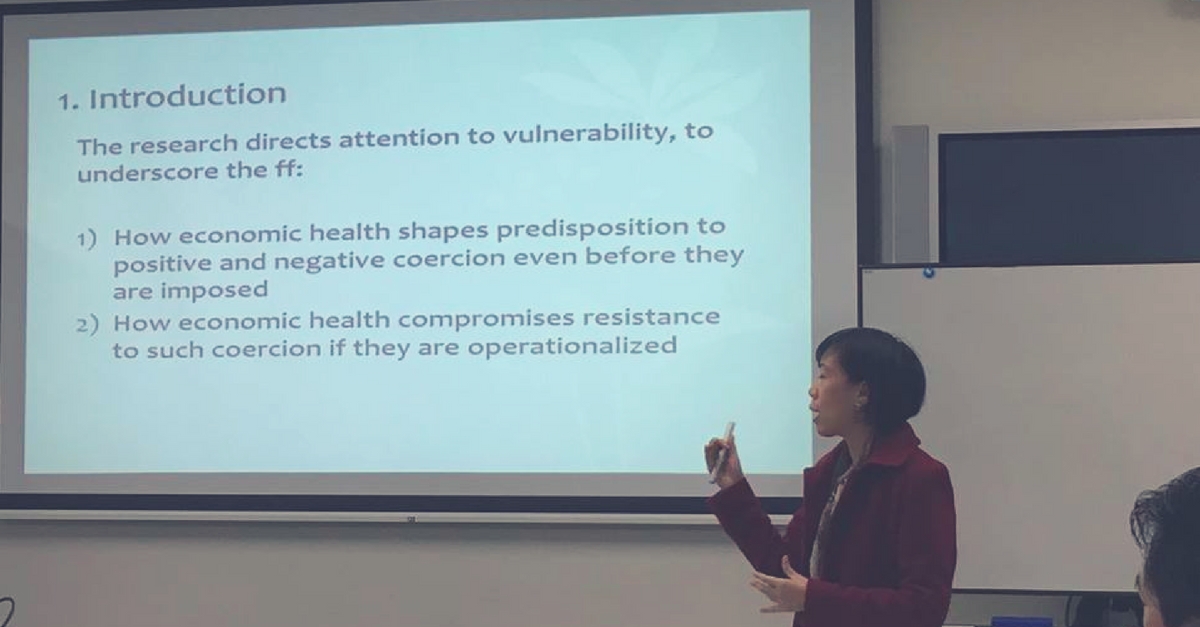 Dr. Clemente during her presentation at Kyoto University, 16 December 2016. Photo by Kat Navallo.
---
Dr. Tina Clemente, Associate Professor at the UP Asian Center, gave a lecture, Philippine Economic Vulnerability and Strategic Options in Philippines-China Relations at the Graduate School of Letters, Kyoto University on 16 December 2016. Below is an abstract of her presentation. 
In light of current Philippines-China maritime tensions in recent years and the current so-called warming relations, the implications of coercive economic levers from China have raised security issues. However, the more fundamental investigation is how economic vulnerability, as determined by inclusive development, affects the Philippines' strategic calculations in its economic relations with China. While tense events in recent years and the impression of an economic pivot towards China in the last few months provide practical ex-post examples, the research directs attention to vulnerability, to underscore two things. First is how economic health shapes predisposition to positive and negative coercion even before they are imposed. Second is how economic health compromises resistance to such coercion if they are operationalized. The research casts particular attention on trade, investments, and aid and seeks to give inclusive development proper issue salience in security considerations.
Dr. Clemente teaches graduate courses at the UP Asian Center, including one on the social and economic development of China, as part of the program on North East Asia with a focus on China. She obtained her Ph.D. in Economics from the School of Economics, University of the Philippines Diliman. Her latest publication is "Understanding the Economic Diplomacy between the Philippines and China," which appears in the August 2016 issue of the International Journal of China Studies. VIEW FULL PROFILE.
---
The UP Asian Center offers M.A. programs in Asian Studies with four fields of specialization: Northeast Asia, Southeast Asia, South Asia, and West Asia. The Center also has an M.A. program in Philippine Studies that allows students to major in Philippine society and culture, Philippine foreign relations, or Philippine development studies. The Center offers a Ph.D. program in Philippine Studies in conjunction with the College of Arts and Letters and the College of Social Sciences and Philosophy. Get an overview of these programs. The Asian Center also houses a peer-reviewed, open-access journal, Asian Studies: Journal of Critical Perspectives on Asia. It has published several books and monographs, and hosts or organizes various lectures and conferences.