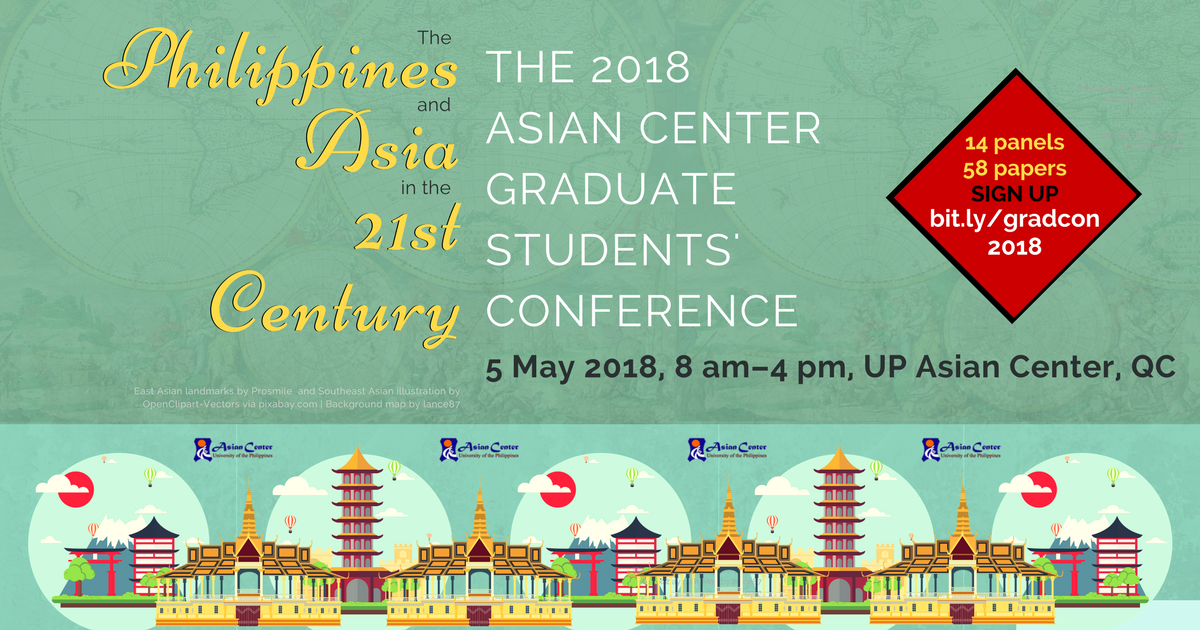 The UP Asian Center will be hosting a graduate students' conference, The Philippines and Asia in the 21st Century, on 5 May 2018, 8 am to 4 pm at UP Asian Center, QC. The conference is free and open to the public; seating is first-come, first-served, but participants are encouraged to sign up to receive any major update (changes in program, etc).
SIGN UP: YES! I WILL ATTEND THE CONFERENCE
The conference features three sessions covering 14 panels and 58 presentations from the graduate students of the UP Asian Center taking up their MAs at the UP Asian Center and their PhDs at the TriCollege PhD Philippine Studies program.
Each session consists of four (4) to five (5) parallel sessions. The first session starts at 9 am; the second at 10:45 am; and the third at 1:15 pm. Below is the tentative schedule. Please click panel on titles below to view individual presentations therein. VIEW ALL PANELS AND PAPERS IN ONE (1) PDF.

SESSION 1: 9:00 AM–10:30 AM
Panel 1: Asian Identities

Panel 2: Cultural Globalization, Tourism and Marketing in East/Southeast Asia
Panel 3: Confucianism, Taoism, and Spirituality
Panel 4: Islam, Ritual, and Christianity in Peace and Development
---
SESSION 2: 10:45 AM-12:15 AM
Panel 5: Film and Media in Japan and the Philippines
Panel 6: Korean Pop Culture
Panel 7: Education: Policy and Praxis in East Asia
Panel 8: Food, Sports, Ageing, and the Military in East Asia
Panel 9: History, Memory, and Politics
---
SESSION 3: 1:15 PM-2:45 PM
Panel 10: International Relations in East/West Asia
Panel 11: Development and Political Economy
Panel 12: Art and Literature in the Philippines
Panel 13: Gender, Racism and Nation in Korea and Southeast Asia
Panel 14: Religious Expressions and NONES
VENUE, VICINITY MAP, and INQUIRIES
Vehicles entering the UP Asian Center (GT-Toyota Asian Cultural Center) grounds can only do so via the gate on Magsaysay Avenue that is near a UP guardhouse, a few meters away from Katipunan Avenue, and across Maynilad. A small gate for pedestrians on Guerrero St. lies across the College of Law parking lot and a few meters away from a waiting shed, where the Ikot jeepney, and jeepneys from Philcoa and SM North pass by. Please refer to our venue and vicinity map.
For inquiries, please contact us: This email address is being protected from spambots. You need JavaScript enabled to view it.
YOU MAY ALSO WANT TO ATTEND...
---
The Asian Center offers M.A. degrees in Asian Studies with four fields of specialization: Northeast Asia, Southeast Asia, South Asia, and West Asia. The Center also has an M.A. program in Philippine Studies that allows students to major in Philippine society and culture, Philippine foreign relations, or Philippine development studies. The Center offers a Ph.D. program in Philippine Studies in conjunction with the College of Arts and Letters and the College of Social Sciences and Philosophy. For an overview of these graduate programs, click here. The Asian Center also publishes Asian Studies: Journal of Critical Perspectives on Asia, the latest issue of which can be downloaded at the journal's website. For other news and upcoming events at the Asian Center, click here.