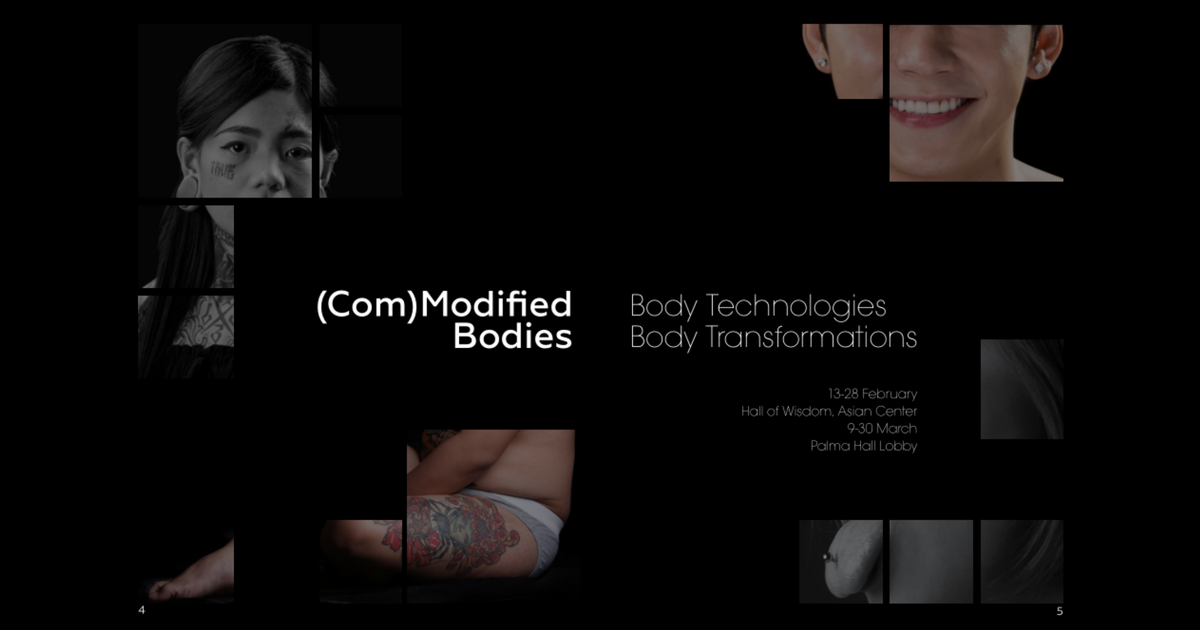 An installation exhibit, (Com)modified Bodies in the Philippines: Body Technologies, Body Transformations, will open at the UP Asian Center, Quezon City on 13 February, 2:30 pm and will run until 27 March. The exhibit is free and open to the public, but visitors are encouraged to sign up online. The exhibit is open Mondays to Fridays, 8 am to 5 pm. 
ABOUT THE EXHIBIT/THEME
Composed of five galleries and a floor plan resembling a maze, the indoor exhibit contemplates on motivations, processes, and beliefs around modification of the human anatomy. 

The exhibit interrogates how body modification may be problematized and even used as a starting point for creative work and discourse. Juxtaposed are different engagements with body technologies which modern societies use either consciously or unconsciously, paving for a renewed ontology of the body.
Such ontology of the body is premised upon two provocations: first, its commodification is an attempt to alter it to suit the interpolation of popular culture as the beautiful, the true and the ideal; second is the need to modify due to practical and cultural necessities or the individual's desire for communion with oneself and/or the community. 
FIVE GALLERIES OF THE EXHIBIT
Subconscious Substance provides a glimpse of the different chemicals we put in/on our bodies to necessitate our social and public life.


Named! presents the actual words identified with body parts in Filipino (Tagalog and Cebuano), English and Chinese, and how these are modified into other terms based on how popular culture and other pidgin languages see these body parts. 


The History of the Beautiful in the Philippines features how the public eye transformed the idea of beauty based on several factors, including hegemonic or dominant ideology/ies.


Cosmeticized! is a series of videos featuring temporary and often quick body transformations. One video is a collage of documentary films taken from YouTube outlining how quick and hurried body transformations may often lead to undesirable consequences.


(Dis)Anatomized Bodies are portraits of nine individuals who underwent body alterations. Beside the portraits are their reasons for undergoing body modifications. 
VENUE, VICINITY MAP and INQUIRIES
Please view this vicinity map for directions, and kindly email This email address is being protected from spambots. You need JavaScript enabled to view it. or call 9241881 
PART OF KAT(H)AWAN
The foregoing events are to be held as part of a Kat(h)awan, a three-month Festival of Culture and Arts at the University of the Philippines Diliman. 
---
The UP Asian Center offers M.A. degrees in Asian Studies with four fields of specialization: Northeast Asia, Southeast Asia, South Asia, and West Asia. The Center also has an M.A. program in Philippine Studies that allows students to major in Philippine society and culture, Philippine foreign relations, or Philippine development studies. The Center offers a Ph.D. program in Philippine Studies in conjunction with the College of Arts and Letters and the College of Social Sciences and Philosophy. Get an overview of these programs. The Asian Center also houses a peer-reviewed, open-access journal, Asian Studies: Journal of Critical Perspectives on Asia. It has published several books and monographs, and hosts or organizes various lectures and conferences.