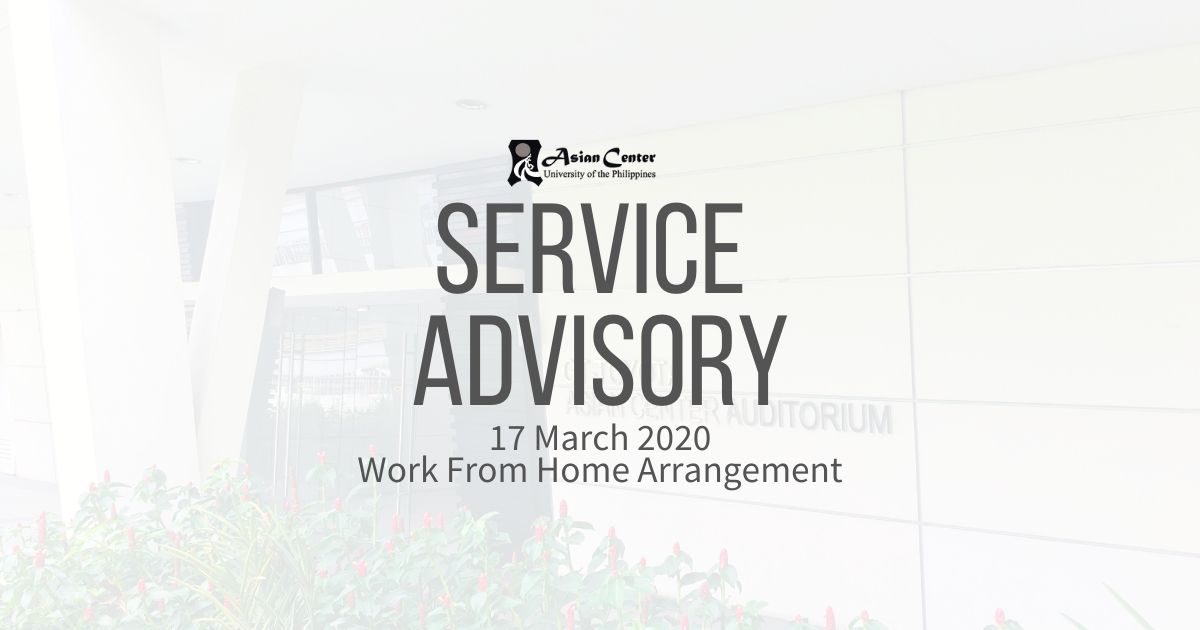 As part of the University of the Philippines' compliance with the enhanced community quarantine amidst the rising cases of CoVid-19, the faculty and staff of the UP Asian Center will be working from home from 17 March 2020 to 14 April 2020. Resumption of normal, on-site services will be announced in due course.
 

Under this work-from home arrangement, some services of the UP Asian Center are limited or unavailable altogether. The following are suspended until further notice:
 

Venue bookings, ocular inspections, and payment for our rental facilities

Library operations
 (see separate advisory)
Sale of Asian Center publications

Classes

Walk-in inquiries
/transactions
Inquiries over the phone
Processing of requests for certifications, true copy of grades and similar documents

Inquiries on our facilities—availability, general queries, etc.—however, may still be sent to the Rental Office (see email address below). Clients with existing bookings may please get in touch via the same as soon as possible.
 

The library will waive the fines for books due from March 10, 2020 until normal, on-site service resumes. Kindly return the books then.
The application period for our graduate programs (MA and PhD) will be posted as soon as possible. Prospective applicants are advised to subscribe to the deadline mailing list so that they can be notified accordingly.
 

Submissions to Asian Studies: Journal of Critical Perspectives on Asia will still be accepted.
 

Students enrolled this semester are advised to get in touch with their respective professors, who will get a consensus from all students to determine how to proceed with the rest of their activities/requirements.

Kindly direct your inquiries to the following: 
 

General Inquiries:

This email address is being protected from spambots. You need JavaScript enabled to view it.




Office of the Dean:

This email address is being protected from spambots. You need JavaScript enabled to view it.

(Angelica Craig)


Admissions/College Secretary/Student Concerns:

This email address is being protected from spambots. You need JavaScript enabled to view it.

(Robert Silleza or Avel Golondrina)

Rental Office:

This email address is being protected from spambots. You need JavaScript enabled to view it.

(JR Sanchez)


Administration Office:

This email address is being protected from spambots. You need JavaScript enabled to view it.

(Lilia Marquez)


Library:

This email address is being protected from spambots. You need JavaScript enabled to view it.

(Miccah Frayna/Alessandra Guimba)


Supply Office:

This email address is being protected from spambots. You need JavaScript enabled to view it.

(Beth Mojado)
Information and Publications:

This email address is being protected from spambots. You need JavaScript enabled to view it.

(Janus Nolasco)


Research Office:

This email address is being protected from spambots. You need JavaScript enabled to view it.

(Danae Pantano)


Asian Studies: Journal of Critical Perspectives:

This email address is being protected from spambots. You need JavaScript enabled to view it.

(Janus Nolasco) 
 

To contact any of the Asian Center faculty, please obtain their email addresses from the Faculty page.
 
You may also (Like and) send your inquiry via our Facebook page, Asian Center, UP Diliman. Updates regarding the resumption of service will be posted here and on the website. See also Online Portal of University of the Philippines COVID-19 News and Information.
Thank you very much for your patience, understanding, and support.
---
The Asian Center offers M.A. degrees in Asian Studies with four fields of specialization: Northeast Asia, Southeast Asia, South Asia, and West Asia. The Center also has an M.A. program in Philippine Studies that allows students to major in Philippine society and culture, Philippine foreign relations, or Philippine development studies. The Center offers a Ph.D. program in Philippine Studies in conjunction with the College of Arts and Letters and the College of Social Sciences and Philosophy. For an overview of these graduate programs, click here. The Asian Center also publishes Asian Studies: Journal of Critical Perspectives on Asia, the latest issue of which can be downloaded at the journal's website.